The recipe is great to put on almost anything or just snack on throughout the week if it lasts that long.
By Chitra Agrawal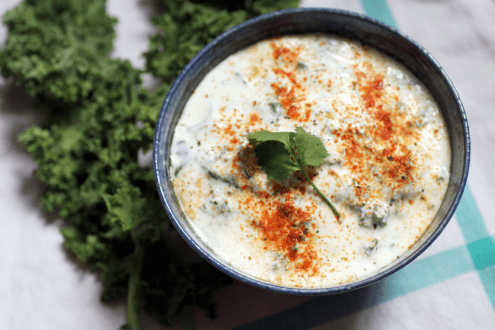 Kale Yogurt Raita
The recipe is great to put on almost anything or just snack on throughout the week if it lasts that long.
Ingredients
leaves from 4 kale stems, chopped
3 cups plain yogurt, beaten
2 teaspoons oil
1 clove garlic, minced
¾ teaspoon roasted cumin powder, bhuna jeera
¼ teaspoon chili powder or to taste
salt or black salt to taste
black pepper to taste
lemon juice
cilantro, chopped
Instructions
Heat oil in a small pan under medium high heat. When warm, add garlic. Sautee garlic for a few seconds until fragrant and throw in chopped kale. Cook kale for a few minutes, until wilty. Add salt and a good squeeze of lemon. Cool kale by putting in refrigerator or in the freezer if you need it faster.
When the kale is cooled, mix in the yogurt well. Then add in the cumin powder, chili powder, salt or black salt and black pepper if you are using and mix well. Mix in cilantro to your taste as well. Before serving, sprinkle a little more cumin powder and chili powder on the top with a garnish of cilantro.
Chitra Agrawal
Chitra writes the food blog, The ABCD's of Cooking, which chronicles her adventures cooking American Born Confused Desi recipes. When she is not recipe blogging, Chitra can be found hosting her online cooking show and a supper club featuring Indian-inspired, vegetarian cuisine. She also teaches cooking classes and sells Indian street foods (sometimes yummy Indian tacos!) at events and artisanal markets in Brooklyn. Her cooking has appeared in the New York Times Dining Journal and she is a contributor to The Huffington Post, Gojee, The Daily Meal and Brooklyn Based.