A simple but delicious vegetarian soup to warm you on a cold fall day.
By Jerri Green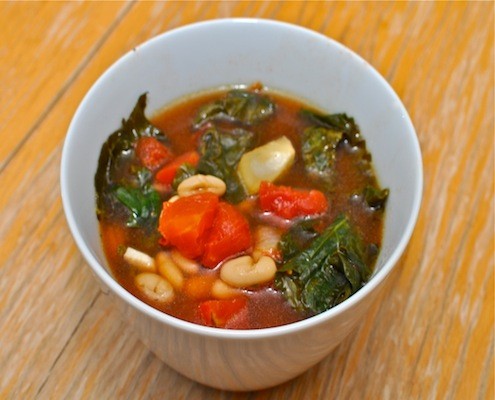 As summer fades to fall I start looking to warm up my lunch options when the temperature cools off outside. There is just something about that first chilly day that calls for a big bowl of steaming soup. So pull out your favorite sweater, slip on those fuzzy slippers, and try out this really simple soup recipe.
a vegetarian soup to warm you on a cold fall day
Ingredients
Drizzle of olive oil
1-2 mince garlic cloves
½ diced yellow onion
4 cups of kale (or other dark green), de-stemmed and torn into pieces
1 can of organic white beans, drained
1 can of organic diced tomatoes
Salt and pepper to taste
4 cups of organic veggie broth
Instructions
Start with a drizzle of olive oil in a large pot.
Add in one or two minced garlic cloves.
Toss in half a diced onion.
Heat til fragrant.
De-stem and coarse tear about four cups of kale and wilt them partially.
Drain a can of white beans and add them.
Also stir in a can of diced tomatoes, juice and all.
Salt and pepper the veggies to your liking.
Then pour in four cup of vegetable broth.
Stir and simmer on low for thirty minutes to and hour.
Grab a deep bowl and ladle in the chest warming concoction. In no time that crisp fall air will feel like a distant memory…until you step outside that is. Maybe, I'll grab a scarf before I take the kids to the park after all
Jerri Green
Jerri Green is a vegetarian that lives with and loves a self-proclaimed carnivore. She makes meals work for everyone while juggling the mounting demands of motherhood. Nothing fancy but always fresh, she draws on her southern heritage to bring satisfying food to the table each and everyday.