Browned and braised chicken is filled with rich, roasted flavors and a tender texture. White wine and kale add acidic and tart flavor to lighten the dish that is seasoned with garlic, thyme and finished with tender white beans. This is a stick-to-the-ribs meal.
By Tux Loerzel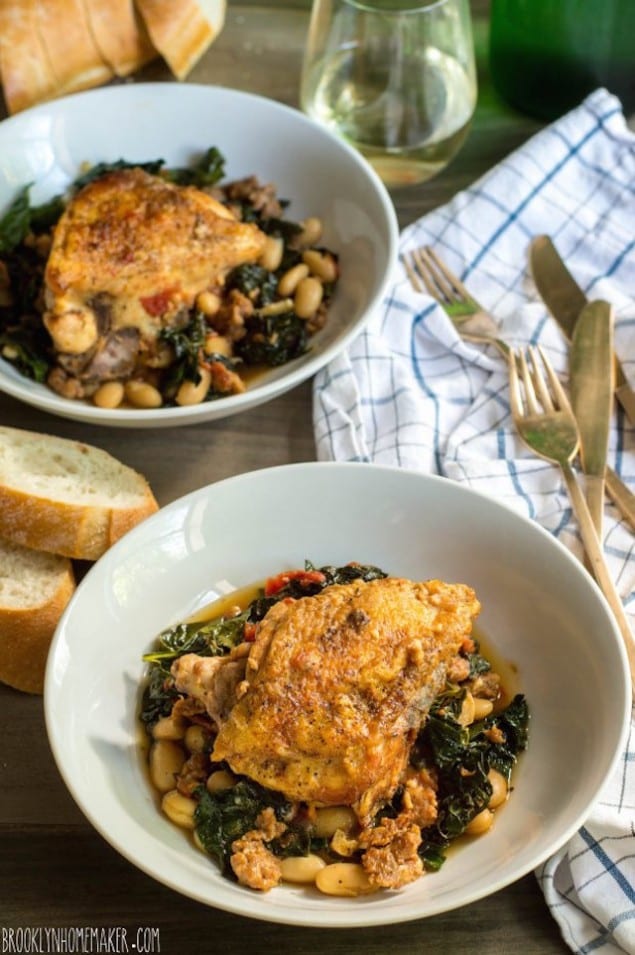 The minute the weather dips below 73 degrees I'm ready for soups and stews and braises. Over the weekend it was cold and rainy here in Brooklyn and I was craving soup something fierce. On my lunch break I sat pondering the possibilities and planning my grocery list. My first thought was a white bean and kale soup with sausage and tomatoes, but the colder and rainier it got, the more my cravings started to lean toward some type of braised chicken. Rather than choosing one over the other, I decided to combine the two in to one perfect fall meal.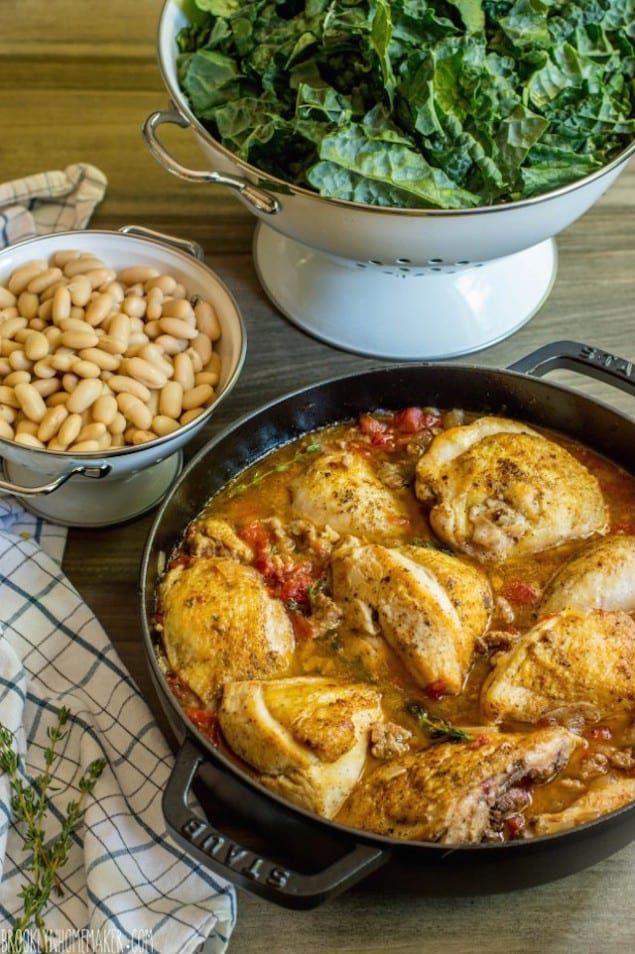 I bought a whole air-chilled chicken and cut it into pieces myself. I think for this recipe it works best to cut your chicken into 10 pieces, including wings, drumsticks, thighs, and quartered breasts.
You can definitely substitute all breasts or all thighs, or a mix of both, but I enjoy the mix of textures and flavors you get from using a whole chicken. I also like the fact that it's generally cheaper to buy a whole chicken and butcher it yourself than it is to buy an equal amount of pre-butchered pieces and parts. You'll need to cut store-bought breasts pieces in half anyway, so why not just go for the whole shebang?
I promise that it's not as scary as you think. You just need a sharp knife, some self-confidence, and a little bit of patience with yourself. If you have no idea what you're doing and want a reference, just ask Martha.
The best part is that the more you do it the better, and faster, you'll get at it.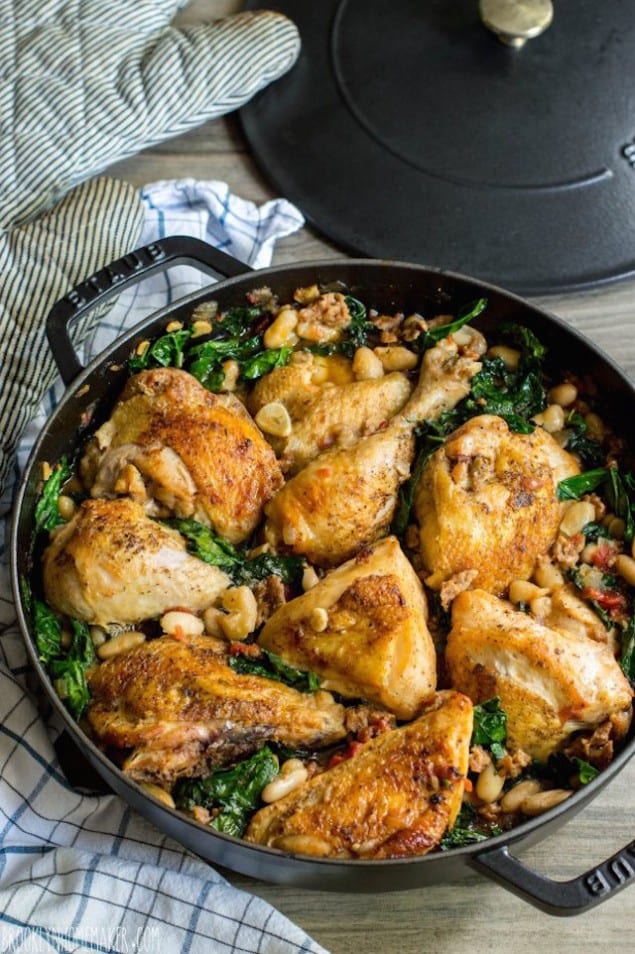 I know it's not my job as a food photographer or recipe developer to tell you to eat organic, or local, or free-range, or hormone free, or whatever the buzz word du jour is. If you're reading this you're (probably) an adult and (probably) can make those decisions without my help. I will however remind you that spending a few extra dollars on your food doesn't just mean you're voting with your wallet for a healthier environment, better local economy, and more sustainable food system; it also means your food will probably taste better and be more nutritious! In my experience the biggest indicator for higher quality, better tasting chicken is the label "air chilled". I won't get into the gory details of how chickens are processed, but I will say that since air chilled chickens aren't processed in water baths they usually have a meatier, chicken-ier flavor and crispier, less flabby skin. They also have a higher meat to weight ratio and better texture since they're not absorbing any water during processing.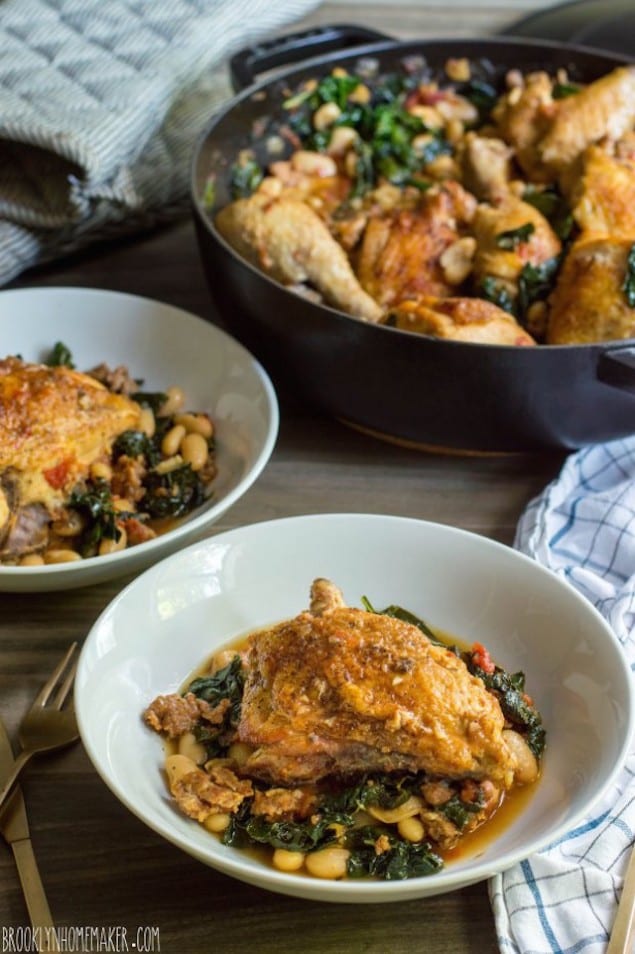 Since it is a slower, more labor intensive process, air chilled chicken does cost more at the grocery store. Based on flavor and texture alone though, I really do believe it's worth the extra couple bucks.
Whatever type of chicken you find in your basket while you wander the grocery aisles, this recipe is sure to please.
Browning the meat on the stovetop and then braising it in the oven gives it a rich and roasty flavor and a mouthwateringly tender texture. The touch of acidity and subtle sweetness from the white wine and tomatoes balances perfectly with the richness of the chicken and sausage and slight bitterness of the kale. The fresh pungent garlic and woodsy thyme add layers of earthy flavor, and the beans add a nice tender texture and just enough starch to make this a hearty filling meal all on it's own.
Print
Kale and White Bean Braised Chicken
---
Author:

Tux Loerzel

Yield:

6

to

8

servings

1

x
Description
With a rich and tender texture, this chicken is lightened in flavor with white wine and kale and finished with white beans. A stick-to-the-ribs meal.
---
one

4

to

5

lb

chicken, cut into 10 pieces (you can substitute an equal amount of skin-on, bone-in breasts and/or thighs)

1 tablespoon

olive oil

1/2

lb

sweet Italian sausage (about 3 sausages)

1

medium to large onion, chopped

6

cloves garlic, peeled and thinly sliced

6

to

7

sprigs of fresh thyme

1

cup

dry white wine

2

cups

low sodium chicken stock
one

15 oz

can diced tomatoes (drained)
two

15 oz

cans white beans (I used Cannellini)

1

lb

Lacinato kale (about 2 bunches) *see note
---
Instructions
Preheat oven to 375.
Generously season your chicken pieces with salt and pepper. If using store-bought breasts you'll want to cut them each in half with a very sharp knife.
Heat olive oil in a large dutch oven or braising pan over high heat. Working in batches, brown chicken pieces on all sides (about 4 to 5 minutes per side), and transfer to a plate to rest. Drain off all but about 1 tablespoon of any grease from the chicken, and brown the sausage and onions over medium high heat. Try to break up and crumble the sausage as it browns. Cook about 5 minutes, or until sausage is mostly cooked through and onions are starting to soften and get some color. Toss in garlic and cook one minute more. Add thyme and white wine, and simmer until wine has reduced by about half, about 5 or 10 minutes. Add chicken stock and drained tomatoes and bring just back to a simmer. Arrange chicken, skin side up, in a single layer and transfer to the oven to braise, uncovered, for 35-40 minutes.
While chicken is in the oven; remove the ribs, roughly chop, and thoroughly wash the kale. Dry well with a kitchen towel or salad spinner.
Once cooked through and tender, transfer chicken pieces to a plate and tent with foil. Turn the oven off and transfer the chicken back to the oven with the door slightly open to keep warm. Move the pan back to the stove and reduce the braising liquid over high heat for about 10 minutes. Add kale and beans, toss, and cook until all the kale is completely wilted, about 5 minutes more. Taste the sauce and adjust seasoning with salt and pepper if necessary. Add the chicken back to the pan and serve.
Serve the chicken in shallow bowl over a bed of beans and kale. Spoon some of the liquid over the top just before serving.
Notes
You can use other types of kale if you can't find Lacinato, but I think it has the best flavor and texture for this dish, and holds up to best to braising and reheating.
Tux Loerzel
Tux is a food blogger, photographer, dog lover, husband, and avid baker living in Bushwick, Brooklyn. Originally from upstate New York, he inherited his love of cooking and baking from his mother and grandmother. With the encouragement of good friends and several glasses of wine, he began his food writing and blogging adventure in the fall of 2013. Learn more about Tux at his blog Brooklyn Homemaker