PARTNER POST: Let Blue Apron help you keep things simple this busy holiday season when it comes to dinner. Have your next nutritious meal delivered straight to your door.
Smashed chickpeas, sautéed kale, and nutty tahini pack flavor into a hearty flatbread meal served with a side salad made of tangy marinated beets, sweet pears, and crunchy bits of pistachio. The best part? The ingredeints to make this can be delivered right to your door.
The holidays are upon us. Give yourself more time to plan, prepare or just relax. Head over to Blue Apron for $30 off your first order or three meals free. You'll be eating delicious meals like this orange chicken!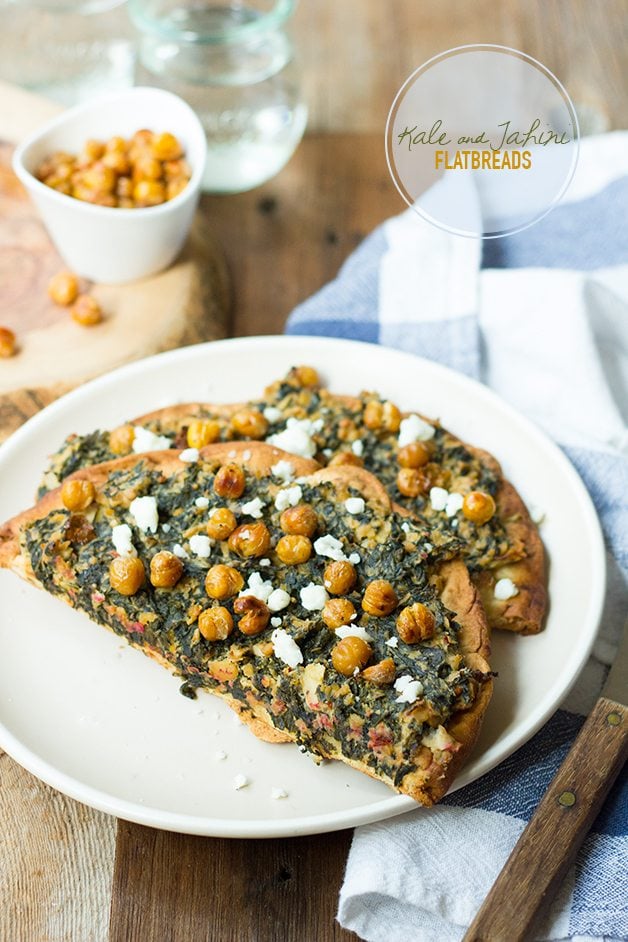 Truth: I may be good at cooking, but meal planning is sooo not something I excel at. The fact is I live the single-person's kinda life where I only actually cook a meal about once a week and basically run my fridge out of food before I decide to make a trip to the grocery store. In my dream world, groceries are delivered to my door every week with instructions on exactly what to make with them so I don't even have to think about dinner at all – what a life.
But WAIT. That's actually a thing. It's called Blue Apron, and now that I've been totally spoiled by this genius invention, I have to admit that I really don't want to go back. It's convenience to the max and I don't feel guilty one bit.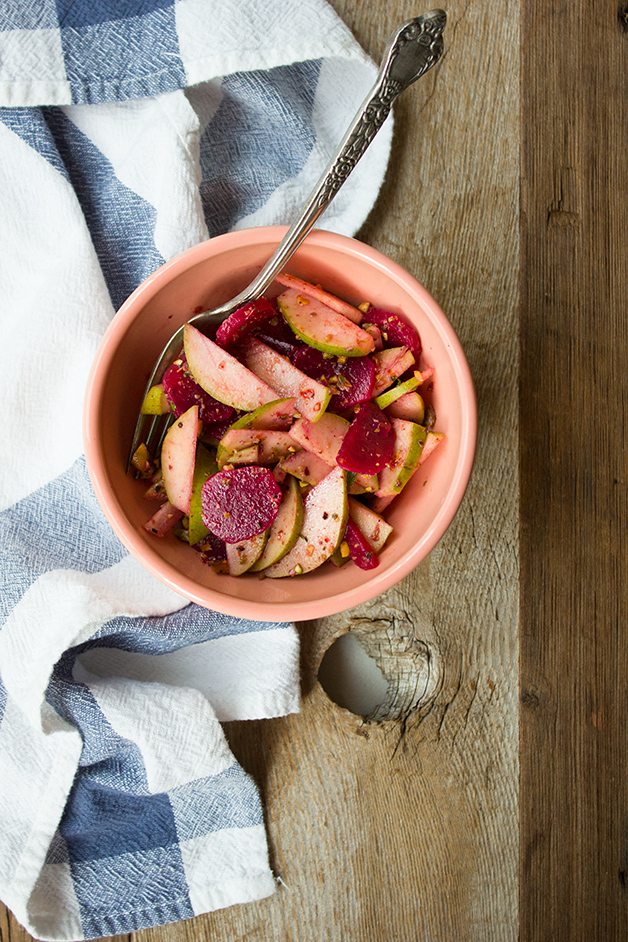 In case you have no idea what I'm talking about, Blue Apron is a meal-delivery service that sends ingredients to your door every week along with easy-to-follow recipes (with step-by-step pics), so that dinner is 100% figured out for you, all the time. All the ingredients come from quality sources to help support regenerative farming and sustainable fishing, and it cuts down on food waste because you get exactly what you need to make each meal – no more and no less. To be honest, I never thought I was the kind of person who needed something like this in my life, but lemme tell you, I ? it. You get your choice of six different recipes each week, and since they pretty much all look amazing, choosing might just be the hardest decision you have to make every seven days. Of the three recipes I settled on, these flatbreads were begging to be made first and OMG – so good.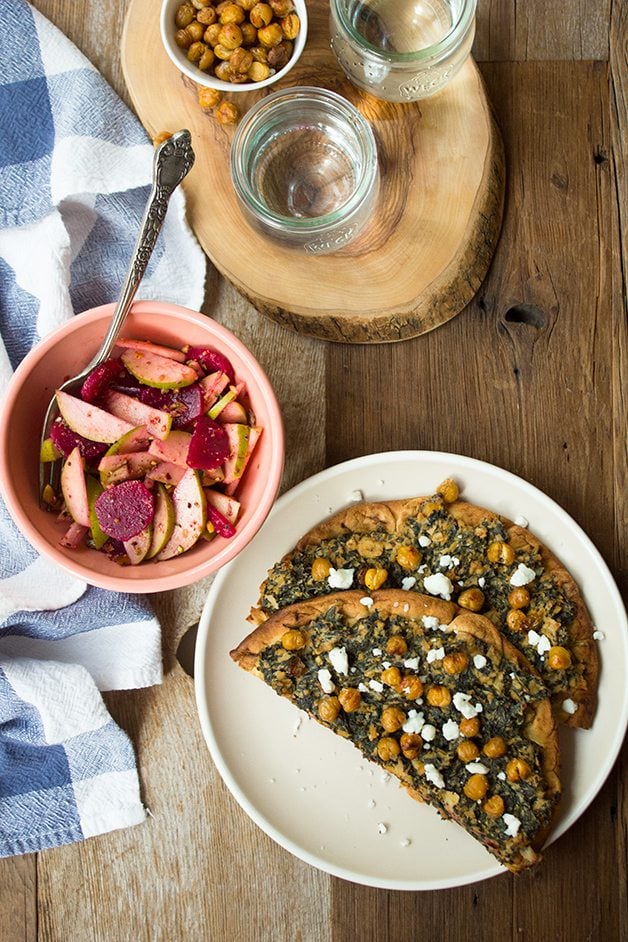 So these loaded rounds of bready goodness we have here? They're a combo of sautéed kale and mashed chickpeas amped up with tahini, labne, and a few fun spices, spread on pita and baked in the oven til it's all golden-brown, crunchy, and delish. Then we sprinkle roasted chickpeas on top (which are incredibly easy to make and probably going to become my new favorite snack), plus some feta because it's CHEESE and cheese is always a welcome thing. And as a bonus, apparently Blue Apron is helping me become the most efficient version of my cooking and blogging self possible, because there's a side dish here too! Tangy marinated beets, sweet seckel pears, and crunchy pistachios – seriously the most unexpectedly delicious combination I've seen in a while. I low-key thought I was going to hate it but I secretly loved it.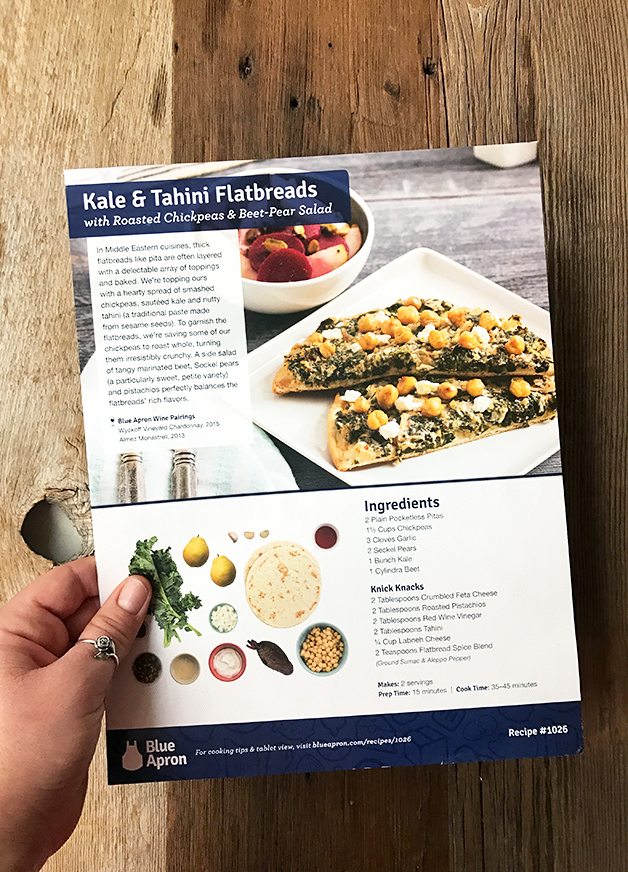 See Also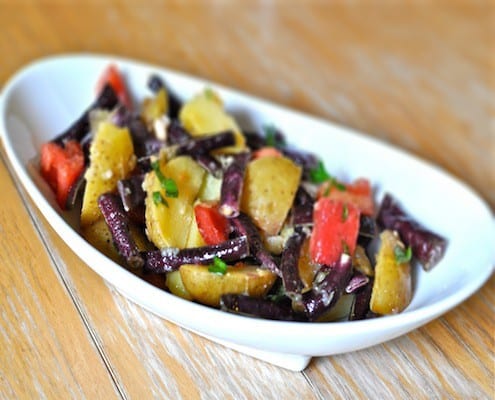 Check out another Blue Apron recipe for a cod sandwich.
If you're thinking you're the kind of person who definitely needs their dinner ingredients delivered to them every week (don't blame you one bit), you can try out Blue Apron now and get $30 off your first order OR your first 3 meals free with a subscription. And if you're anything like me, you'll probably be hooked; don't say I didn't warn you.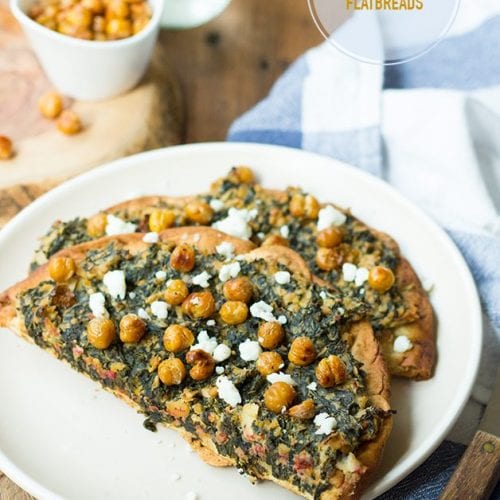 Alexandra Azary
Ingredients
2

seckel pears

1

bunch kale

1

cylindra beet

1 1/2

cups

chickpeas

3

cloves

garlic

2

tablespoons

roasted pistachios

1/4

teaspoon

olive oil

plus extra for drizzling

salt and pepper

to taste

2

tablespoons

red wine vinegar

2

teaspoons

flatbread spice blend

ground sumac & aleppo pepper

3/4

cup

water

1/4

cup

labneh cheese

2

tablespoons

tahini

2

plain pocketless pitas*

2

tablespoons

crumbled feta cheese
Instructions
Prep the Ingredients
Preheat the oven to 450°F. Wash and dry the fresh produce. Heat a small pot of salted water to boiling on high. Drain and rinse the chickpeas. Transfer half the chickpeas to a bowl; using the back of a fork, roughly smash. Leave the remaining chickpeas whole. Peel and mince the garlic. Remove and discard the kale stems; finely chop the leaves. Core and thinly slice the pear. Roughly chop the pistachios. On a paper towel-lined cutting board, peel the beet; cut into 1/4-inch-thick rounds.
Roast the Chickpeas:
Spread the whole chickpeas onto a paper towel-lined sheet pan. Using a second layer of paper towels, gently pat or roll the chickpeas to thoroughly dry; discard the paper towels and any loose chickpea skins. Drizzle the dried chickpeas with olive oil; toss to coat. Arrange in a single layer and roast, stirring halfway through, 20 to 22 minutes, or until crispy. Leaving the oven on, remove from the oven and carefully transfer to a paper towel-lined plate. Season with salt and pepper to taste. Carefully wipe off the sheet pan.
Cook and Marinate the Beef:
While the chickpeas roast, add the beet to the pot of boiling water. Cook 17 to 19 minutes, or until tender when pierced with a fork. Drain thoroughly and transfer to a large bowl. Add half the spice blend and 1/4 of the vinegar; drizzle with olive oil and season with salt and pepper. Toss to thoroughly coat. Set aside to marinate, stirring occasionally, for at least 10 minutes. Season with salt and pepper to taste.
Make the Kale Spread:
While the beet cooks, in a large pan (nonstick, if you have one), heat 1 teaspoon of olive oil on medium-high until hot. Add the garlic and cook, stirring occasionally, 30 seconds to 1 minute, or until fragrant. Add the kale and season with salt and pepper. Cook, stirring occasionally, 1 to 2 minutes, or until slightly wilted. Add the smashed chickpeas and 3/4 cup of water; cook, stirring occasionally, 5 to 7 minutes, or until the kale has wilted and the water has cooked off. Transfer to a large bowl. Stir in the tahini, labneh, remaining spice blend and remaining vinegar; season with salt and pepper to taste.
Assemble & Bake the Flatbreads:
While the beet continues to cook, lightly oil the sheet pan used to roast the chickpeas. Place the pitas on the prepared sheet pan. Evenly top with the kale spread; season with salt and pepper. Bake 10 to 12 minutes, or until the pitas are golden brown and crispy. Remove from the oven and transfer to a cutting board.
Make the Salad & Plate Your Dish:
Add the pear and pistachios to the bowl of marinated beet; drizzle with olive oil and season with salt and pepper. Toss to combine; season with salt and pepper to taste. Divide between 2 bowls. Cut the flatbreads in half and divide between 2 dishes. Garnish with the roasted chickpeas and feta cheese. Serve with the salad. Enjoy!
Alexandra Azary
Alexandra is a self-taught baker and food photographer who shares her creations on her personal blog, Confessions of a Bright-Eyed Baker. She's passionate about food and aims to inspire more people to bake from scratch and get comfortable in the kitchen.