Kadhi is a spiced soup that you make by thinning out yogurt with water and cooking it with chickpea flour.
By Prerna Singh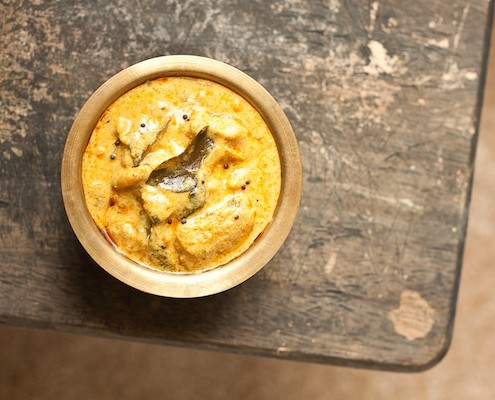 There is no right way to make kadhi and you can find tens and hundreds of recipes out there. A perfect example of what a traditional Indian food is, everyone has their own version with a few tweaks here and there but fundamentally they are all the same. Simple comfort food that fills up your belly, warms up your heart and you can never have enough of it!
Ingredients: Serves 6

For Besan (Chickpea Flour) Fritters:
2 cups besan (chickpea flour)
1/2 tsp ajwain seeds
1 pinch baking soda
Salt
Oil for deep frying
For Kadhi:
3 cups yogurt (I find whole milk yogurt tangier but you can use lowfat too) PLUS 4 cups water
3/4 cup besan
1 Tbsp chopped garlic
1 Tbsp chopped ginger
1 Tbsp curry leaves
1/2 tsp fenugreek seeds
1/2 tsp black mustard seeds
1/2 tsp cumin seeds
2 whole dried red chili
1 tsp turmeric powder
1 pinch asafetida (heeng)
1 1/2 Tbsp cooking oil
Salt
Method:

For Besan (Chickpea Flour) Fritters:
Mix chickpea flour, ajwain seeds and baking powder. Add salt. (besan fritters should be very lightly salted because it will absorb juices and flavor from the kadhi later). Start adding water while thoroughly whisking so that there are no lumps in the batter. Batter should be light, smooth and thicker than a pancake batter. Heat oil in a deep fryer and slowly spoon batter into the oil. Fry until the fritters are golden brown. Drain excess oil in paper towels and set the fritters aside.
For Kadhi:
In a whisking bowl whisk together yogurt and besan (chickpea flour) until it's smooth. Add water to thin it out. Set aside.
See Also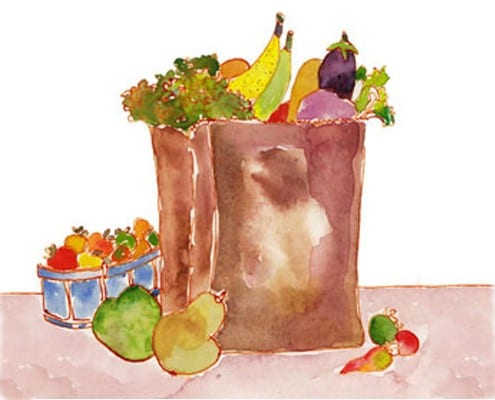 Heat oil in a wok or a big wide pan. Add asafetida, cumin seeds, mustard seeds, fenugreek seeds and red chili. When spices start to pop, add chopped ginger, garlic and curry leaves. Cook until it is golden brown.
Add yogurt, water and besan mixture. Add turmeric. Mix everything together well and bring it to a boil. The point when kadhi is starting to boil, it bubbles a lot and fast. From this point, turn the heat to low and continuously stir/whisk the kadhi as now it will begin to thicken. Add salt and fritters and let it cook for about ten minutes or until fritters are soft absorbing liquid and kadhi is thicker.
Some like to garnish with chopped cilantro and serve with rice.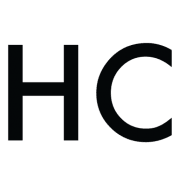 Prerna Singh
Prerna is a food writer and photographer who contributes to sites like Menuism and WFAEeats (NPR Charlotte). With a goal of making Indian cuisine approachable, she created Indian Simmer, a blog nominated for 2011 Best Food Blogs by Saveur Magazine.