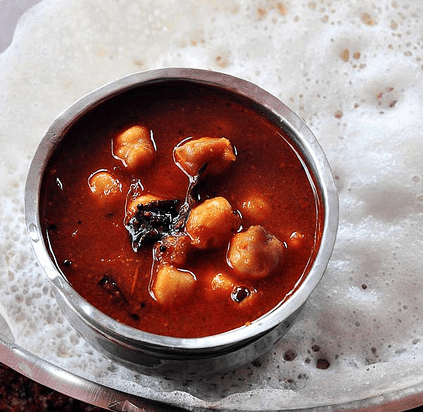 If you want a thicker gravy, add more coconut and less water in the pressure cooker while cooking the kadala curry.
By Nagalakshmi Viswanathan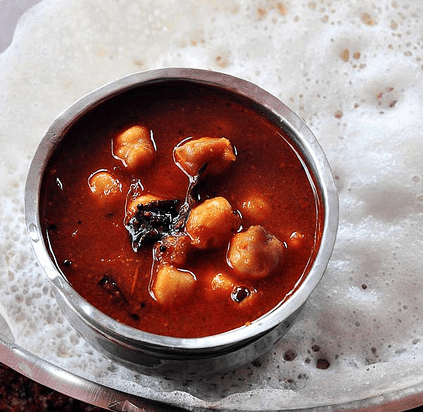 Kadala Curry is a regular breakfast side dish in my home. In fact, it's made with appam, puttu, and even dosa since the roasted coconut-coriander base of the kadala curry goes really well with these breakfast dishes. The kadala curry from my childhood days had a thicker gravy but amma has scaled down the amount of coconut in her current version. Either ways, it tastes great and we had it this time with spongy Kerala appam and sweetened coconut milk.
Kadala Curry
If you want a thicker gravy, add more coconut and less water in the pressure cooker while cooking the kadala curry.
Author:
Nagalakshmi Viswanathan
Ingredients
1 cup of while or black channa (kadala), soaked overnight
¾ cup of grated coconut
8 dry red chillies (adjust to spice preference)
4 tbsp of coriander seeds
A fistful of curry leaves
½ cup + 2tbsp of sliced shallots (or use red onions)
2 cloves of garlic
½ tsp of jeera powder (cumin powder)
¼ tsp of turmeric powder
2 tbsp + 2 tsp oil of coconut oil (or any oil you use)
½ tsp of black mustard seeds
Instructions
Heat 2 tsp oil in a pan and add the coconut, coriander, chillies, and curry leaves. Roast until the coriander turns a dark golden brown. It's important to roast it thoroughly, so don't be hasty. Once done, turn off flame and add 2 tbsp shallots, jeera, garlic, and turmeric. Mix well in the heat and set aside to cool.
Once cool, grind the roasted spices with enough water to make a smooth paste. Add this and the soaked channa to your pressure cooker.
Pressure cook for 4-5 whistles and set aside for the steam to release. Meanwhile, chop up the shallots for tempering.
Heat the remaining oil in the same pan and when it's hot, add the mustard seeds. When they pop, add the shallots and some more curry leaves. Roast until the shallots are golden brown. This is important for maximum flavour.
When roasted, add the cooked kadala curry to the pan and bring to boil. Add salt and remove from fire. Serve kadala curry hot with puttu, appam, idiyappam, or dosa. This kadala curry doesn't go well with rice.
Nagalakshmi Viswanathan
Nagalakshmi, aka Nags, is the cook, writer, and photographer behind Edible Garden. She loves most things edible, loves traveling to places just for the food, and hardly ever leaves home without her camera. Her specialties are Indian food, making baking look easier than it actually is, and finding new and unique ways to use her Kitchenaid. She lives in Singapore with her husband and a small herb garden in her balcony.