One of the original tapas restaurants in the country turns twenty – and is still serving up food just as delicious as ever.
By Mitch Weinstein
In Washington, D.C. some 20 years ago, Chef José Andrés opened what was then one of the first restaurants in the U.S. to focus on serving tapas…that restaurant was, and still is, Jaleo. It sparked a revolution in dining here, and we know where that has led us to today – restaurants where the menu categories read like weather reports: sun, soil, water, earth, moon – and on and on. I mean, at some places it's actually difficult to cobble together what was once considered a meal: starter, main and dessert…because evidently, that's not the way we want to eat today. I guess that's why whenever we dine out, we have to hear the obligatory "how the menu works" spiel – as if we'd never ventured out of our caves to eat. Whatever.
Now chef owns/operates at least a dozen restaurants, not just spanning "the district" but across the U. S. as well. Some I've loved and some I haven't, but that's neither here nor there. A few weeks ago we had the opportunity to revisit the original Jaleo (there are now four of them), which is celebrating its 20th birthday, and which recently had a makeover.
The place looks good. And whatever they've done (lots of fabric, absorbent surfaces, etc.) it sounds good, too…the four of us could actually carry on a conversation without shouting. But what really blew us away was the food – we must've tried 15 or so items, and there wasn't a clunker in the bunch.
Take the Aceitunas, the liquid olives that are a tribute to José's mentor Ferrán Adrià…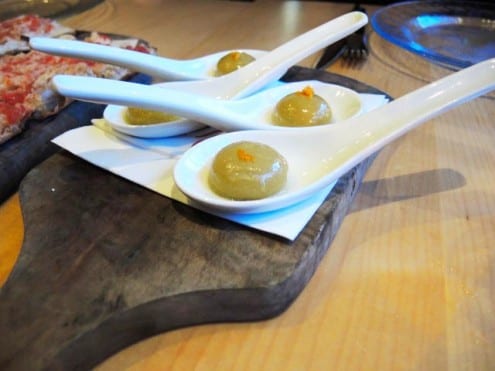 They're a fun way to start the meal, to be sure.  We followed them with another delicious one…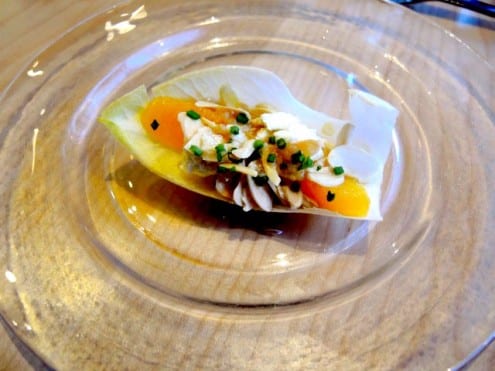 Which is a perfect combo of oranges, almonds and goat cheese happily nestled in an endive leaf, topped with some fine olive oil. Then on to some more serious stuff…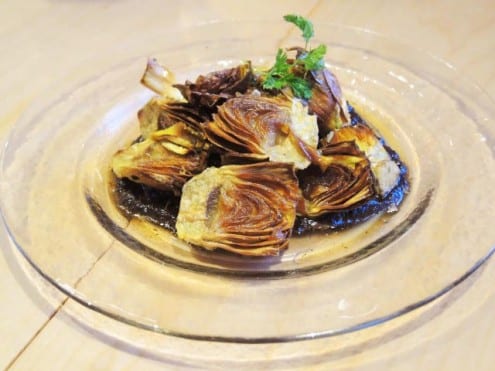 A special this night of fried "baby" artichoke hearts, sitting atop a pool of black olive puree. A brussels sprouts salad followed, and it included apples, apricots and crisps of Serrano ham. Once we'd had our fill of healthy vegetables, we forged ahead to the seafood, and started with a delicious crab salad, showcasing one of the Chesapeake Bay's finest contributions to mankind – the blue crab. Of course, no meal at a Spanish tapas place is complete without garlic shrimp, right?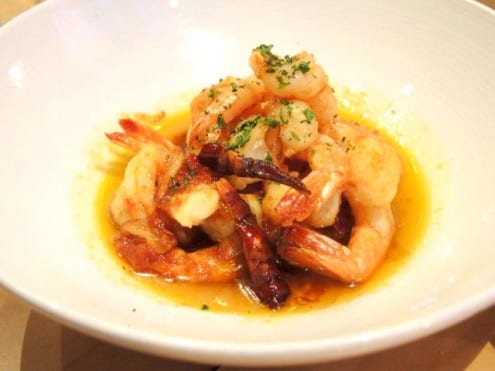 Simple – yes. Delicious – oh yeah! My favorite kind of food. We also wolfed down a fabulous mussel dish, simply steamed with garlic, olive oil and bay leaf – perfectly cooked, which isn't always easy with mussels, and sweet and plump they were. Here's another dish which just knocked it out of the park…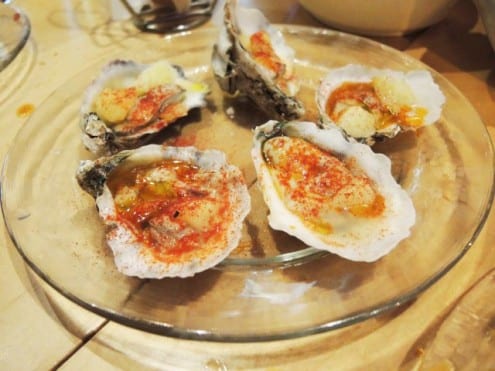 Warm oysters (another Chesapeake Bay delicacy that's on the way back) topped with little cubes of potato, sweet pimentón and olive oil. We eventually made our way to the headliner of the evening, a paella of fried fideus (Catalan for noodles), topped with perfectly cooked shrimp and squid and a dollop of allioli – this was the surprise hit of the evening…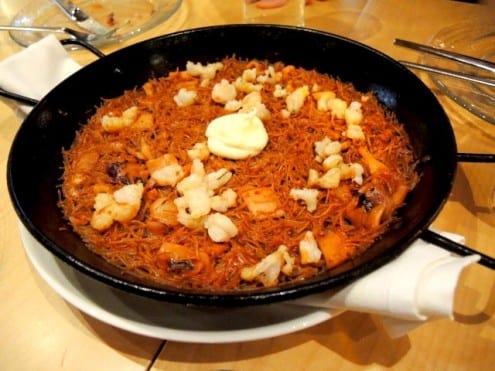 Of course, no meal is complete without dessert(s), and we sample a few, incuding this fine gin & tonic sorbet with tonic espuma…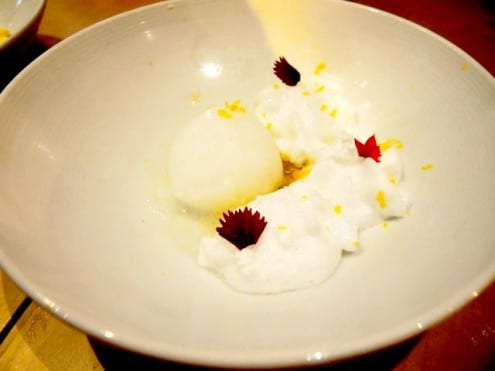 Oh, the drinks were good too – my delicious Picon Punch went down easily, and at $9, a bargain. Sig Eater's cocktail (a fancy gin thing) was prepared with a flourish tableside, and was tasty too.
For many restaurants, 20 years is a lifetime. Often, they get stale and predictable. But even though we've had some of this food before, most of it tasted as fresh and as vibrant as it did back in '93. On that note – happy birthday, Jaleo…you're looking good.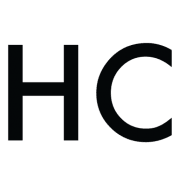 Mitch Weinstein
Mitch Weinstein is an avid seeker of good food, culinary school grad and writer of the blog Tasty Travails. When not cooking at home, he is on the hunt for that next delicious restaurant meal, great market or maybe even a cocktail. He regularly contributes to the food and drink forums on mouthfulsfood.com, eGullet.org, Chowhound.com and others.