Sawsan Abu Farha sets out on a quest to clear green mean okra's name and invite you onboard the okra express.
By Sawsan Abu Farha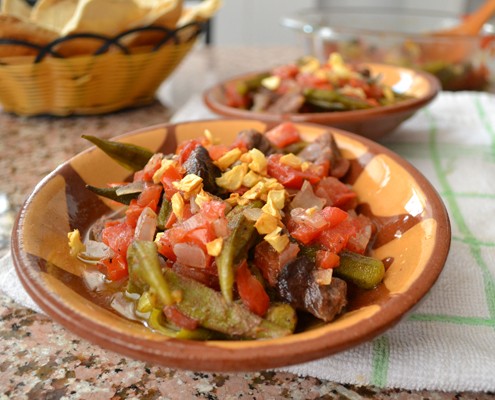 The mere mention of okra can instantly divide a room full of people into two groups, those who passionately love it and those who profoundly hate it. The main accusation the haters state is that okra can turn really… well " slimy". I was surprised to find that there are actually groups called "I hate okra" on facebook and online.
Well, my quest today is to clear green mean okra's name. What would you say if I told you that okra is a nutritional powerhouse, it is low in calories, loaded with vitamins and fibers?
OK , but it is fuzzy and slimy. I hear you say..
Well what if I gave you the secret to a deslimed and delicious okra? I'll take your silence as a yes.
The secret is really simple. The less you cut okra the less slimy it gets. True and tested fact.
You see, I grew up in the middle east, here okra is a staple in the everyday menu.  It is made into a stew with tomato juice, onions and meat or baked in the oven as a casserole again with meat , onions and chopped tomatoes topped with fried garlic (that is the recipe I am sharing with you today). Both ways are really simple yet very tasty and not the least bet slimy.
How? I hear you ask. Simple..don't slice the okra.
All you have to do is remove part of the okra cap, making sure you don't expose the seeds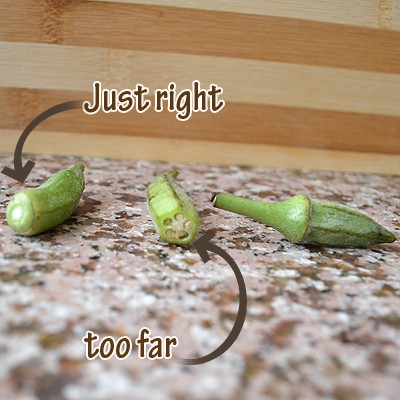 You see cutting into the seed area releases the slimy material that everyone complains about. If you cook okra whole, it won't turn slimy.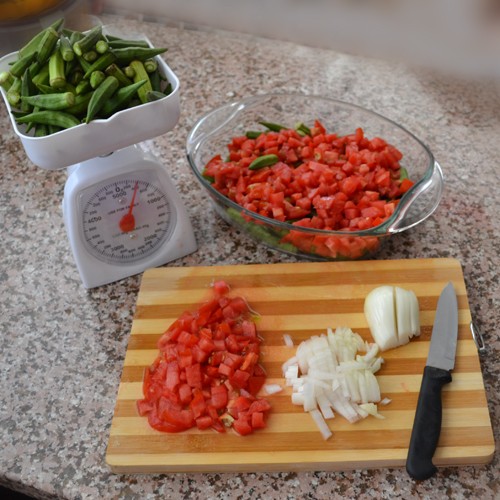 Today's recipe is one of my all time favorites. It is quick (I call it okra express), easy, requires a few ingredients and I can assemble it the day before and keep it in the fridge then I come home from work and all I have to do is pop it in the oven for an hour and dinner is served. To top all that off, it is really tasty and healthy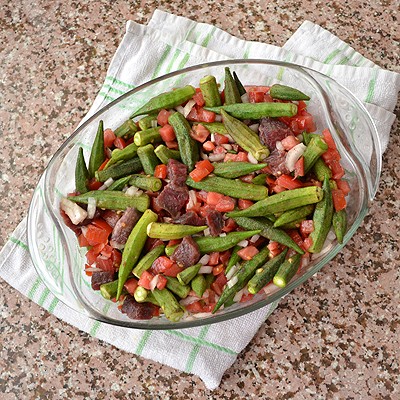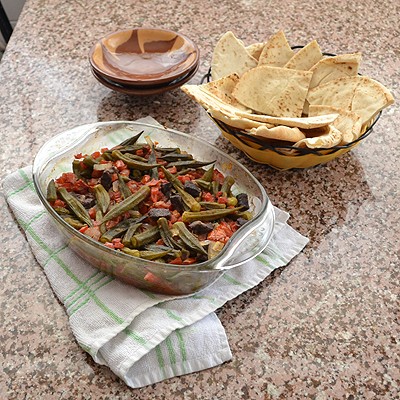 Middle eastern okra casserole
Okra casserole that is full of flavor without the least bet of slime
Author:
<SPAN class=mceItemHidden><SPAN class=mceItemHiddenSpellWord>Sawsan</SPAN> <SPAN class=mceItemHiddenSpellWord>abu</SPAN> <SPAN class=mceItemHiddenSpellWord>farha</SPAN></SPAN>
Ingredients
1 kg (2.2 pounds) okra
250 grams (0.5 pound) meat (I prefer beef)
4 ripe tomatoes
1 medium onion chopped
1 teaspoon (5 grams) salt
1 teaspoon (5 grams) all spice
½ teaspoon (2.5 grams) cinnamon
6 tablespoons (82 grams) olive oil divided
5-6 cloves garlic chopped
Instructions
In a casserole pan add the okra, meat, onions, salt, all spice , cinnamon and 4 tablespoons (54 grams) olive oil.
Toss to combine.
Bake in a 350 oven for 45 minutes to 1 hour

until

the liquid is ⅔ gone.
In another pan add the remaining olive oil and saute the garlic

until

golden.
Use the cooked garlic to top the casserole and drizzle the cooking oil over it for maximum garlic flavor.
Serve with

pita

bread and enjoy :)
If you like okra, you will definetly enjoy this recipe. If you hate okra, I urge you to try this recipe you just might change your mind.
Sawsan Abu Farha
Passionate food explorer Sawsan Abu Farha lives in Jordan and enjoys mixing east and west in her kitchen aiming to get the best of both worlds.Juggling work, motherhood, blogging and a passion for food and food photography, she shares her journey in her blog "Chef in disguise".