Do you want to be a part of a revolutionary food website?
Honest Cooking features some of the world's most successful and interesting food and wine writers, bloggers, chefs and photographers. Our team of contributors is already fantastic, but we have a few slots open for another couple of amazing talents:
You have:

– Strong food and (or) wine/spirits writing skills, proven in either blog or traditional media
– True passion, knowledge and dedication to food and (or) wine & spirits
– Time and commitment to be a regular contributor
– Photo savvy, with access to a good camera
Please submit to contributor@honestcooking.com:
– A little about yourself
– What your area of passion/expertise is – and what you would like to write about
– Some links to things you have written – or photos you have taken
– Your blog (if you have one)
Areas where we have open spots:
– Surprise us (top choice)
– Food News – What's cooking around the globe?
– Wine – local or global angles, reviews, wine pairings
– Beer – local or global angles, reviews, beer pairings
– Spirits – local or global angles, reviews, history
– South America – food scene and South American food all over the continent
– Asia – Asia in general and Japan, China, Hong Kong and Thailand specifically
– Russia – food scene and culture
– Mid-East – food scene and Mid-Eastern food
– New York & LA – food scene and American food
– France – food scene, and French food
– UK – food scene, and British food
– Barbecue Specialists
– Restaurant reviews from across the globe
– Restaurant life, behind the scenes
– Local food & ethical food choices

If any of the above sounds like you (which it should – since the "surprise us" option covers just about anything) – we look forward to hearing from you!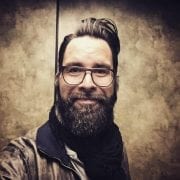 Kalle Bergman
Kalle Bergman is a food writer and media entrepreneur who is the founder of Honest Cooking. As a food writer, his writing has been regularly featured in publications like Gourmet, Los Angeles Times, Huffington Post and Serious Eats. He is obsessed with simple food, more often than not from his native Scandinavia.