A hearty, warm salad with beautiful colors can be a great meal to pack for work or on the go. This recipe shows off its true, vibrant colors with raw beets and radishes to jewel the salad.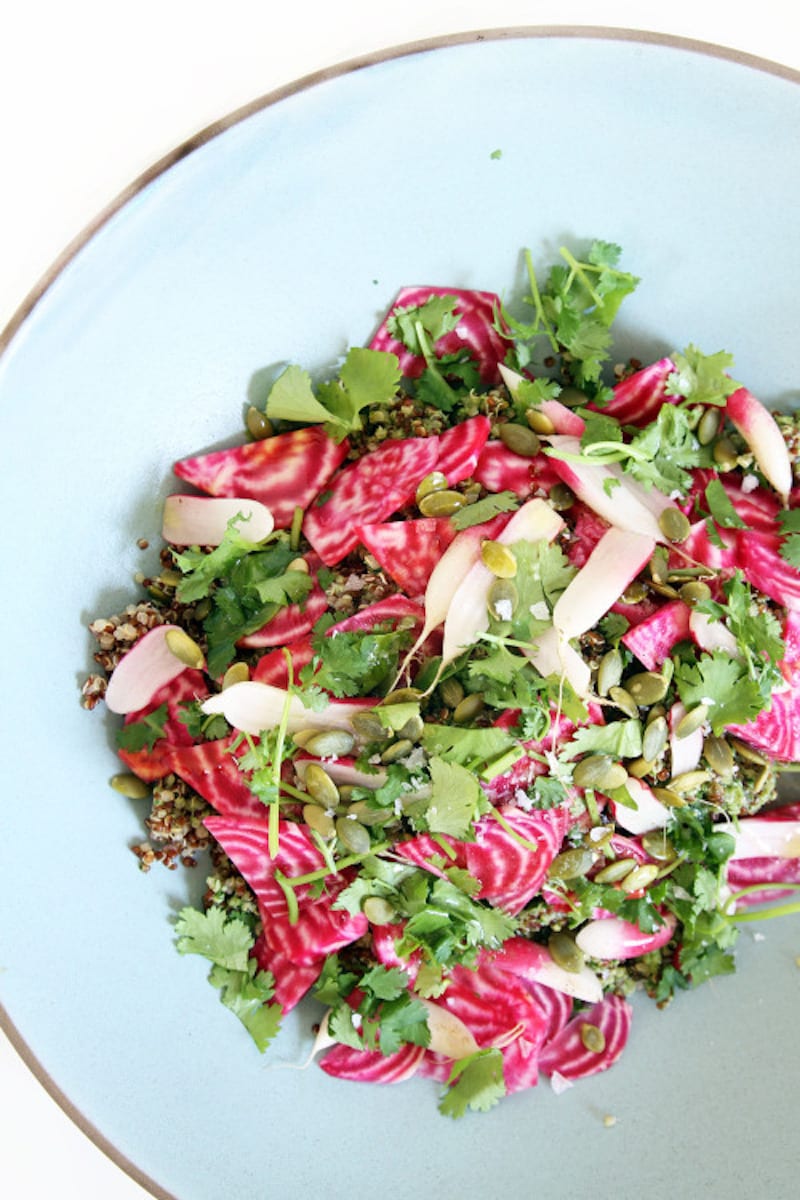 "But, don't you get bored?" – I get this a lot. I tend to laugh it off, pretend it is not an insult, then explain that my love for vegetables runs deep. There is so much variety in color, texture, and flavor. Any one single vegetable can be cooked in more than just one way, leading to a limitless combination tasty dishes far more interesting than well, medium, or rare.
The more I cook the more flavor nuances I discover within one single vegetable. Tops, bulbs, and roots all contain wonderful, unique textures and flavors.
Celery root is a great example. The stalks are crunchy and spicy, the roots mellow and creamy. So are beets: their greens peppery and hearty, the roots sweet and earthy. Just writing about these makes me wonder if all root vegetable leaves are edible and whether we should be cooking more with potato leaves, carrot tops, and anyone other neglected green tops.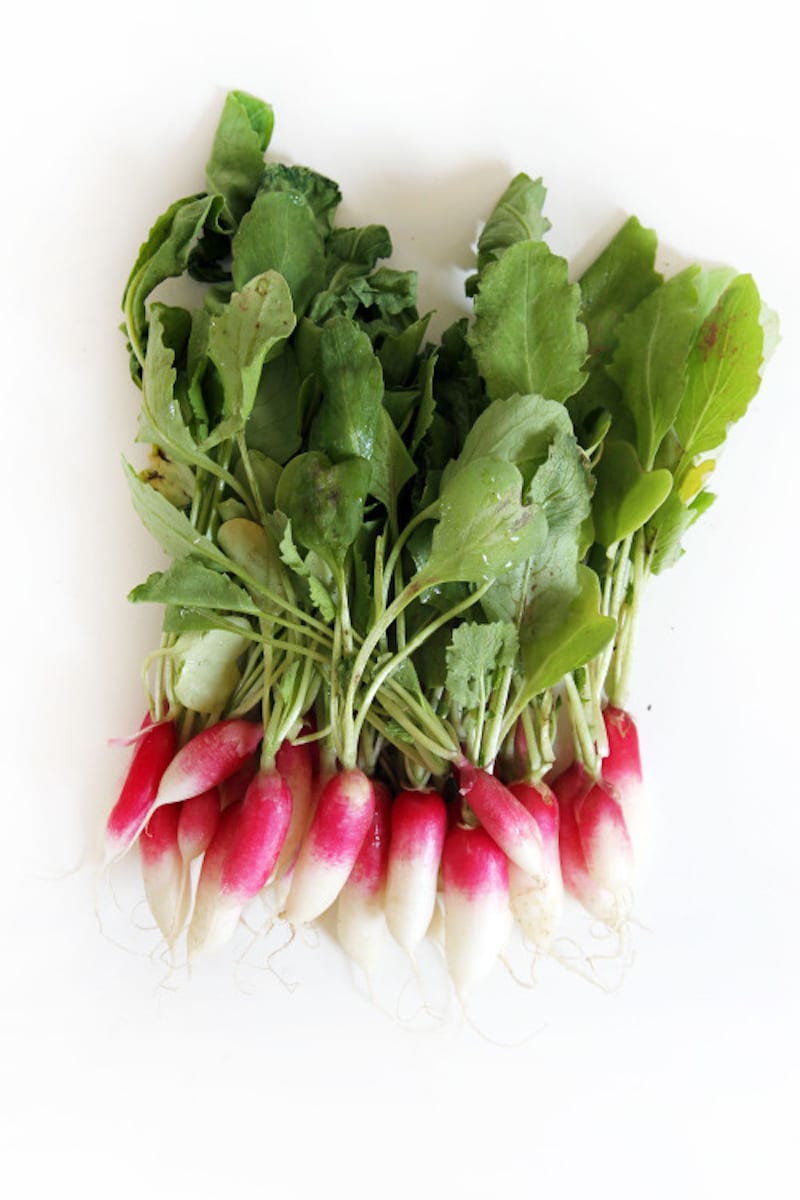 While developing the recipe for this quinoa salad, I wanted to incorporate root-to-tops (my plant-based interpretation of nose-to-tail) cooking by using the different parts of a vegetable fully and wasting little to nothing. This strategy resulted in a very tasty salad, packed with a variety of flavors and textures. What is great about using all the different parts of a vegetable simultaneously within a single meal is that you can achieve complexity quickly and effortlessly. Just like in season ingredients work well with one another, the flavors found within different parts of a vegetable are always complimentary. Did I mention this cooking method also happens to be budget-friendly?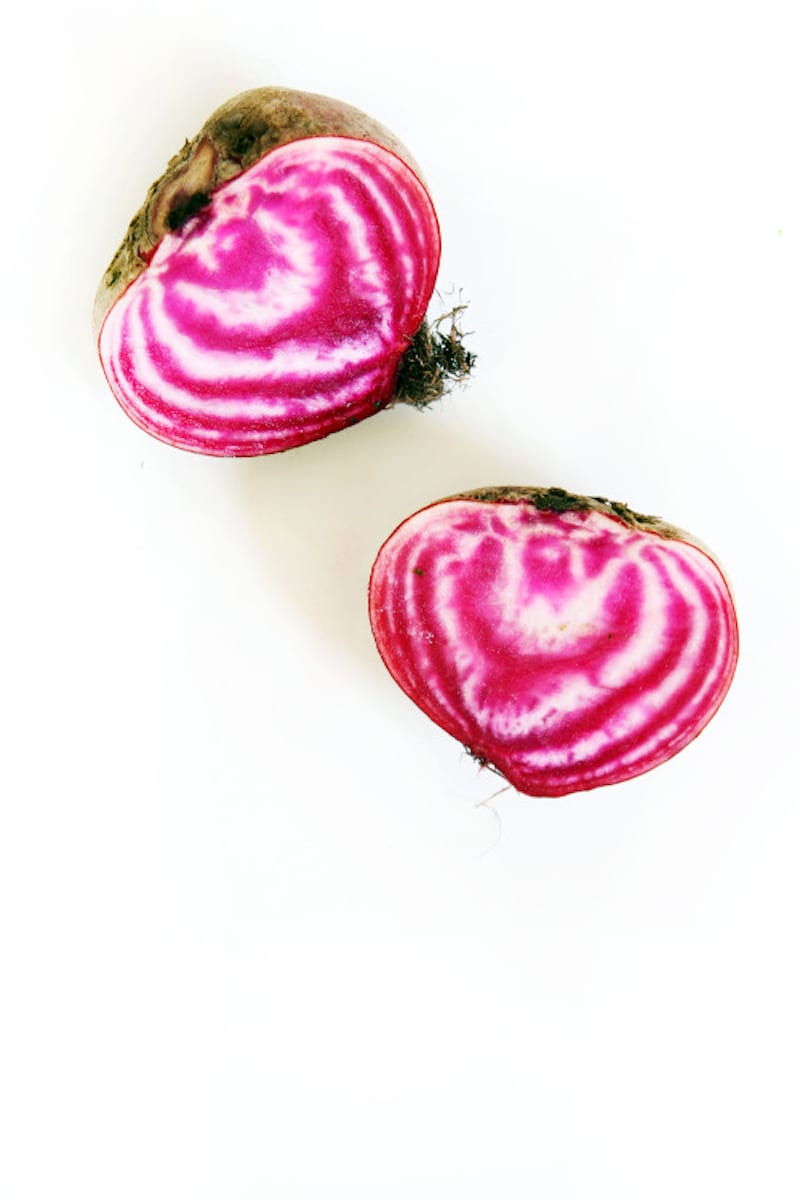 Unlike some of the root vegetable recipes previously posted, this one celebrates the flavors within root vegetables when left uncooked. Both beets and radishes are great roasted, but sometimes, they are magnificent raw. I like how they contrast the quinoa here -the chewy against the crunchy- all fused together by a herbaceous, spicy pesto of radish tops and seeds!
This is a great transition dish, perfect for those colder days when all you crave is something comforting but also uplifting and light. I know you will like this.
Print
Author:

Mariela Alvarez Toro

Yield:

4

1

x
Category:

Main, Salad, Vegetarian
1 cup

quinoa

1 cup

water

2

small cranberry beets

1

bunch radishes (with tops!)

1/4 cup

(plus

2 tbsp

. to garnish, roasted pumpkin seeds)

1/8 cup

olive oil (plus more to taste)

1 tsp

. salt (plus more to taste)

1

handful of cilantro (chopped)
Instructions
In a small pot, place 2 cups of water with 1 cup of quinoa and a pinch of salt.
Bring water to a boil, and then reduce heat to medium high.
Simmer until most of the water has been absorbed.
Turn heat to low, cover and cook for another 10-15 minutes. Quinoa is cooked when translucent, a small white ring will emerge around the grain's edge.
Remove from heat and set aside until ready to use.
As quinoa cooks, peel and beets, then slice thin. Aim for 1/8" but don't worry about being too precise. Set aside.
Remove the tops of the radishes and wash both radishes and tops well under running water.
Slice each radish in half. Set aside with the beets.
To make the pesto. Place 1/4 cup of roasted pumpkin seeds, radish tops, olive oil, and 1 tsp. salt in a food processor. Pulse until well incorporated and smooth.
Once quinoa is fully cooked. Add pesto to quinoa and toss until is evenly distributed. Add a generous drizzle of olive oil here to help incorporate the pesto into the quinoa. Taste for seasoning and adjust if necessary.
Place the quinoa in a serving plate. Add sliced beets and radishes, then sprinkle with chopped cilantro, and remaining pumpkin seeds.
You can serve immediately, but tastes great at room temperature as well.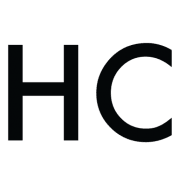 Mariela Alvarez Toro
Recently graduated with from Harvard University's Graduate School of Design. She has recently completed "People in Food-Space", an ethnographic study on the cultural production of taste in space. She has also examined post-soviet food production systems and housing projects in Havana, Cuba. Originally from Puerto Rico, Mariela has been living in the United States for eight years. She has involved herself in both teaching and practice, while writing on food at tastyplan.com. Her goal as a food writer is to cook creatively, using the best ingredients to find new flavor combinations every day.