Jerusalem Artichoke Soup with Bacon and Chives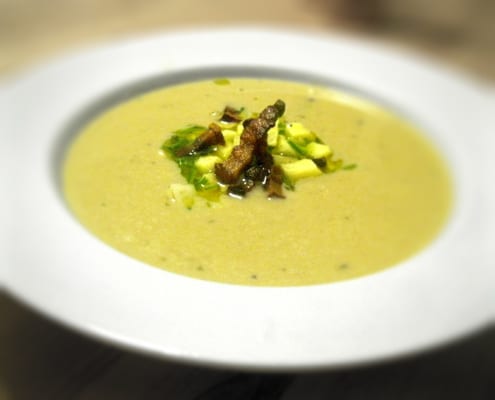 This soup is pure New Nordic Cuisine. It is seasonal and relies on almost all local ingredients. The marinaded raw artichoke and vinegar add a really nice edge and contrast to the silky soup.
By Jess Lacey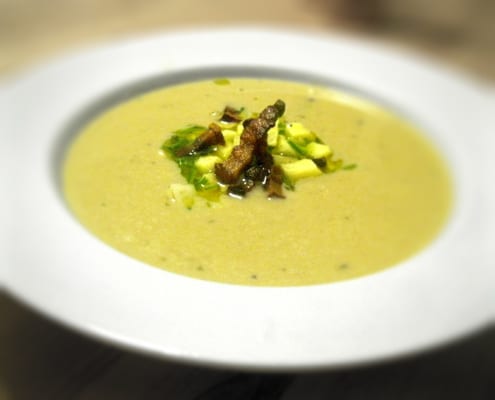 This recipe is  adapted from Claus Meyer's 'Almanak' an incredibly beautiful and varied Danish cookbook that makes me wish I actually could understand Danish. Claus Meyer is one of the founders of the New Nordic Cuisine concept who, along with Rene Redzepi, set up Noma. Meyer is a household name in Denmark, and his cookbooks have been on the shelves of every Danish house I have visited. His Ted talk on indigenous food cultures is well worth a watch.
This soup is pure New Nordic Cuisine. It is seasonal and relies on almost all local ingredients (although the original called for chorizo, we went for bacon instead since we already had it in the fridge). The marinaded raw artichoke and vinegar add a really nice edge and contrast to the silky soup. We only had a dark stock to hand, but if you can make this with a light chicken stock, it will turn out a beautiful ethereal creamy white. Serves 6 as a starter.
See Also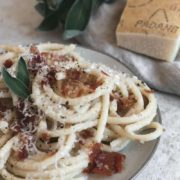 Jerusalem Artichoke Soup with Bacon and Chives
A simple and delicious Nordic soup
Ingredients
500g Jerusalem artichokes
1 litre chicken or vegetable stock
1 onion
2 garlic cloves
3 sprigs of thyme
50g bacon
½ bunch fresh chives
2 tablespoons olive oil
2-3 tablespoons cider vinegar
50ml cream
25g butter
1 pinch of nutmeg (optional)
Instructions
Chop the onion and one garlic clove.
Peel the artichokes and set two aside for the marinated raw artichoke.
Roughly chop the remainin artichoke.
Saute the onion in the butter over a medium low heat until softened, about 8-10 minutes.
Add the garlic and thyme and cook for 1-2 minutes.
Add the artichoke and saute for 5 minutes.
Add the stock and cook for another 10-15 minutes until the artichokes are soft.
Meanwhile to make the marinated raw artichoke, chop the artichokes into small cubes.
Cut the garlic into identifiable slices and add to the oil and 2 tablespoons of vinegar.
Chop in half the chives and add the artichoke, leaving to marinate for 10-15 minutes.
Finely chop the bacon and fry until crispy, 3-4 minutes.
Remove the thyme and blend the soup until smooth.
Return to the pot, stir in the cream and reheat gently before serving.
Remove the garlic from the marinaded artichoke.
Season the soup with salt, pepper, nutmeg and a little bit of vinegar to taste.
Serve topped with bacon, remaining chopped chives and marinated artichoke.
Jess Lacey
Jess Lacey is an Irish food blogger and soon to be lawyer. She has found a home in London, Dublin, Leiden, Melbourne and Aarhus. After a brief foray into the world of Michelin starred cooking, she decided to keep cooking and food as relationships based purely on passion rather than income. She travels frequently, and justifies this by writing about it. More of her musings and recipes are available on her blog, Canal Cook.