Crispy garlic slices and thyme leaves transform farm stand eggplant into an elegant dish.
By Jessica Dang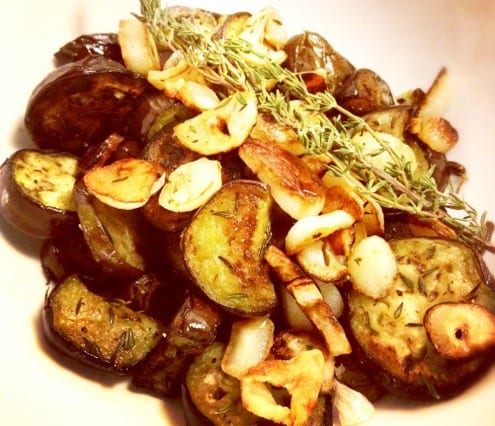 Japanese Eggplant with Garlic and Thyme
Crispy garlic slices and thyme leaves transform farm stand eggplant into an elegant dish.
Ingredients
3 small Japanese eggplant, or a small regular eggplant
3-4 large cloves of wild garlic, or regular garlic
A few sprigs of fresh thyme
Extra virgin olive oil
Maldon sea salt
Freshly cracked black pepper
Instructions
Wash and dry the eggplant. Cut into thick ½-inch slices. Set aside.
Peel and slice the garlic into big chunks.
Heat up a cast iron pan over medium-high heat with a slick of olive oil and add the sprigs of thyme. Move them around with a wooden spatula so that they infuse into the oil.
Scatter the garlic into the pan and brown them. Make sure you get both sides. I find that chopsticks are a helpful tool in flipping the garlic. Remove from the pan and set aside. They should be nice and crispy!
Lower the heat to medium and add the sliced eggplants to the pan. What you'll find is the eggplants will be extremely absorbent, so you'll have to periodically adding a splash of olive oil to the pan while they're cooking. Continue cooking until they soften and brown. Crush some Maldon sea salt flakes over the pan and add a shower of freshly cracked black pepper.
Turn off the heat and remove the stems from the thyme. Fold in the crispy garlic with a wooden spatula and pile onto a plate or into a bowl.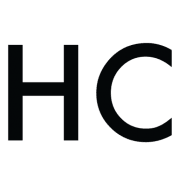 Jessica Dang
Jessica Dang is a freelance writer, blogger, and social media consultant based in New York City. She is currently developing Single Girl Dinner, an online community and resource of dinner ideas for young independent women living in the city. She enjoys reading menus, dining at the bar, and experimenting in the kitchen when no one's looking. When it comes to food, she can't resist uni, foie gras, caviar, or Popeyes' fried chicken.