This sandwich is easy to prepare, very original and so good that you will be making it again and again.
By Denise Kortlever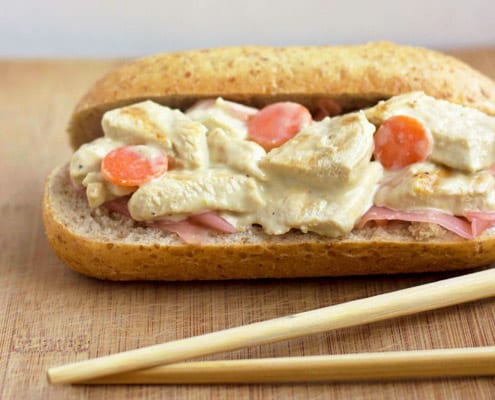 This is definitely one of my favorite sandwiches: it's easy to prepare, very original and so good that you will be making it again and again. It uses two delicious sushi sides – wasabi and pickled ginger – and takes them to a whole new level.
I love the fact that there's a great mixture of textures and flavors: crispy and chewy bread, salty grilled chicken and creamy, spicy sauce.
This sandwich is perfect for a lunch or picnic, but also delicious as an easy dinner, especially when combined with a (miso) soup.
You can use leftover chicken pieces, or use turkey if that's what you have on hand. Feel free to experiment!
I like to use a lot of wasabi (mouth-on-fire-amount!), but use whatever amount is good for your taste buds.  I think you should definitely make some extra wasabi mayonnaise; it's also delicious with salmon, tuna or grilled asian vegetables.

Japanese Chicken Sandwich
This delicious Japanese Chicken Sandwich takes sushi sides to a whole new level.
Recipe Type:
Lunch, Entree
Ingredients
1 fresh baguette, sliced open
1 small grilled chicken breast*
1 tablespoon pickled ginger
0.5 teaspoon wasabi paste (use more or less to taste)
2 big tablespoons of mayonnaise
1 teaspoon soy sauce
a handful of mixed lettuce leaves
a carrot, sliced in thin rounds (optional)
* or use leftover chicken or turkey
Instructions
Slice the chicken breast in smaller pieces. Mix with some soy sauce. Chop half of the pickled ginger.
Mix the wasabi paste, mayonnaise, chopped pickled ginger and the rest of the soy sauce. Taste to find out if you want it spicier (then use more wasabi). Thin out with a little water to make the sauce easily spreadable. Mix half of this wasabi mayonnaise with the sliced chicken (and the optional carrot slices).
Spread the other half of the wasabi mayonnaise onto both sides of the baguette, add the lettuce leaves and leftover pickled ginger and top with the prepared chicken mixture.
Denise Kortlever
Denise Kortlever is a freelance culinary journalist and works for a variety of clients and publications. She lives in Amsterdam, but often travels the world to write about the most inspiring food trends and great restaurants worldwide. She shares her recipes and culinary experiences on her blog: tlt-thelittlethings.com.