Jalapeño Cheddar and Cumin Scones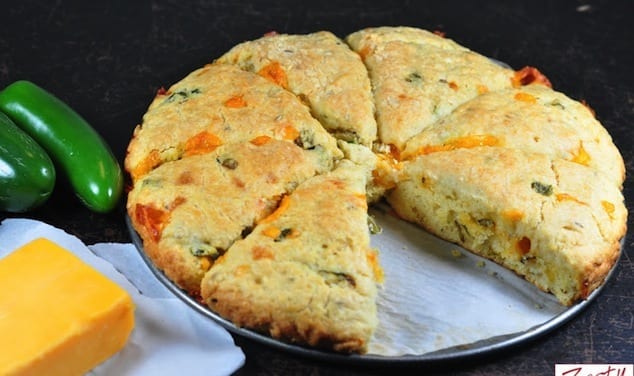 Delicious cheesy, spicy and fragment scones are great with eggs, soup, or a snack.
By Swathi Iyer
Jalapeño Cheddar and Cumin Scones
Delicious cheesy, spicy and fragment scones are great with eggs, soup, or a snack. This recipe is adapted from New york Magazine
Ingredients
2 cups all-purpose flour
1 tbs. baking powder
1 tsp. salt
8 tbs. cold butter, diced
¼ cup heavy cream
2 eggs
2 teaspoon cumin seeds
½. sharp Cheddar cheese, diced
2 small jalapeño pepper, minced ( about ½ cup chopped)
Egg wash (1 egg beaten with 1 tsp. water)
Instructions
Preheat oven to 400. In a small skillet, melt ½ tablespoon of butter.
Sauté jalapeños until soft, about 2 minutes.
Place in a small bowl with Cheddar cheese and coat with 1 tbs. of flour.
In another bowl, combine the rest of the flour with baking powder , cumin and salt. Cut in remaining butter with a fork until the butter is pea-size.
Lightly whip eggs and cream and add to the flour-and-butter mixture.
Using a wooden spoon, fold mixture until it begins to come together.
Add the Cheddar-and-jalapeño mixture to the dough and mix until everything is incorporated.
Turn out the dough onto a well-floured surface and knead gently for less than one minute.
Roll dough ¾- to 1-inch thick and cut into 8 triangles.
Brush with egg wash and place on parchment.
Bake for 25 minutes or until golden brown.
Swathi Iyer
Swathi ( Ambujom Saraswathy) loves to explore cuisines from all over the world, and write about the ones that she and her family enjoyed on her blog Zesty South Indian kitchen. She loves to gives an Indian touch to several of the world cuisine, and has weakness for freshly baked bread. She is also a mom to two wonderful young kids who gives a up or down vote to the food she creates.