Jalapeno Cheddar Cornbread Recipe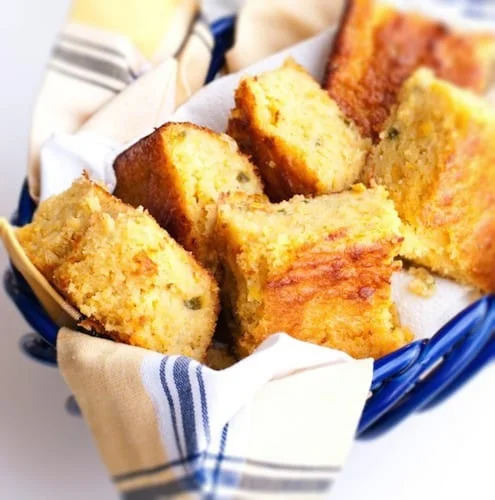 This is the moist, dense, slightly sweet cornbread of your dreams.
By Lauren Kretzer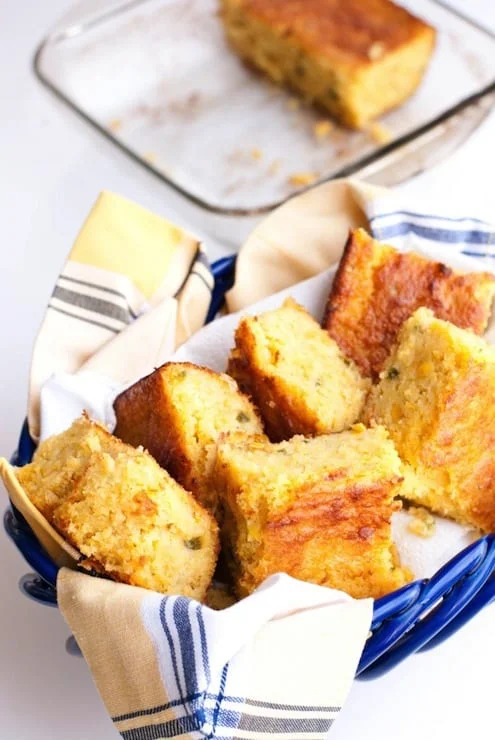 I don't mean to brag, but this is the moist, dense, slightly sweet cornbread of your dreams. You won't even need to pass any butter or honey at the table alongside it – it's that good on its own. I mean, there's an entire cup of cheddar in this bad boy so, you can't really go wrong, right? Speaking of cheddar – be sure to use a good quality aged cheddar and fresh jalapenos, as they are the shining stars of this dish. It truly makes all the difference.
Jalapeno Cheddar Cornbread Recipe
This is the moist, dense, slightly sweet cornbread of your dreams.
Ingredients
1 stick of organic butter, melted and slightly cooled
⅔ cup sugar
2 organic eggs (use local eggs whenever possible)
1 cup buttermilk
1 14.75 ounce can of creamed corn
1 cup all-purpose flour
1 cup cornmeal
1½ teaspoons kosher salt
1 Tablespoon baking powder
½ teaspoon baking soda
1 cup grated aged white cheddar cheese
½ cup minced fresh jalapeno, seeds removed (approximately 2 large jalapenos)
Instructions
Preheat oven to 375 degrees and grease an 8×8? ovenproof baking dish.
In a medium bowl, mix the melted butter with the sugar. Beat in the eggs until combined. Add the buttermilk and creamed corn and stir to combine.
In a separate large bowl, add the flour, cornmeal, baking powder, baking soda and salt and whisk to combine. Add the buttermilk/egg mixture and stir until just combined. Fold in the grated cheddar cheese and minced jalapenos.
Pour batter evenly into the greased baking dish and place on the middle rack in oven. Bake for approximately 45 minutes, or until top is golden brown and a toothpick placed in center of cornbread comes out clean. You may have to cover the baking dish loosely with foil during the last 10-15 minutes of cooking to ensure the top of the cornbread does not burn.
Lauren Kretzer
I'm a vegetarian/vegan private chef specializing in healthy, organic cuisine - I live and work on Long Island, NY and love to use local foods in my cooking! I graduated culinary school from the Natural Gourmet Institute in New York City and am working toward my certificate in Plant Based Nutrition through Cornell University. You can find me over at www.laurenkretzer.com