Vibrant jackfruit seed and mango curry is a traditional dish of Kerala. With plenty of spice to bring out the full-flavored mango and coconut, this is a comforting dish that was traditionally made by mom.
By Nisa Homey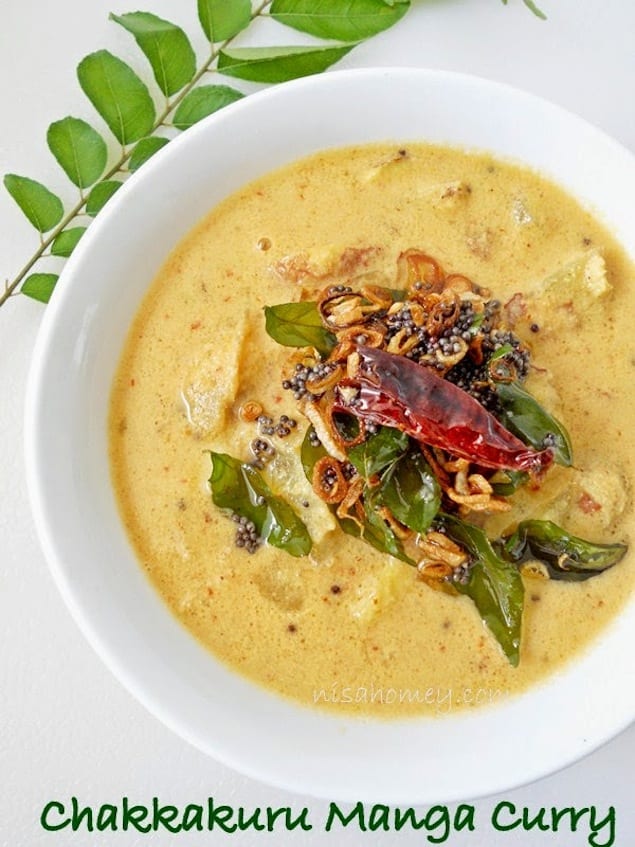 Chakkakuru manga curry is a traditional Kerala recipe made with Jackfruit seeds, raw mango, and coconut drizzled with coconut oil.
Jackfruit is the summer fruit of Kerala and popular like mangoes. The fruit is ripened and eaten ….in the raw stage, it is made into Jackfruit Chips; which is a must have if you visit Kerala. The unripe fruit is also made into curries like Chakka Kuzhachathu which is absolutely yummy with Nadan Meen Curry.
Jackfruit seeds or chakkakuru are also used to make delicious dishes like chakkakuru thoran, though cleaning and peeling them are a bit difficult. The seeds, once removed from the ripe fruit, are washed and spread out to dry, the outer film-like layer is removed and the next layer has a brownish coat; which should be lightly scraped off ….and lastly, it is cut into small strips….and again washed two or three times to remove the starch.
I hope you will enjoy making traditional curries like this, which was made by our mothers and grandmothers so patiently. Try to include these traditional curries in your families diet, so that the new generation will start liking the taste….I know peeling and scraping the seeds are a bit of work, but it is worth the effort. I strongly believe in the concept of territorial food for our every day meal….ofcourse, occasional indulgence, too.

Jackfruit Seed and Mango Curry
Vibrant jackfruit seed and mango curry is traditional of Kerala. With plenty of spice and full-flavored mango and coconut, this is a comfort dish.
Ingredients
To Grind:
Scraped Coconut: 1 cup.
Shallots/Cheriya Ulli: 3,4.
Whole Red Kashmiri Chilly: 3.
Coriander Powder: ½ tsp.
Turmeric: ½ tsp (I used organic, so the color is slightly less).
For The Curry:
Jackfruit seeds/Chakkakuru: About 300 gms.
Raw Mango: 1 (Mine weighed about 100 gm)
Water: 2 to 2-1/2 cups.
Turmeric: ¼ tsp.
Salt: About 1 tsp or as needed.
To Season/Temper:
Coconut Oil: 1½ tsp.
Mustard Seeds: ½ tsp.
Shallots or Cheriya Ulli: 2 or 3, sliced.
Whole Kashmiri Chilly: 2 or 3, broken.
Curry Leaves: One sprig.
Instructions
About 300 gms of jackfruit seeds, peel outer covering and the inside brown part was lightly scraped off and cut into 4, lengthwise.
To Grind
Put all ingredients in a chutney bowl or blender.
Grind with little water to a fine paste and set aside.
Curry
Peel and slice the raw mango.
In a kadai or pan....add in the cleaned and sliced seeds add 1 cup of water, turmeric, and salt. Once the water has boiled, simmer and cover and cook until the seeds are ¾ cooked. The seeds have a lot of starch in them, and it mostly depends on the variety of the jackfruit.... some seeds absorbs a lot of water and some does take a bit of time to cook through.
Add the mango and about 1 more cup of water. Cover and cook until the mangoes and seeds are cooked through. Now, both have cooked nicely and some of the water has been absorbed again by the seeds.....so, you can add in about ½ cup more water....if needed. (the mangoes will be a little mushy once cooked)
Add in the ground ingredients.
And pour in the seasoning or tadka. Heat a small pan with coconut oil, add in mustard seeds and once it starts to crack, add in sliced shallots (cheriya ulli), whole broken red chilly, and curry leaves. Pour this over the curry....and close with a lid, so that the flavor does not escape.
Serve with warm rice.
See Also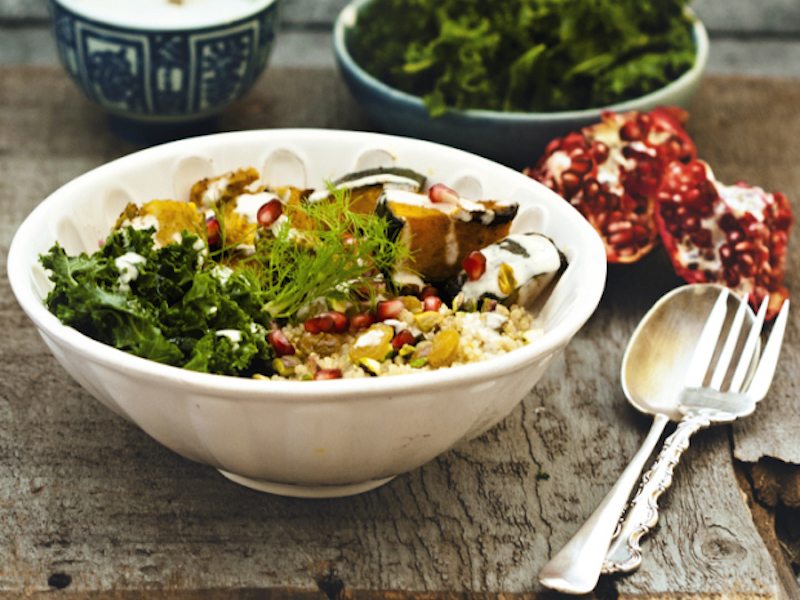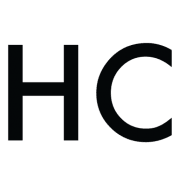 Nisa Homey
Nisa Homey is a lawyer by profession, now a full time stay-at-home mom. Cooking is Nisa's passion but blogging about food just happened. Nisa loves cooking for her family and kids, and her focus is to let everyone know just how easy cooking can actually be.