Kathy Gori with a great dish that is as versatile as an adjustable wrench.
By Kathy Gori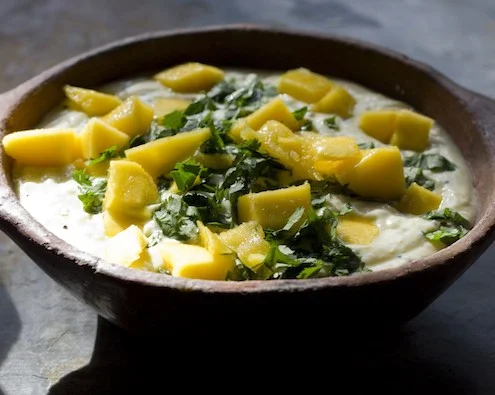 Whenever I'm planning any sort of Indian meal at our house I always try to keep things balanced. Hot, sweet, sour, bitter, crunchy, mild. I try to get all the flavor experiences in there. Since every course at an Indian meal is served all at once (except dessert) it helps to have a wide range of stuff on the table. One dish that always does double duty on my table is something cool and sweet with a hint of tart and a bite of chili, and that is mango curd.
Mango curd works especially well with spicy South Indian food but wait…it also goes beautifully with  good old barbequed chicken. Actually it tastes so good you might want to just eat a bowl of it all by it's lonesome. If you've got a blender or food processor it's also very easy to put together.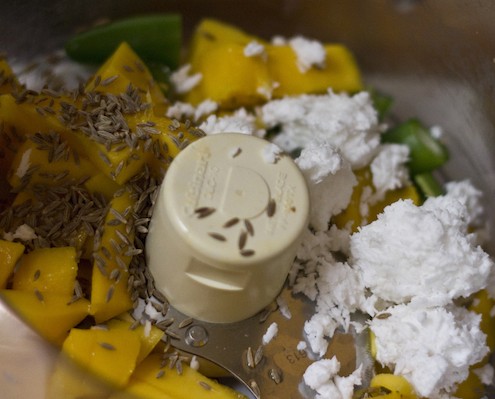 Once it's pureed and mixed with yogurt, then hit with a spicy chaunk.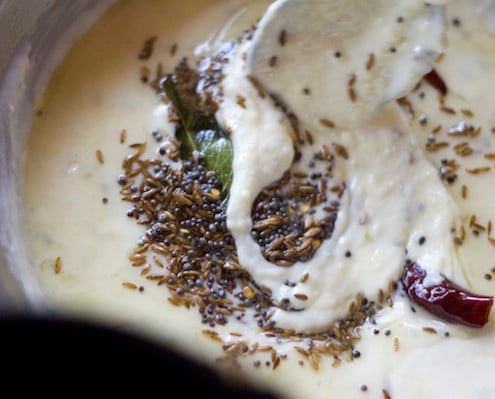 It's ready before you know it. Here's what to do:
It's A Salad, It's A Sidedish, It's Mango Curd!
A cooling easy mango treat to go with any meal
Ingredients
2 mangos
2 Tbs of grated fresh coconut, or dried if you cannot get fresh
4 green seeded chilies
1 tsp of cumin seeds
a bit of water
2 cups of yogurt
2 Tbs of chopped fresh cilantro
salt to taste
1 tsp of vegetable oil
1 tsp brown mustard seeds
1 dried red chili broken in half
4 curry leaves
Instructions
Peel and chop 1 of the mangos
Place it in a food processor or blender along with the coconut, green chilies and cumin seeds
Add a bit of water and blend everything into a fine paste
Put 2 cups of yogurt into a bowl and whisk it smooth
Add the contents of the blender along with salt to taste
Now to temper
Heat the teaspoon of oil in a small pan
When the oil is hot add in the mustard seeds, cumin seeds, the red chili and the curry leaves
When the mustard seeds start to pop pour everything into the yogurt mango mixture
Peel and cube the other mango and mix the pieces into the yogurt mango puree
Scatter a few chopped cilantro leaves over everything and serve it up