An interview with La Bottega's Paulo Airaudo and Francesco Gasbarro on re-defining Italian cooking and the Genevan gastronomic landscape.
By Roberta Phillips.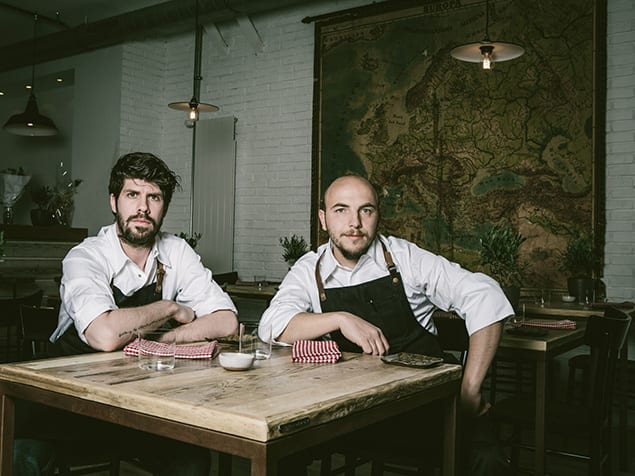 Paulo Airaudo and Francesco Gasbarro. Photo @Alex Teuscher
La Bottega, two young Italian chefs Paulo Airaudo and Francesco Gasbarro's unique joint venture, is rapidly becoming Geneva's most coveted dining venue after being awarded their first Michelin star just five months after their opening in May 2015. Clearly on the fast track to success, the duo are not stopping there. In fact, they already have three other restaurants in the pipeline, with one opening up this February.
So how, one might ask, is anyone supposed to keep up? Well, they're not.
Swiftly establishing a firm grip on the Genevan restaurant scene, Paulo and Francesco are determined to make their mark as two chefs re-defining Italian cuisine. Refusing to squeeze their restaurant into a clear-cut mould that churns out homogenous pasta dishes, they are breaking away from traditional stereotypes and going 'Italian free-style'.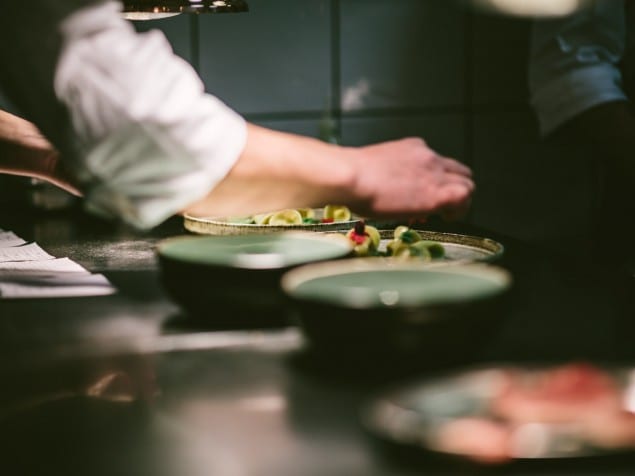 Photo @Alex Teuscher
Paulo, sat in the restaurant's back room during one of his rare moments off, is weaved around as waiters come and go, leaving their belongings before a shift or confirming details of that evening's menu. In fact, at times it is difficult to hear him for all the backstage commotion. However, this doesn't appear to bother Paulo and as he delves into his many new and exciting projects, only pausing to greet his business partner and fellow chef Francesco, who arrives about 20 minutes in. Along with the very exciting promise of new restaurants popping up in 2016, Paulo talks about the notion of 'upgrading', being a nonconformist and the two's refusal to ever become stagnant in their constant pursuit of innovation.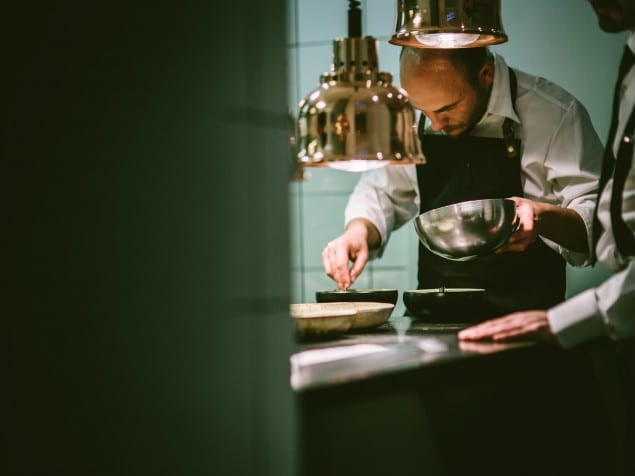 Francesco Gasbarro. Photo @Alex Teuscher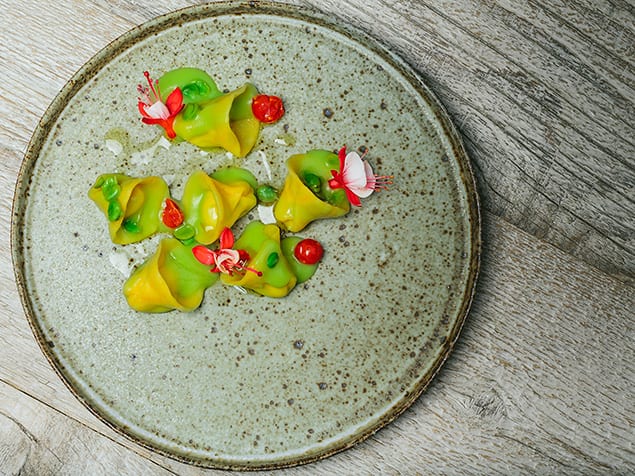 Cappelletti of Goat's Cheese with Fresh Peas and Broad Bean Cream. Photo @Alex Teuscher
Though they have been criticised on the speed at which they are opening new restaurants for a lack of potential profitability, the pair are anything but phased, explaining that the success of a restaurant is not owed to the profit it makes, but to the quality of food it produces. And as they are pretty damn certain they're doing that right, there's nothing stopping them from expanding the family tree across Geneva and out into the mountains, where they will be opening another restaurant in Verbier.
A traditional Swiss mountain village and sophisticated ski destination, Paulo and Francesco are sure to bring a splash of colour to Verbier's beautifully white backdrop, which attracts successful business people and royalty alike. However, here the concept will be a little different from the current Bottega's freestyle approach. The restaurant in Verbier will instead be a fine dining Italian trattoria. Paulo explains: "Here we will serve first class traditional Italian food. The dishes will be simpler, but will always maintain the same soul and quality of La Bottega." Set to open in December, this will be their fourth restaurant in two years.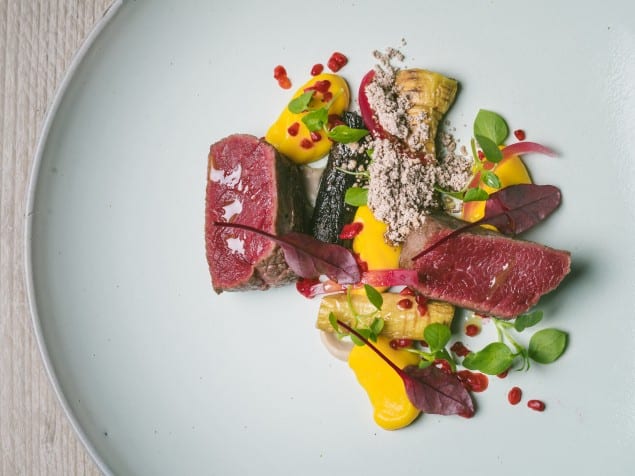 Beef, Carrot, White Carrot & Pomegranate. Photo @Alex Teuscher
This unwillingness to waste a single moment has become the story of Paulo's life, who has always been very focused on personal development and expanding his business prospects. Born in Cordoba, Argentina he quickly realised that if he wanted to make something of himself he was going to have to set his sights a little further afield, first travelling up to Peru, Mexico and then making the jump over to Europe, where he learnt some of his most valuable lessons. However, he never stayed in one place for too long; quickly absorbing the information passed on from his teachers he would swiftly move onto the next restaurant, eager to continue on his mission for betterment. In the last decade he has hopped around the continent, doing stints in reputable three star restaurants such as Spain's Arzak, England's Fat Duck, Italy's Magnolia, and many others before arriving at the conclusion that it was time for him to set up a restaurant of his own. Francesco, with his profound knowledge of wine and restaurant expertise, was an obvious choice and quickly jumped on board, leaving behind his restaurant in Florence, La Bottega del Buon Caffè.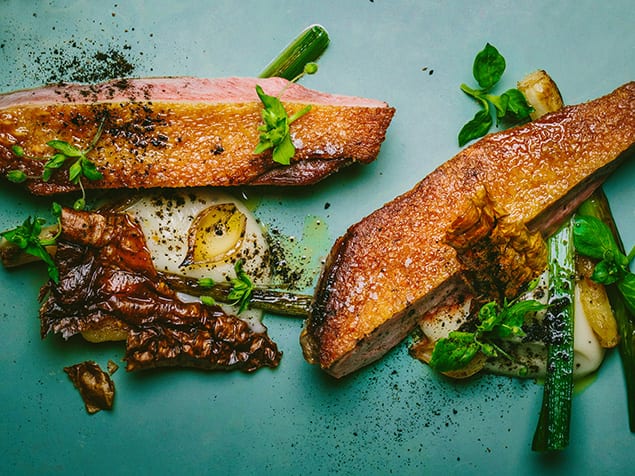 Duck, Onion, Parsnip and Leek. Photo @Alex Teuscher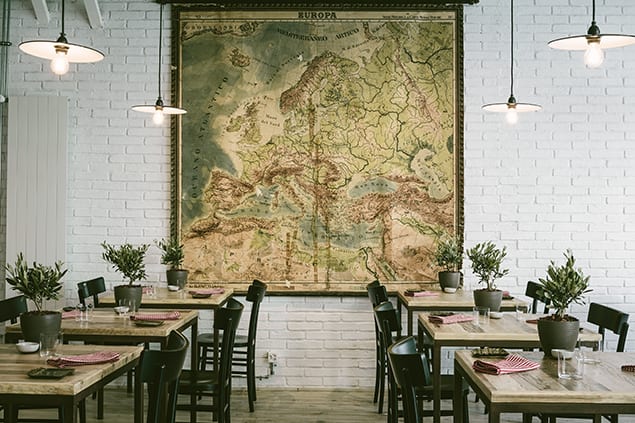 La Bottega. Photo @Alex Teuscher
Working either in the restaurant or behind the scenes on ways in which they can develop the enterprise, 90% of their time is devoted to La Bottega, in many ways making it their home. Therefore, when they personally welcome their guests, they endeavour to offer a very unique experience, keen to awaken dormant taste buds and heighten senses. Instead of receiving customers in want of something very specific, the chefs endeavour to guide their guests on a journey of taste discovery. They welcome the curious, the experimental and the progressive, presenting them with the freshest, highest quality dishes possible. However, like with all slightly more avant garde restaurants, the chefs must be prepared to deal with negative criticism. That said, Paulo and Francesco, have no plans to change anytime soon. They know that what they are producing is not always what is expected, and for them that is a good thing, if, on the other hand, you are in the minority of people who don't agree, "perhaps", says Paulo, "this just isn't the place for you."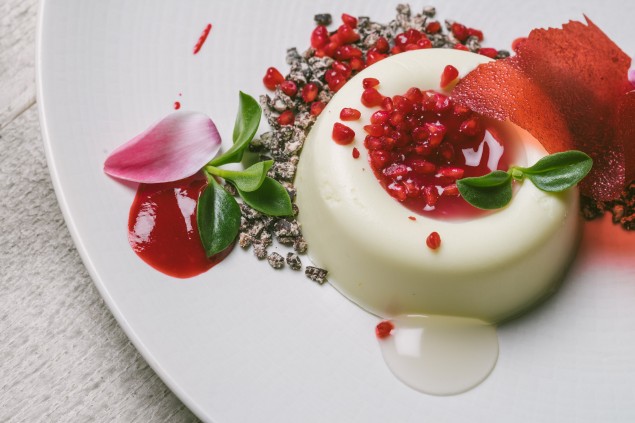 White Chocolate Mousse with Proseco and Raspberry. Photo @Alex Teuscher
Self assured, expeditious and rebellious, Paulo has been inspired by New York's Atera and by Argentinian chef Mauro Colagreco, executive chef of two star Michelin Mirazur, seeing them as allies in La Bottega's mission for constant evolution. Always seeking to challenge people's preconceptions of what a great restaurant, and more specifically, an Italian restaurant, 'should' be like, Paulo and Francesco stand out as pioneers of contemporary gastronomy in Geneva. La Bottega, rebellious against the rigidity of the traditional Italian menu and the teaching that one must cater to the tastes of the customer, presents diners with three tasting menus, disclosing nothing but their names: Inferno, Purgatorio and Paradiso, thus allowing the chefs the freedom to 'freestyle' on the night. The philosophy behind this technique? "Everything is totally fresh – not only the ingredients but also the recipe, the way in which it's prepared, the concept behind it and the plate it's presented on."
Though much of their success is owed to the duo's drive, ambition and commitment to quality, what has become clear from the outset is that Paulo Airaudo and Francesco Gasbarro are moving at a pace like no other. Already awarded a Michelin star for La Bottega, this year they are going for the second and are hoping to repeat their speedy success with their three new imminent ventures. Never static nor complacent in the their achievements, these two young chefs and restaurateurs have an abundance of passion and a clear vision for the future. A future that, based on their current pace, will not take long to become their present.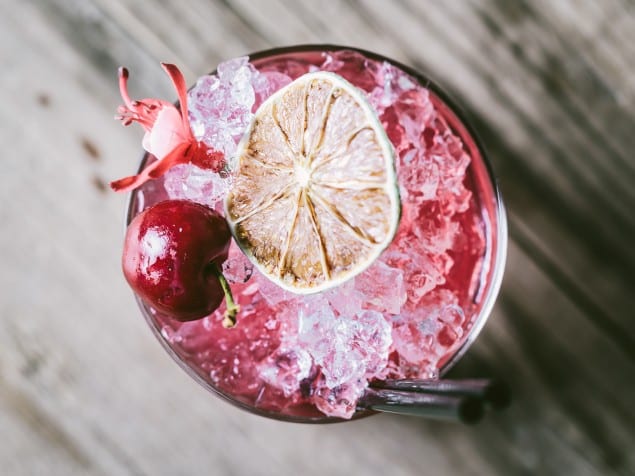 Photo @Alex Teuscher
Keep a look out for the next restaurant's opening in March in Geneva and their exclusive dinner that will be hosted alongside Executive Chef Augustin Balbi in Hong Kong's The Ocean restaurant in April.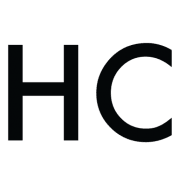 Roberta Phillips
Roberta Phillips is a UK-writer with a major in English and American literature. Her literary portfolio includes working with popular art and culture publications, both as a writer and editor, as well as taking on the world of fine wines and gastronomy.