Italian Holiday Table: Spinach-Artichoke Risotto Balls and Flourless Chocolate Truffle Cake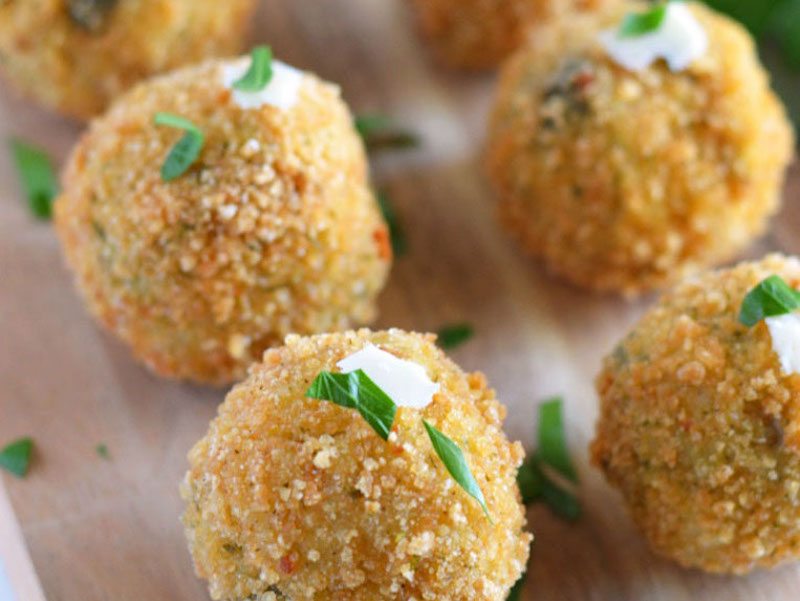 PARTNER POST — The holiday season is here and it is time to add some Italian flair to your menu with authentic ingredients from Colavita and Perugina's rich Italian chocolate.
Get in the holiday entertaining spirit with spinach and artichoke arancini appetizers and a decadent, dense chocolate truffle cake.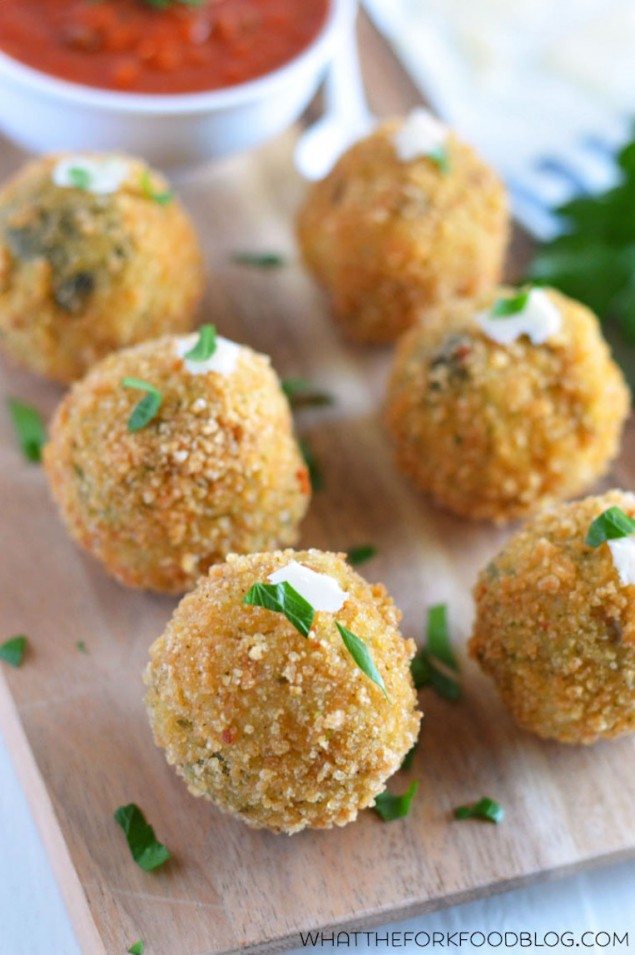 The holidays mean two things for me. Family and friends. Aww. But actually, they also mean two other things. Appetizers and desserts.
I'm always assigned to bring an appetizer, a dessert, or both.
Appetizers and desserts are a lot of fun since you can really get creative.
While we don't mess with the main meal much, we get a lot of leeway on our appetizers and desserts. This year, I thought it would be fun to have an Italian theme going for apps and sweets. Fried ravioli is a fun appetizer that I've done in the past but I thought I'd do it up big for the holidays with these fried artichoke and spinach risotto balls. They're kind of a big deal, and they're super impressive. Plus, those spinach and artichoke lovers will not miss their dip if you present them with this!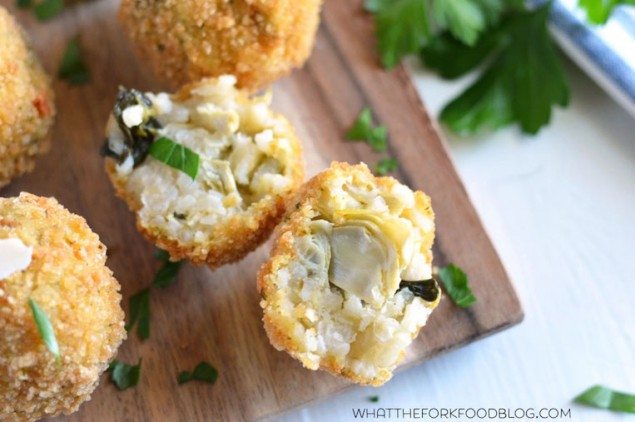 These spinach and artichoke risotto balls made with quality Colavita ingredients are also a great make-ahead dish. Since the risotto does best when refrigerated overnight AND you need to chill the risotto balls after they're rolled and breaded, you have to make them well before a party. You can start to make these up to 5 days before your party. 5 days out you can make the risotto, the next day you can roll and bread the balls, 3 days out you can fry the risotto balls. You can then freeze them or refrigerate them before serving once they're fried. Just reheat them in a 400-degree oven until hot and crispy.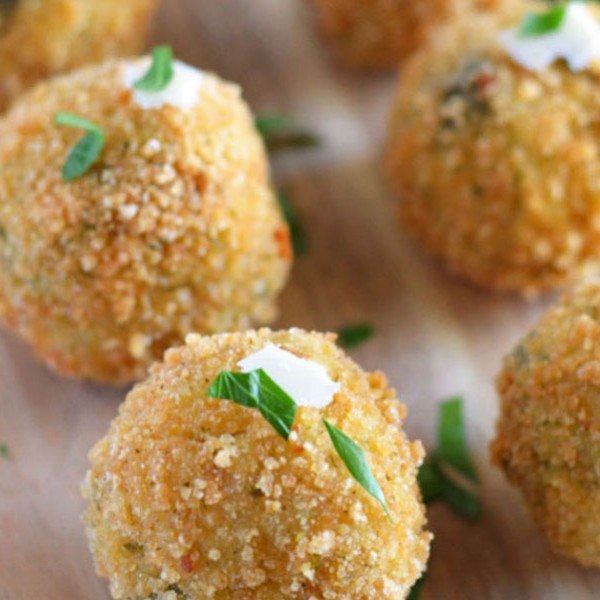 Sharon Lachendro
Ingredients
4

C

chicken broth

gluten free

2

Tbsp

Extra Virgin Olive Oil

2

small shallots

chopped (about 1/3 cup)

2

cloves

garlic

minced

fine sea salt

1 ½

C

Arborio rice

½

C

dry white wine

½

C

freshly grated parmesan cheese

1 9.87

jar Colavita artichoke hearts in EVOO

drained and chopped*

2

C

fresh baby spinach

1

C

gluten free all-purpose flour

salt and pepper

2

eggs

beaten

2

tsp

water

2

C

gluten free breadcrumbs

I used Italian

canola oil

for frying

shaved parmesan cheese

for serving

marinara sauce

for serving
Instructions
To make the risotto:
Heat the chicken broth in a medium sauce pan and keep warm while preparing the risotto.

Heat the olive oil in a large saute pan over medium heat. When hot, add the shallots and garlic. Season with salt and pepper and cook until slightly golden, about 3 minutes. Add the rice and saute for 2-3 more minutes or until the rice gets slightly toasted.

Stir in the wine and cook until the wine is nearly evaporated.

Add the chicken broth ½ cup at a time. When the half cup is absorbed by the rice, stir in another ½ cup of the broth. Stir and repeat the process until all of the chicken broth is absorbed and the rice is cooked. When the rice is done, it will still be slightly firm or al dente.

Stir in the grated parmesan, artichokes, and spinach. Transfer the risotto to a container and refrigerate overnight.
To make the Risotto Balls:
When the risotto is completely chilled, roll into 20 2-inch balls. Prepare the breading station by setting up 3 bowls. Add the flour to one bowl and season with salt and pepper. Add the eggs to a second bowl and mix with the water, and add the breadcrumbs to a third bowl.

Roll each risotto ball in the flour, dip it in the egg completely coating it, and then roll in the breadcrumbs until covered. Place the breaded balls on a plate and repeat until all the risotto balls are breaded. Refrigerate at least thirty minutes – can be refrigerated overnight.

When ready to fry, heat the oil in a large heavy bottom pot – you want about 3 inches of oil.

When the oil reaches 375 degrees, carefully add the risotto balls to the oil and cook in batches until golden brown, about 2 minutes. Remove with a slotted spoon or spider and drain on a paper towel and repeat the frying process until all the risotto balls are fried. (Keep them warm in a 200 degree oven while frying the rest.)

Serve the Spinach and Artichoke Risotto Balls hot. Garnish them with shaved parmesan cheese and fresh parsley and serve with warm marinara sauce for dipping.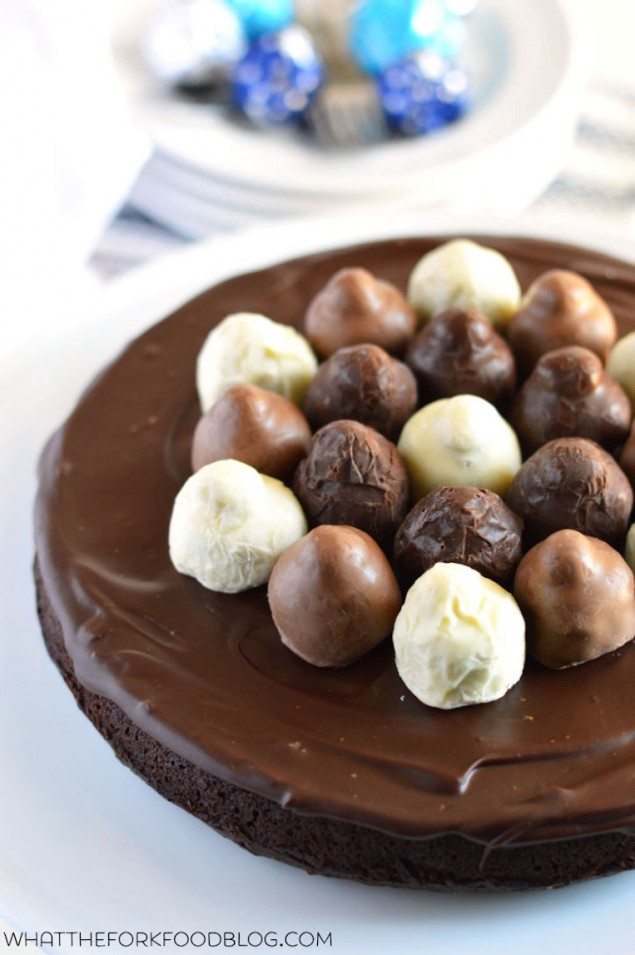 The second recipe for the holiday meal is a sweet, sweet dessert. Actually, it's not really super sweet – just sweet enough to satisfy that mouth full of sweet teeth. I made a fabulous Flourless Chocolate Truffle Cake featuring some of Perugina's best Italian chocolate.
Flourless chocolate cake has always been one of those classic, decadent desserts. Chocolate, sugar, eggs… what's not to love? Decadent desserts are made for holiday's.
This chocolate cake has THE most silky smooth truffle like texture. It's absolutely divine. But what really sets this flourless chocolate cake apart from the rest are the Perugina Baci (hazelnut truffles) I used to garnish the cake. Chocolate on chocolate, the perfect holiday dessert.
The Baci are a great textural contrast to the silky smooth cake and ganache. The hazelnuts inside offer a great unexpected crunch to every bite. To say that it's unbelievably good is an understatement!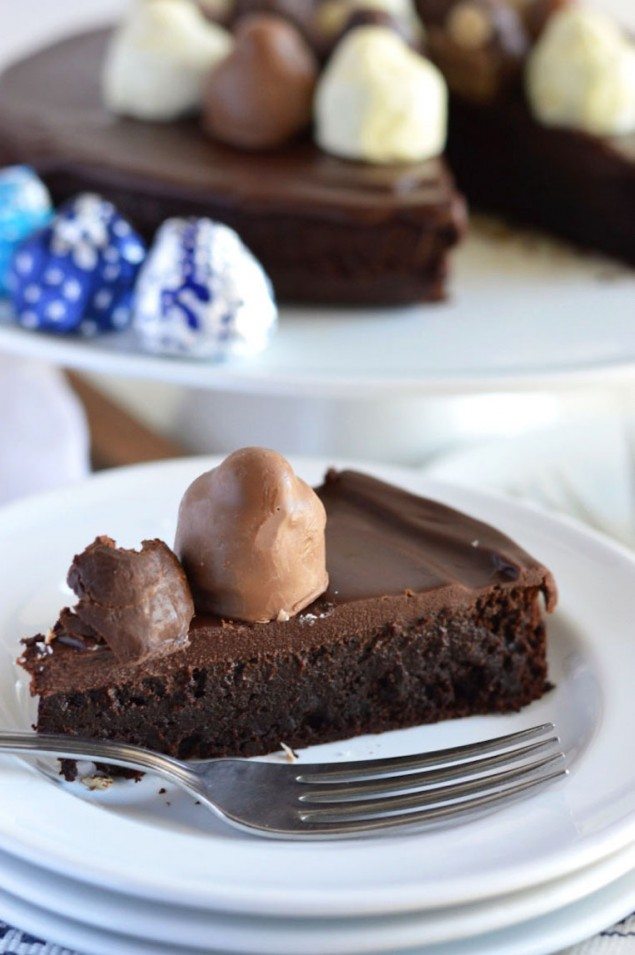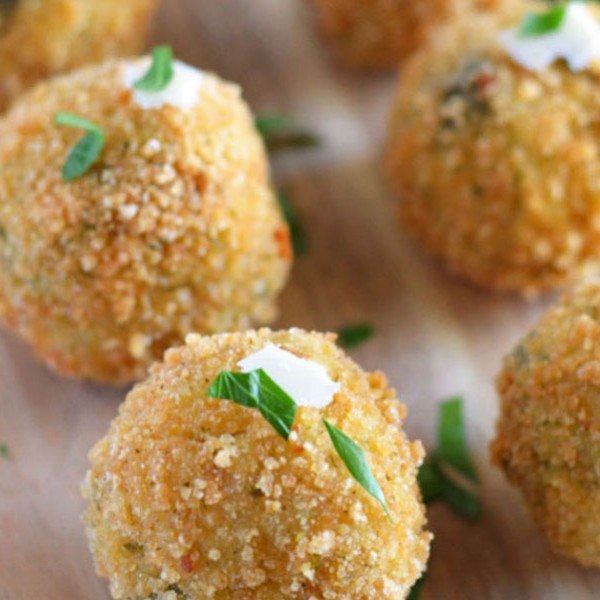 Amanda Powell
Ingredients
For the Cake:
1 3.5

oz.

Perugina 51% Cacao Dark Chocolate Bar

1 3.5

oz.

Perugina 70% Cacao Chocolate Bar

½

C

butter

1 stick

¾

C

granulated sugar

¼

tsp

fine sea salt

2

Tbsp

brewed coffee

1

tsp

vanilla extract

3

large eggs

room temperature

½

C

unsweetened Dutch-processed cocoa powder
For the ganache:
½

C

coconut cream

or heavy cream

7

oz.

Perugina 51% Cacao Dark Chocolate

Perugina Baci Dark Chocolate

to garnish

Perugina Baci Milk Chocolate

to garnish

Perugina Baci White Chocolate

to garnish
Instructions
Preheat oven to 375 degrees. Spray a 9-inch cake pan with non-stick spray and cut a piece of parchment to fit the bottom of the cake pan. Lightly spray the parchment with non-stick spray and set aside.

Roughly chop 1 51% cacoa chocolate bar and 1 70% cacao chocolate bar. Place in a large microwave safe bowl with the butter. Heat at 50% power for 45 seconds. Stir well and melt at 50% power for 20 seconds. Stir and repeat melting and stirring process until the chocolate is completely melted.

Stir in the sugar, salt, coffee, and vanilla extract. Mix in the eggs one at a time until completely combined and then stir in the cocoa powder.

Transfer the batter to the prepared baking pan and bake at 375 degrees for 20-25 minutes (there will be a thin crust on top when done – do not over bake!

When the cake is done, cool in the pan for 5 minutes then invert it onto a cake stand and cool completely.

When the cake is cooled, roughly chop the remaining two chocolate bars and add to a microwave safe bowl with the coconut cream (or heavy cream. Heat at 50% power for 45 seconds and stir well. Heat again at 50% power for 20 seconds and stir, repeating the process until the chocolate is melted. Pour the ganache over the cake and smooth it out. Let the cake sit at least an hour so the ganache can set.

Before serving, top the cake with the Baci as desired. Serve at room temperature and refrigerate leftovers.
Sharon Lachendro
New Englander born and raised. I'm the wife of a gluten-sensitive sweets and carb lover and mother to two beautiful girls. I'm the author of What The Fork Food Blog, home of easy gluten-free recipes that can easily be adapted for gluten-eaters. I love, love, love vanilla, Julia Child quotes and coffee. Lots and lots of coffee.