PARTNER POST — The holiday season is here and it is time to add some Italian flair to your menu with authentic ingredients from Colavita and Perugina's rich Italian chocolate.
Make a beautiful dinner of seared scallops served over an artichoke risotto blanca. Conclude the meal with a creamy chocolate panna cotta spiced with limoncello.
By Stacey M Doyle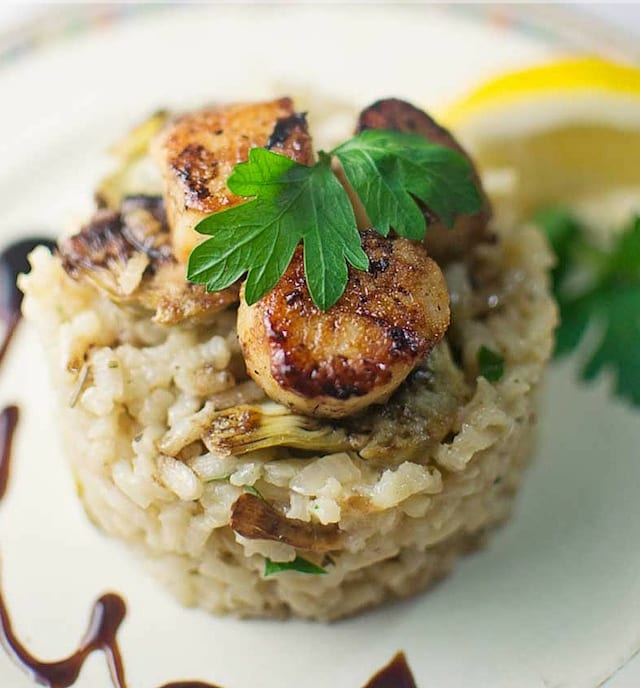 While many are running around preparing for the roast turkeys and hams, there is so much more to be shared at the table during the holidays. Personally, I enjoy creating simple yet very pleasurable meals that will inspire my family to linger and enjoy delicious food and great conversation.
As you may know, most of my favorite foods have a hint of Italian to them. Pasta and Risotto dishes not only are quick, but there are so many endless possibilities on how to flavor your dish. So to liven up your holidays this year, I wanted to share my version of Pan Seared Scallops with Artichokes and Risotto Blanca, as well as this insanely, decadent Chocolate Lemoncello Panna Cotta dessert.
For the main course, pan seared scallops with artichokes and Colavita's risotto blanca.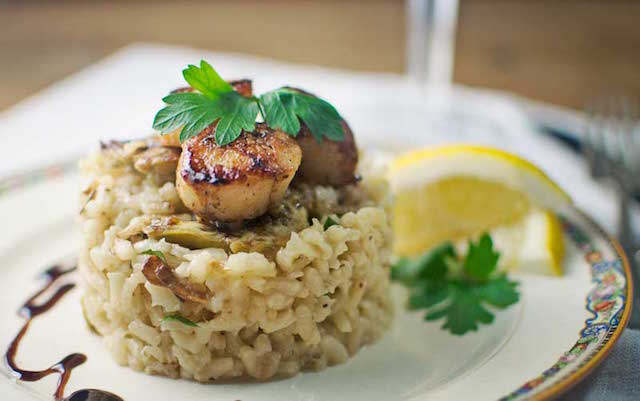 Italian Holiday Table: Seared Scallops with Artichoke Risotto
Cuisine:
Italian Inspired
Prep time:
Cook time:
Total time:
Ingredients
2 – 3 Tbls Colavita Extra Virgin Olive Oil
1 Garlic clove, crushed
1 Shallot, diced
1 tsp dried Oregano or Italian herb mixture
½ cup White Wine
1 cup Colavita Arborio Rice
2 ½ cups Vegetable Stock
½ cup Colavita Balsamic Vinegar
1 lb Sea Scallops
1 (9.87 oz) jar Colavita Marinated Artichokes, sliced
A few sprigs of Flat Leaf Italian Parsley, chopped with a few leaves left whole to garnish
Salt & Pepper to taste
Balsamic Glaze
Wedges of Lemons
Instructions
In a large saucepan over medium high heat, add Olive Oil. When oil is hot, add in the crushed garlic and shallots sautéing about 3 – 5 minutes or until shallots are starting to turn golden and soft.
Add in the dry Arborio Rice to the shallots and stir to coat the rice with the olive oil. Keep stirring occasionally until the rice starts to turn very pale golden in color, about 1 minute.
Stir in the White Wine and cook until the wine has been absorbed, now add in the vegetable stock and herbs, giving it a good stir. Cover and simmer on low for about 15 to 20 minutes or until the rice is al dente and liquid is mostly absorbed.
While waiting on the rice, start with the pan seared scallops and artichokes. Rinse and pat scallops completely dry with a paper towel. Sprinkle with some salt and pepper on both sides. Set aside on a paper towel lined plate.
In a large heavy-bottomed skillet or cast iron skillet (preferred), heat olive oil over high heat and start by searing the sliced artichokes to give them some color and heat through, about 1 – 2 minutes. Remove and set aside, keeping warm. Add more olive oil to pan if needed, bring the heat back up and carefully add the Scallops leaving about 1 inch space between them. Allow to cook undisturbed for about 3 minutes, turn scallops and cook for an additional 3 minutes. Scallops should have a crispy, golden color. Remove scallops to a plate and keep warm using a foil tent.
Add the Balsamic vinegar to the hot pan to deglaze pan, stirring well for about a minute. Set aside.
By now the rice should be done, check rice and "fluff" with fork. To test for doneness, rice should be al dente and just slightly creamy. Stir in the fresh chopped parsley, season to taste and add a squeeze of lemon juice, if desired.
Serve pan seared Scallops over a bed of Arborio Rice and drizzle the Balsamic over Scallops. Garnish with more Italian parsley, balsamic glaze and lemon wedges, if desired.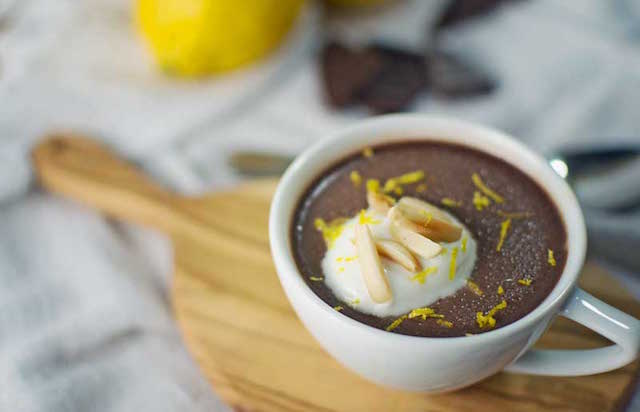 For dessert, easily prepare ahead a creamy chocolate panna cotta made with Italian Perugina chocolate spiked with limoncello.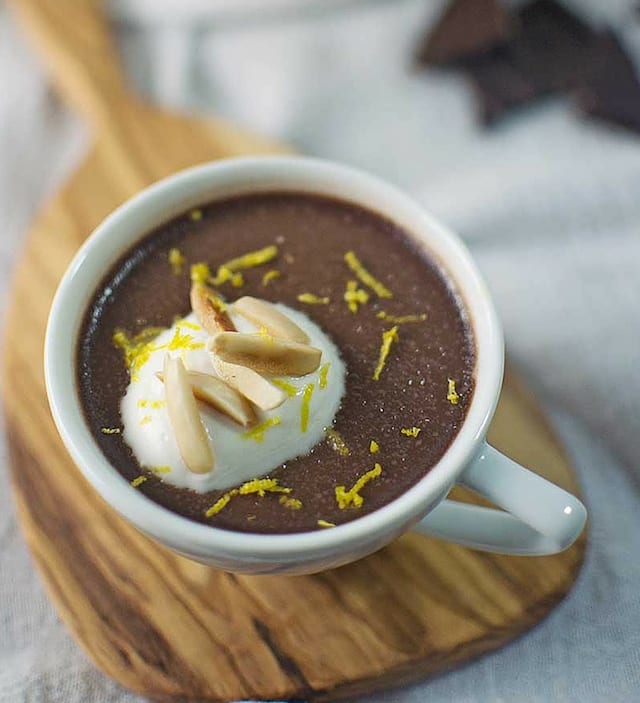 Chocolate Limoncello Panna Cotta
Cuisine:
Italian Inspired
Prep time:
Cook time:
Total time:
Ingredients
2 packets unflavored Gelatin
1 cup Milk
2 cups Heavy Whipping Cream
1/3 cup Sugar
1 each (3.5 oz) bars of Perugina 51% and 70% Cacao Chocolate, chopped well
3 – 4 Tbls Lemoncello
Zest and Juice of 1 Meyer Lemon
To Garnish:
¼ cup toasted slivered Almonds
Crème Fraiche or Whipped Cream
Lemon Zest, optional
Instructions
In a small bowl, pour in Milk then evenly sprinkle the Gelatin powder over top and allow to stand for 5 minutes.
In a small saucepan over medium high heat, bring the Cream and Sugar to a gentle bowl, stirring to dissolve sugar.
Add in the Gelatin and Milk mixture to the saucepan and mix together until well blended, heating for 1 – 2 minutes more.
Remove from heat and stir in the chopped Chocolates, Lemoncello and zest and juice of the Meyer Lemon, stirring until chocolate is melted and well incorporated. Taste and adjust if needed by adding more lemon juice or Lemoncello.
Pour the mixture into a large measuring cup or bowl with a pouring spout. Place ramekins or dessert serving dishes on a kitchen towel lined baking pan (to prevent dishes from sliding around). Pour the Chocolate Panna Cotta into each dish. Chill Panna Cotta in refrigerator for 4 – 6 hours or until set.
In a small skillet, dry toast the slivered almonds for 2 – 3 minutes or until just starting to turn golden. Be careful, they can burn quickly.
To serve, garnish the Panna Cotta with a dollop of Crème Fraiche or Whipped Cream, a few toasted slivered almonds and a little lemon zest.
Notes
*Note: Some of the alcohol in the Lemoncello will evaporate because it will be added while the Panna Cotta is still hot. To make this completely alcohol free, substitute the Lemoncello with the juice of 1 large or 2 small Lemons. [br]I like to use a mixture of half 70% cacao and half 51% cacao in this recipe, if using only 70% you may need to increase the amount of sugar to ½ cup. By using a mixture of both chocolates, it is the perfect blend of semi-sweet and sweet.
Stacey M Doyle
A Southern girl with a taste for travel, Stacey takes inspiration from her global pantry and cooks with a sense of adventure. Now she's raising her three young children to appreciate a wide world of food, even if she doesn't always tell them exactly what they're eating. Stacey is the food photographer, writer and creator of Little Figgy Food. She's also addicted to coffee. Addicted to olives. Fairly obsessed with dark chocolate.