PARTNER POST — The holiday season is here and it is time to add some Italian flair to your menu with authentic ingredients from Colavita and Perugina's rich Italian chocolate.
Beautiful savory chocolate pasta can be topped with three different sauces for a stunning presentation. Create unique Italian cookies filled with ricotta and chocolate.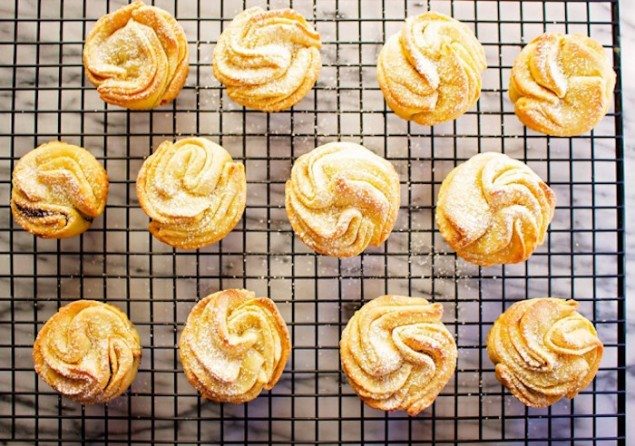 Ever heard of chocolate pasta? It isn't even sweet! Actually, adding cocoa to pasta is not an unusual practice in Italy where it can be eaten both savory or sweet. Cocoa adds a very subtle flavor in cooked pasta and a strikingly beautiful look, shiny and decadent, especially after you toss it with some good olive oil, like Colavita. The pasta smells strongly of chocolate during cooking, but the actual taste is mild. I think of it as more of a special meal because of how pretty it is, but there is nothing complicated about making it.
I've been serving it with different sauces – berries roasted with balsamic vinegar (raspberries or strawberries), pistachio pesto, and creamy Gorgonzola sauce. Each sauce creates a beautiful combination of colors and flavors, and can be eaten all mixed together.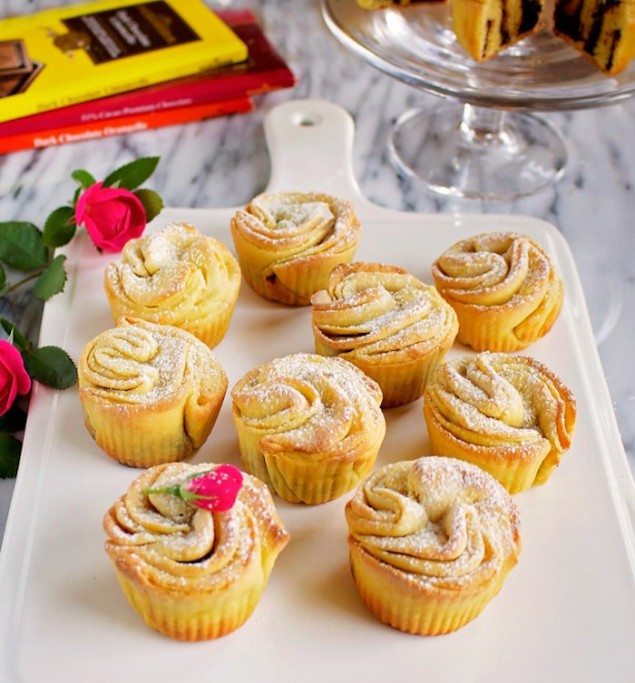 Print

---
Author:

Valeria Weaver

Total Time:

55 minutes
Chocolate Pasta
1 3/4 cup

all-purpose flour (I use spelt flour)

1/3 cup

cocoa powder

2 tablespoons

powdered sugar (optional)

1/4 teaspoon

salt

2

large eggs

1 tablespoon

Colavita olive oil
For decorating:
Perugina Chocolate shavings
Chopped pistachios
Basil leaves
Gorgonzola crumbles
Raspberry Sauce with Balsamic
2 pints

fresh or frozen raspberries (or strawberries)

3 tablespoons

maple syrup (or more if you like a lot of sweetness)

2 tablespoons

Colavita balsamic vinegar
Pistachio Pesto
1/2 cup

shelled unsalted pistachios

1 cup

packed fresh basil leaves

1/2 cup

packed fresh flat-leaf Italian parsley leaves (optional)

2/3 cup

Colavita extra-virgin olive oil

1/2 teaspoon

sea salt
Freshly ground pepper (to taste)

3 tablespoons

freshly grated Pecorino Romano cheese
Creamy Gorgonzola Sauce
2 tablespoons

butter

2 tablespoons

flour

1 cup

milk

3 oz

crumbled Gorgonzola cheese
---
Instructions
Pasta
In a medium bowl, whisk together flour, cocoa, sugar and salt.
Make a well in the middle and add the eggs and olive oil. Mix at first with a spoon, then knead with your hands. The dough will be dry and stiff at first, but will soften the more you knead it. If it's dry (because eggs were too small) add water, a teaspoon at a time.
Cover and allow to rest at room temperature for 30-60 minutes. During this time, the dough will hydrate and become softer and pliable. Knead it for a few minutes on a well floured surface.
Follow your pasta maker manufacturer's instructions to roll/cut pasta (or roll it out thin and cut into strips with a knife). Sprinkle the dough with flour frequently to avoid sticking.
To cook chocolate pasta, place it into salted boiling water and cook for 8-10 minutes. Drain and toss with olive oil.
Raspberry Sauce with Balsamic
Toss all ingredients in an oven proof dish and bake at 350ºF (180ºC) for 35-40 minutes, or until the top brown slightly.
Pistachio Pesto
Process everything but cheese in a mini food processor, add cheese right before ready to serve.
Creamy Gorgonzola Sauce
In a medium sauce pan, melt the butter. Add flour and whisk until smooth, and cook on low for about 5 minutes.
Add milk and whisk until sauce thickens, about 4-5 minutes. Remove from heat and add gorgonzola; stir to melt.
Prep Time:

45 minutes

Cook Time:

10 minutes

Category:

Pasta, Primi

Cuisine:

Italian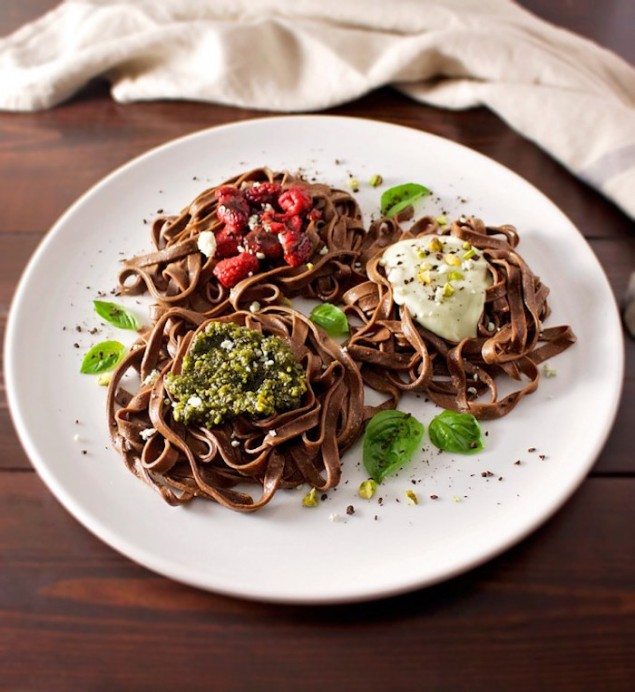 Golden einkorn + moist farmers cheese + rich Perugina chocolate = the most fragrant and wonderful pastries and cookies. When I first combined these ingredients into a fun twisty flower design, I went 'wow' as soon as they came out of the oven, beautiful, puffy and each unique, I just wanted to stare at them. Coming up with a name was a challenge – muffins? Cupcakes? I settled on cookies because I use the same dough to make soft cookies but when they are twisted into a cup and filled with chocolate, they become moist like cupcakes.
Holidays are the time to enjoy delicious and beautiful food but it doesn't mean having to go crazy with sugar and overly processed treats. These little guys are made with a good amount of soft cheese, Russian farmers cheese or Italian ricotta, which I love and use in a lot of my recipes; this love probably comes from my Russian upbringing – farmers cheese (tvorog) was used in all things imaginable to stretch flour and increase nutritional value of meals. It adds a lot of protein to baked goods without affecting texture. Einkorn is superior to any gluten flour, and even being the oldest cultivated form of wheat, it hasn't been hybridized and has the same genetic makeup as it did thousands of years ago; it's higher in protein and lower in starch than most other grains; it has the most wonderful, naturally sweeter, taste and beautiful yellow color.
See Also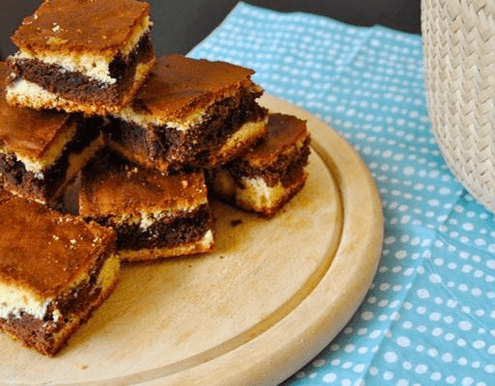 This recipe is definitely more involved than other things I make so I reserve it for special occasions, when I can play around the kitchen with a glass of wine while my kids watch and help.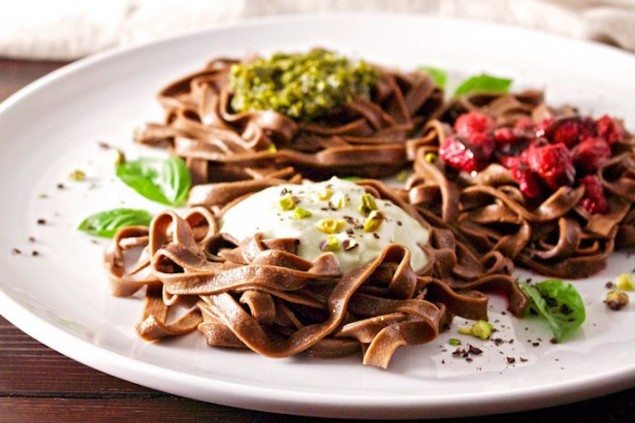 Print

---
Author:

Valeria Weaver

Total Time:

1 hour

Yield:

1

2

1

x
1 cup

200g farmers cheese (or ricotta cheese, strained in an sieve for an hour)

2

eggs
? cup (70g sugar – use more sugar if you like a lot of sweetness – I don't :))

¼ teaspoon

salt

4 tablespoons

55g butter, at room temperature

1 teaspoon

baking powder

2 cups

250g all-purpose einkorn flour

1 cup

200g or 2 bars of chocolate (I used Perugina 85% chocolate on these photos)

2 tablespoons

heavy cream
---
Instructions
In a mini food processor or blended, mix together farmers cheese (or ricotta), eggs, butter, sugar and salt until smooth with no visible grains of cheese.
Sift einkorn flour with baking powder into a mixing bowl (I use a plain strainer for sifting); add wet mixture.
Start mixing it at first with a spoon, then your hands until it comes together into a nice ball. Because of farmers cheese, the dough is going to be very easy to handle, and it's unlikely that you will need extra flour. But in the case that your farmers cheese was too wet, you may add extra flour by tablespoons until the dough feels right.
Transfer the dough onto floured work surface and separate it into 12 parts. What I do is roll the dough into a 'sausage', then cut it into four segments, then stack those segment next to each other, and cut into threes.
Divide each of the 12 pieces into three segments and roll them out to circles of about 3.5-4 inches in diameter.
In a heavy bottom sauce pan, melt the chocolate with cream. Brush each circle with melted chocolate leaving a little room by the edges. Fold each circle in half, then fold in half again to get a quarter segment.
Line three quarter segments together with the open side facing up so that the bottom corners are about 2 inches apart from each other.
Roll the segments into a flower-like shape and place into a muffin pan lined with paper cups.
Repeat the steps until all 12 cups are filled.
Bake in a pre-heated to 350ºF (180ºC) oven for 25-30 minutes, or until the tops start to brown.
Serve warm or cold.
Prep Time:

30 minutes

Cook Time:

30 minutes

Category:

Dessert, Dolci

Cuisine:

Italian-Inspired
Valeria Weaver
A mom cooking slow food in the fast world. I'm bringing back traditional recipes, and making new traditions.