PARTNER POST — The holiday season is here and it is time to add some Italian flair to your menu with authentic ingredients from Colavita and Perugina's rich Italian chocolate.
Cozy artichoke risotto and a decadent hazelnut praline chocolate roulade, which also is gluten free, make for a delicious duo that is perfect for the holidays.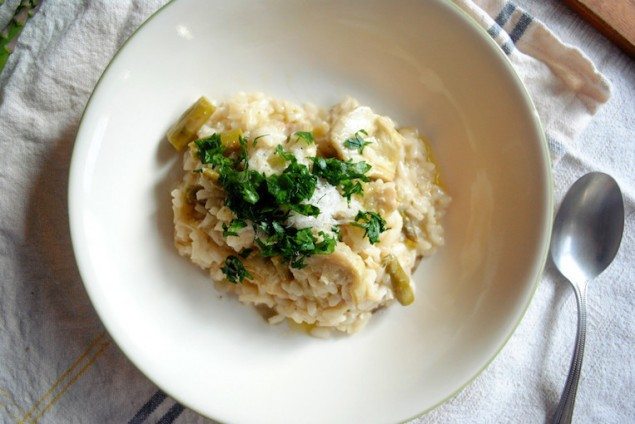 The holiday season in Boston is always pretty magical – crunchy leaves on Thanksgiving to accompany the pumpkin pie, and plenty of snow on the ground to welcome Christmas and the New Year. No matter how cold it gets outside, though, sharing warm, home-cooked meals with family is always the highlight of the holidays. As cheesy as it sounds, we love feeling the love.
So we made these recipes with love, for you. Whether you have 78249395 crazy relatives or your family consists of just you and your cat, these are dishes made to share with those you're closest to.
For these recipes, we've used Colavita and Perugina ingredients, makers of some of the world's finest olive oils and chocolates, respectively. Olive oil and chocolate are two of our most-used (and most-loved) ingredients, and we love all things Italian, so this partnership was really a no-brainer.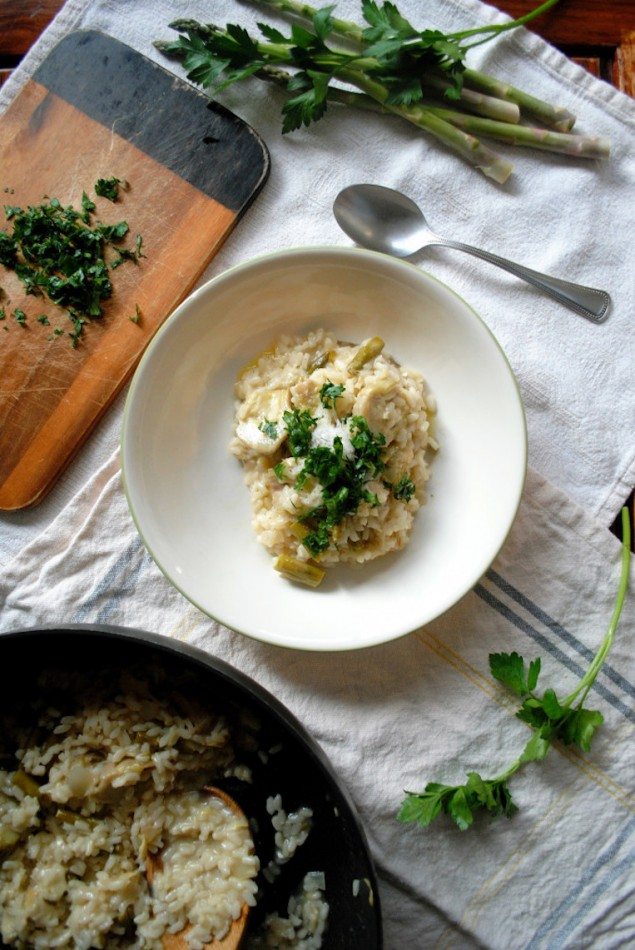 I may not have the warm weather for another few months, but I will have my wine and I will definitely have my share of warm, delicious food. And so, this beautiful artichoke and asparagus risotto was born. Buttery and creamy risotto combined with artichoke hearts, asparagus, Parmesan, excellent olive oil, and other goodness. Nothing too crazy here – just simple and classic ingredients to remind myself that Italy is not so far away once this risotto is in my belly.
Print

---
Yield:

0

about

4

sevings

1

x
1 cup

asparagus (1" pieces)

1 cup

Colavita artichoke hearts (cut into bite-size pieces)

2 tablespoons

butter (divided)

2 tablespoons

Colavita extra virgin olive oil

4 cups

chicken stock

1 cup

Colavita Arborio rice

½ cup

white wine

2

cloves of garlic (minced)

½ cup

white onion (chopped)

1

sage leaf (finely chopped)

1 tablespoon

Italian parsley (chopped)

½ cup

Parmesan cheese (extra for topping)
Extra butter for topping
Salt and pepper
---
Instructions
Once all the vegetables have been prepped and chopped, heat up the chicken stock and keep it warm on the stove.
In a large pan, melt 1 tablespoon of butter and all the olive oil together over medium high heat. Throw in chopped onions and sauté until soft. Add asparagus to the pan and season with salt to draw out the water. Cook for a couple minutes until the asparagus just begins to get tender. Toss in minced garlic and sage. Let them all cook together for about a minute before adding the artichokes and cook for another 3 minutes.
Add rice and stir until all the grains are coated with the oil. Then, add wine and let reduce for a minute. Use a ladle and add about 1 cup of chicken stock into the pan. Continuously stir until the liquid is absorbed – add another ladle of stock in and stir again until absorbed before adding the next portion. Repeat this step until all the stock is used, or until the risotto is creamy but not soupy.
As the saying goes, you don't want the risotto to be too wet or too dry. Make sure you keep stirring throughout the whole cooking process and add the stock slowly. Be patient, it takes about 30 minutes to reach that desired creaminess.
Once the rice is done, remove it from the heat. Add Parmesan and remaining tablespoon of butter. Mix it all in and cover the pan for about 3 minutes. Season with salt and pepper if necessary.
Serve the risotto on warm plates – add parsley, drizzle some good olive oil, and grate some extra Parmesan on top for good measure.
Category:

Main

Cuisine:

Italian-Inspired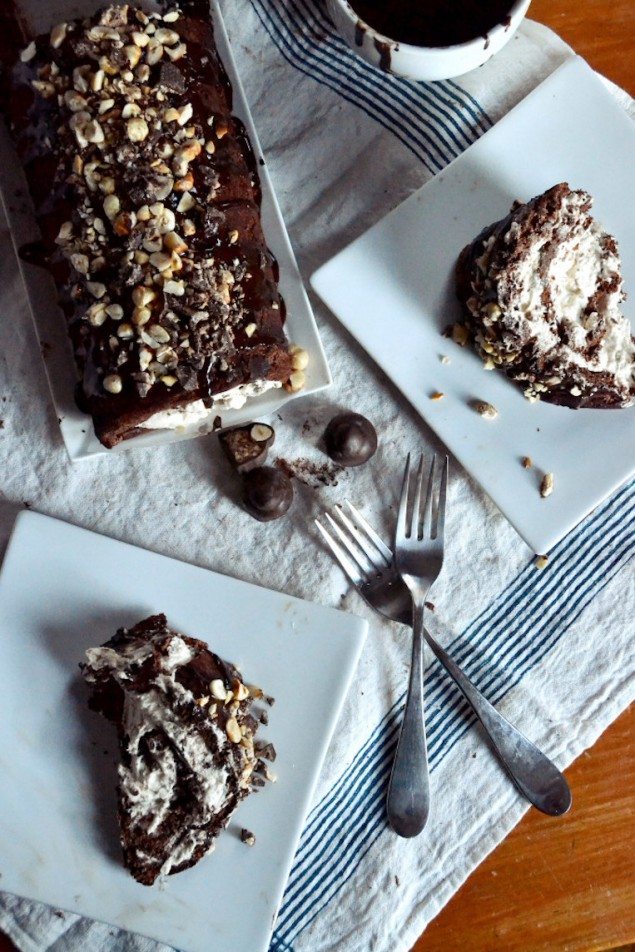 See Also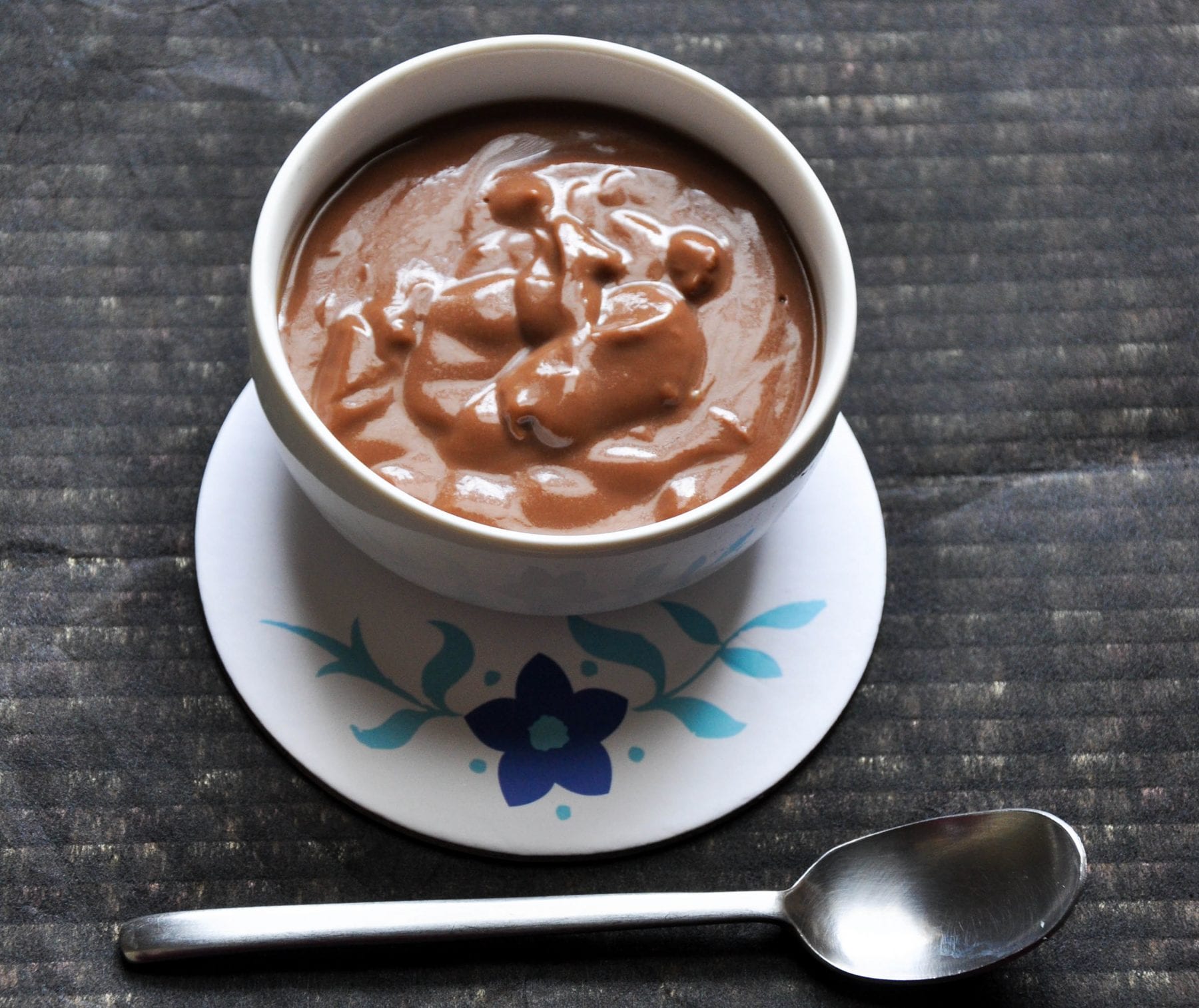 Every year, I challenge myself to squeeze a little more chocolate into Thanksgiving and Christmas dinners. And really, is there a better flavor combination than chocolate and hazelnuts? Nope. Never. So it's no wonder that I fell in love with Perugina's Baci chocolates, which are made with gianduia (chocolate and hazelnut cream, of course) and whole hazelnuts enrobed in dark chocolate. It's chocolate-hazelnut heaven, my friends.
This elegant chocolate roulade is perfect for the holidays (and also happens to be gluten free). The cake itself is airy yet rich, while the whipped cream filling is made with a homemade hazelnut praline paste and chopped Baci chocolates. Everything is topped with a bold bittersweet espresso ganache, and even more Baci (because there can never be enough of that chocolate and hazelnut combo). All together, this cake is light yet decadent, and is sure to please.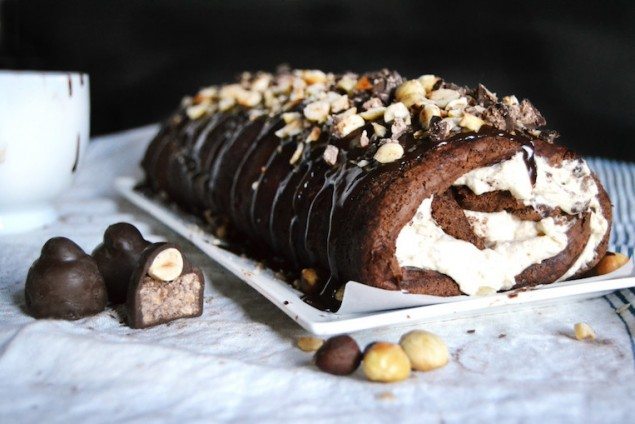 Print

---
For the praline paste (partially adapted from Joe Pastry):
1 cup

hazelnuts

1/2 cup

plus 1 tablespoon granulated sugar

2 tablespoons

water
For the cake (partially adapted from Smitten Kitchen:
6 ounces

51% Perugina Dark Chocolate (chopped)

1/2 cup

plus 1 tablespoon granulated sugar

6

eggs (separated)

1/4 teaspoon

salt

2 tablespoons

coffee (at room temperature)

1 teaspoon

vanilla extract
Cocoa powder (for dusting)
For the whipped cream filling:
1/2 cup

praline paste

1 3/4 cup

heavy cream

2 tablespoons

granulated

1 teaspoon

vanilla extract

6

dark Perugina Baci chocolates
For the ganache:
2 ounces

70% Perugina Bittersweet Chocolate (chopped)

1/4 cup

heavy cream

1 teaspoon

espresso powder
For the topping:
4

Perugina Baci chocolates

1/4 cup

hazelnuts
---
Instructions
First, make the praline paste:
Toast 1 1/4 cup hazelnuts either in a small pan over medium heat for a few minutes, or on a sheet pan in a 375º F oven for 5-10 minutes, until golden brown and fragrant. Set aside to cool for a few minutes, then rub the hazelnuts with a clean dish towel to remove their skins. Spread 1 cup of the nuts on a sheet pan lined with wax paper or a silpat, reserving the other 1/4 cup for the cake topping.
In a small saucepan, stir together the sugar and 2 tablespoons of water so that all the sugar is wet before placing on the stove. Cook over medium heat for 7-10 minutes without stirring or moving the pan, allowing the sugar to caramelize. When it reaches a light tan amber color, remove from heat and immediately pour over the peeled hazelnuts. Let this praline cool.
Once cooled and hardened, break up the praline into small pieces and place in a food processor or blender. Process for a 3-5 minutes. At first the praline will just become a powder, but keep blending until the oil from the hazelnuts creates a very smooth paste. Set aside.
Make the cake:
Line an 11 x 15" sheet pan or jelly-roll pan with parchment paper, then grease the paper and sprinkle with cocoa powder. Preheat the oven to 350ºF.
In a heat-proof bowl, melt the dark chocolate either in the microwave or on a double-boiler. Set aside to cool to room temperature.
In the bowl of an electric mixer, whisk the 6 egg yolks and 1/4 cup plus 1 tablespoon of the granulated sugar on high until thick and pale, and the yolks ribbon when the beaters are lifted. Whisk in the vanilla extract and the coffee until just combined. Gently stir in the cooled melted chocolate.
In a clean bowl, use the whisk attachment to whip the egg whites and 1/4 teaspoon of salt on low speed until frothy. Increase the speed and slowly start adding the remaining 1/4 cup of sugar, adding about a teaspoon at a time, whipping until the whites are shiny and form soft peaks. Mix about a third of the whites into the yolk mixture to lighten it, then gently fold in the remaining whites. Don't over mix. Spread the batter into the prepared pan, first spreading it into every corner before gently spreading the batter evenly throughout. Use your thumb or forefinger to slide around the edge of the pan between the batter and the pan, to make the cake easier to release after baking. Bake for 15-17 minutes, rotating the pan about 8 minutes in for more even baking.
When the cake is done, it should just be set – do not over bake. Remove the cake from the oven, and while it is still warm, sprinkle it evenly with more cocoa powder and top with another sheet of parchment paper. Place the bottom of another sheet pan (or cutting board, or other large and flat surface) on top of this parchment paper, then quickly flip the cake over. Lift the cake's pan off, peel off the parchment paper, then sprinkle more cocoa on the cake. Take a large, clean dish towel and place it over the cake. Rest the bottom of the sheet pan on top of the cake and flip the cake back over. Remove the sheet pan/cutting board and parchment, then use the towel to roll up the cake into a log from left to right – short end to short end. Let the cake cool completely in its towel, either at room temperature or in the fridge.
While the cake cools, make the ganache:
Scald the heavy cream and espresso powder over medium heat, then remove from heat and add the bittersweet chocolate. After letting it sit for thirty seconds, whisk until smooth and combined.
Make the whipped cream filling:
Finely chop 6 Baci Chocolates.
Whip the heavy cream, sugar, and vanilla extract until it starts to noticeably thicken. Slowly drizzle in 1/2 cup of the previously made praline paste, and continue whipping until thick and holds stiff peaks (stiffer than you would if you were making regular whipped cream). Add the chopped Baci and gently fold them in by hand.
When the cake is cooled, gently unroll it, leaving it on its towel. If it seems to have cracks, don't worry, these won't be noticeable. Spread the whipped cream onto the cake and spread to the edges, then use the towel to gently roll the cake up again. Transfer the cake to a serving plate.
Spoon the ganache over the cake, letting it drizzle down the sides. Chop up the 4 Baci chocolates and remaining 1/4 cup hazelnuts and sprinkle them over the ganache. Serve immediately.
Leili Ansari
Leili is a Boston-based food writer and recipe developer who shares all of her kitchen adventures on her food blog, Yin and Yolk. She loves cooking up healthy comfort food dishes but also has a passion for pastries, and strives to create recipes that are both delicious and wholesome. When she's not experimenting in the kitchen, she can be found perusing the local farmer's market, jogging through the city, or trying out new places to eat.