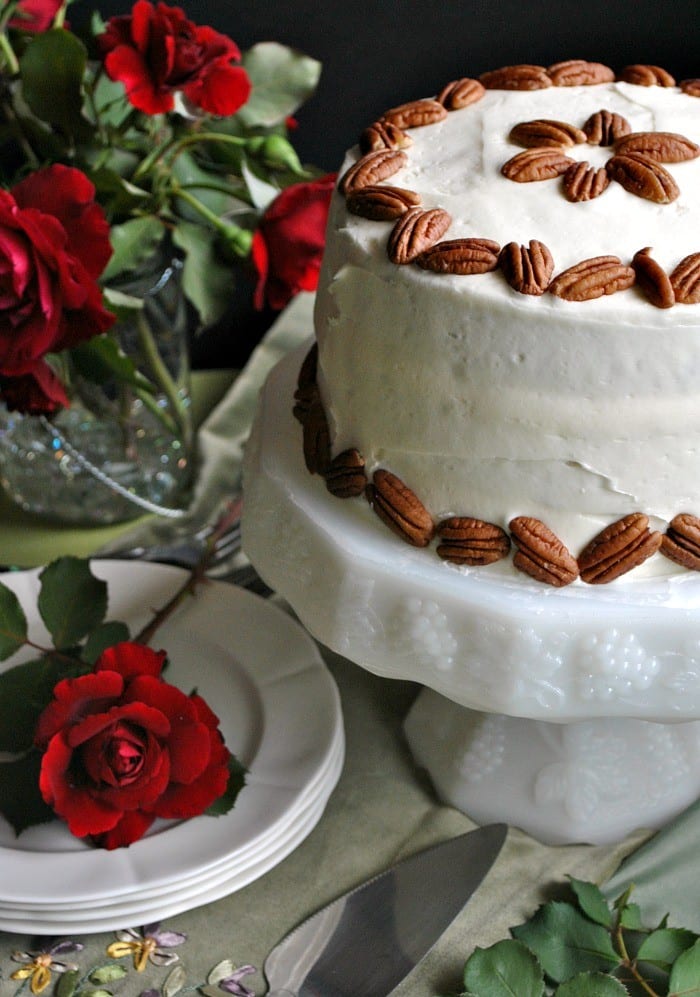 A rich cake full of coconut and pecans and frosted with a buttery cream cheese frosting, from new Honest Cooking contributor Suzanne Platt.
By Suzanne Platt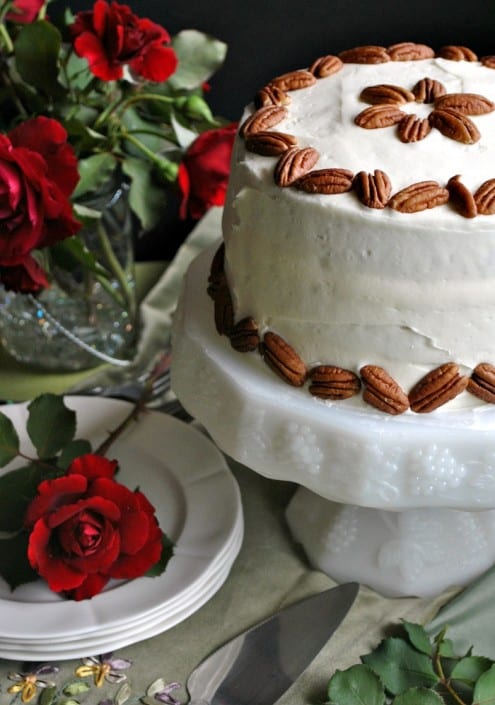 I am happy to join the cooks, bakers and chefs here of the Honest Cooking Magazine and hope you will enjoy my recipes. My friend Heidi makes this lovely cake for special occasions and I get the pleasure of eating a piece from time to time. Heidi had given me the recipe long ago but I had never attempted her cake because it is like her "signature dessert". Two things to know about close friends is we don't share men or bring their signature dish to mutual events.
All kidding aside we do share a love of baking and eating, and since it had been much too long since she baked her signature dessert, I finally took the leap of faith and hoped my cake would be as good as hers. It proved to be just as delicious and I was very happy with the end result. To give credit where it is due the original recipe was her Dad's who used to bake cakes for weddings and own an ice-cream shop. However I changed the original recipe a tiny bit by using coconut oil instead of vegetable shortening since coconut is the healthy oil to use now and vegetable shortening has the trans fats.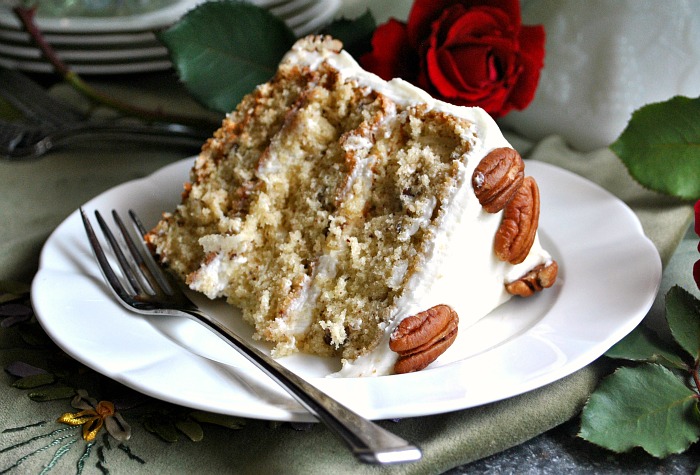 If you are not familiar with the name of this cake, let me explain – quite simply it's full of pecans and coconut and frosted with cream cheese frosting, it's dense, moist and delicious.  If you are a coconut fan and pecan fan you will love this recipe.
A rich cake full of coconut and pecans and frosted with a buttery cream cheese frosting.
Ingredients
½ cup or 114.7 g. of butter, soft
½ cup or 4 oz. coconut oil
2 cup or 383.3 g. granulated sugar
5 egg yolks
1 tsp. Mexican Vanilla
2 cup or 198.7 g. all-purpose flour
1 tsp. baking soda
1 cup or 8 oz. buttermilk
1⅓ cup or 113.56 g. shredded coconut
1 cup or 120.7 g. chopped pecans
5 egg whites, stiffly beaten
¾ cup or 12 T. or 172.1 g. softened butter
8 oz. or 226.8 cream cheese, softened
1-2 tsp. Mexican Vanilla (or plain vanilla)
6 cups or 780.7 g. powdered sugar
chopped pecans or pecans halves
Instructions
Cream butter and coconut oil or shortening, add sugar and beat until mixture is smooth then add egg yolks and beat well.
Stir in vanilla.
Sift flour and soda together then add to batter mixture alternately with buttermilk.
Stir in coconut and nuts.
Whip egg whites until stiff then fold in egg whites into the batter.
Divide batter evenly into 3 greased and floured 8 inch round pans.
Bake at 350 degrees for 25-30 min. or until a cake tester comes out clean.
Cool on racks for ten minutes then turn out of pan onto cooling rack to cool completely.
Make frosting according to directions below then, frost with cream cheese icing.
Cream butter & cream cheese together until smooth.
Add vanilla.
Gradually add 6 cups of powdered sugar, add nuts if desired, or decorate with nuts on the outside like the photos.
Notes
It is recommended to not bake this cake in a 9 X 13 inch pan.
Suzanne Platt
Suzanne is a self taught cook who cooks to eat, and bakes because she adores baked goods. Suzanne has a degree in Physical Education with an emphasis in Athletic Training. She loves to keep tract of her recipe on the blog You Made That? because she wants her children to have her legacy in recipes.