Italian Cocoa and Hazelnut Christmas Cookies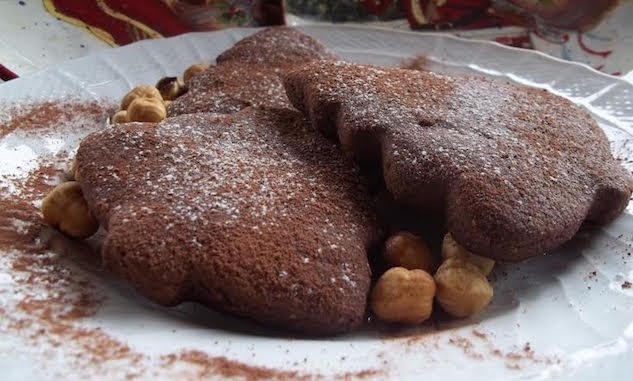 At Christmas, these homemade Italian biscuits are something special and even the most simple recipe, like this, becomes delicious when made in various shapes and styles.
By Veronica Lavenia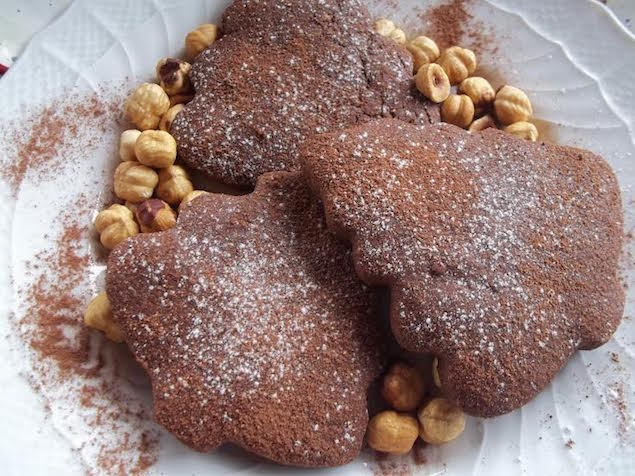 The dried fruit is a classic of Italian Christmas desserts and breakfasts. From the North to the South of the Country there are many specialties made with walnuts, almonds, pistachios, chestnuts, pine nuts, dried figs, raisins: "Zelten" from Trentino- Alto Adige; "Crescenzin" from Piedmont; "Panforte" from Siena; "Pampepato" from Ferrara; "Parrozzo" from Pescara; "Frustingo" (or "Bostengo") from Marche; "Mostaccioli" from Naples; "Buccellato" from Sicily.
At Christmas, the homemade biscuits are something special and even the most simple recipe, like this, becomes delicious with Christmas stencils in various shapes and styles.

Italian Cocoa and Hazelnut Christmas Cookies
These homemade Italian biscuits are something special and even the most simple recipe, like this, becomes delicious when made in various shapes and styles.
Recipe Type:
Baking, Chocolate
Serves:
12 biscuits if made with large stencils
Ingredients
100 g (3½ oz-½ cup) toasted and chopped hazelnuts
200 g (7 oz) high quality butter
150 g (5½ 0z) raw sugar
350 g (12 oz) Farro flour (or Kamut flour, or other unrefined flours)
pinch of sea salt
1 organic large egg
3 tablespoons unsweetened cocoa powder
Instructions
Chop the hazelnuts in a food processor and mix the ingredients together until dough is soft but firm.
Form a ball and let rest in refrigerator for thirty minutes. Once removed from the refrigerator, knead the dough for a few minutes and, after lying, derive forms of Christmas tree (or other shape) with the appropriate mold.
Place the cookies on a baking sheet covered with parchment paper and bake at 180° C (350°F/gas 4) for 25-30 minutes.
Decorate as desired with a dusting of cocoa powder or powdered sugar.
Veronica Lavenia
Veronica is a born and raised Italian. She inherited her love for travel, passion for cooking and natural, sustainable, healthy slow food from her parents. Her works have appeared in 'Vegetarian Living', 'Veggie Magazine', 'Lifestyle food', 'Australian Good Food & Travel Guide', 'Chickpea' and 'Free from Heaven', among others. She is the author of "Panini: the simple tastes of Italian style bread"; 'The Rustic Italian bakery", "The Vegetarian Italian Kitchen" and "A Modern Italian table", published by New Holland Publishers Australia.