If you absolutely have to eat your food in the outdoors here's a great pasta dish for you.
By Sarah Spigelman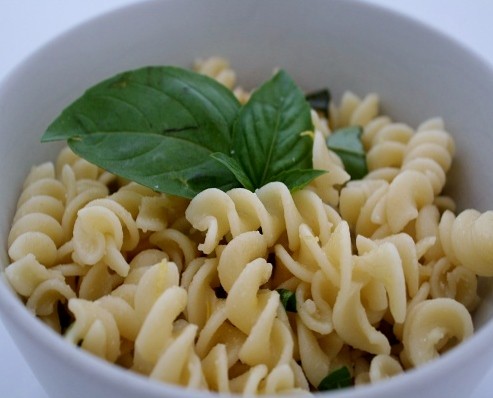 Picnic (N): A meal that is taken out of doors by Gentiles, regardless of heat or flies.
I do not like picnics. I like air conditioning. Cable TV. Not looking at bugs.
And I REALLY like not having to over think what I can eat out of doors.
Picnics mean few utensils, food that can be served room temperature, and for Pete's sake, NO MAYONNAISE. That stuff spoils faster than the kids on 
Toddlers and Tiaras
.
That's when you need something light but filling that travels well and has minimal dairy in it.
See Also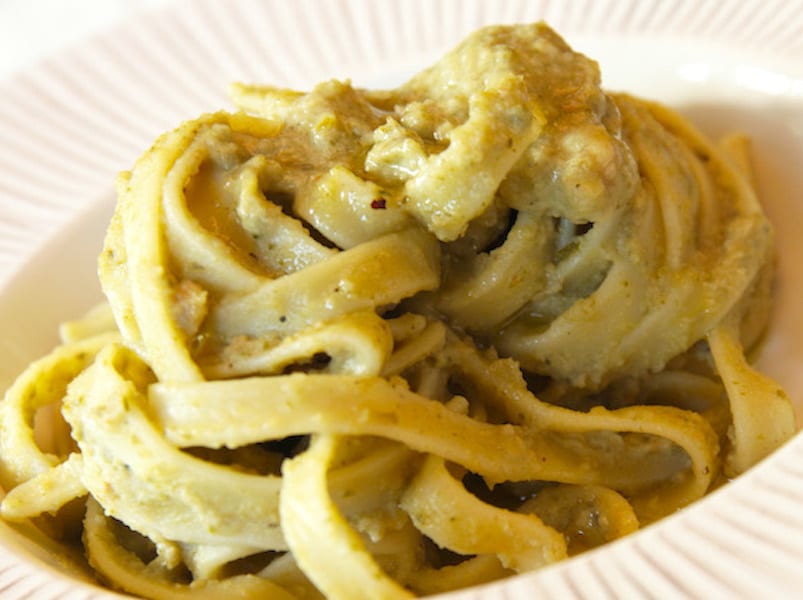 Enter: Lemon Pasta Salad.
This pasta is so light, bright and fragrant that it is impossible to to smile when eating it. The basil adds a grassy taste that echoes the herby lemon zest. The sauce is less of a coat and more of a light summer cardigan – it just BARELY dresses the pasta, letting the taste and texture of the noodles shine through the tart lemon taste. The pine nuts are a welcome crunchy bite amidst the soft, but not mushy noodles and the tiny strands of lemon zest. This is so good, it actually makes picnicking worthwhile.
Though, let's be honest…I ate this at home.
And yes…I watched Toddlers and Tiaras while I ate it.
A (nearly) dairy free pasta salad that is intensely lemony and perfect for picnics!
Ingredients
2 Lbs.(900 Grams) corkscrew pasta or other pasta shape
4 Tablespoons ( 60mL) lemon zest
3 Cups (720mL) freshly squeezed lemon juice
2 Cups (480mL) olive oil
1 Large bunch basil, leaves removed from stems and cleaned
1 Cup (240) grated Parmesan cheese
1 Cup (240) pine nuts
Salt to taste
Instructions
Boil the pasta. Remember that pasta takes awhile when it is in shapes, so let it boil until it is just barely less than al dente. That means that it should be a little chewy, not to say crunchy, because it will continue to cook after you take it off the heat. 2 lbs will probably take about 12 minutes.
Clean and chiffonade your basil by rolling the washed leaves together into a cylindrical shape, then chopping them.
Zest your lemons either with a zester or a microplane, and put it in a small dish.. Remember that you only want the yellow part of the skin, NOT the bitter white pith. Also, do this BEFORE you juice your lemons.
Post zesting, juice your lemons, either with the prongs of a fork or with a juicer. Make sure no seeds get into the lemon juice bowl.
By now the pasta should be done! Drain most of it BUT retain about ½ a cup of water right in the pot.
Add the lemon juice, lemon zest, olive oil and salt into the pasta pot, and mix well.
Transfer the pasta to a bowl and let it cool for about 45 minutes or until it is at least room temperature.
When the pasta is cool, add the pine nuts, basil and Parmesan cheese and mix well.
Sarah Spigelman
Sarah Spigelman is a New York based writer, editor and lifelong food enthusiast. Her writing can be seen in Northeast Flavor, Burn! and Bites.com, among other outlets. She also is an avid improv comedian, and performs weekly with National Comedy Theatre. More of her gustatory adventures in NYC and beyond can be seen at her personal website Fritos And Foie Gras