Indoor S'mores: The Ultimate Sundae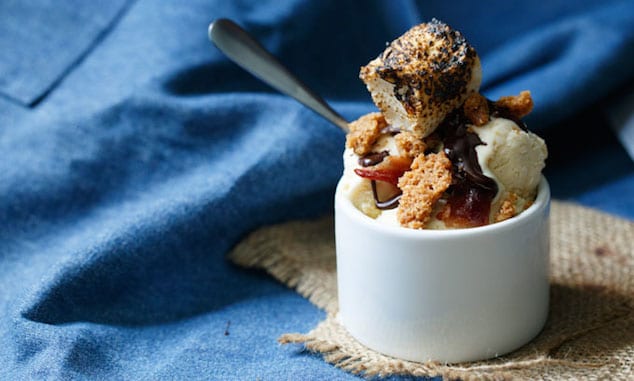 What's better than a s'more? How about the Ultimate S'mores Sundae, loaded with homemade toasted marshmallow ice cream, dark chocolate ganache, candied bacon, and graham cracker crumble. S'mores aren't just for summer anymore.
By Chris Cockren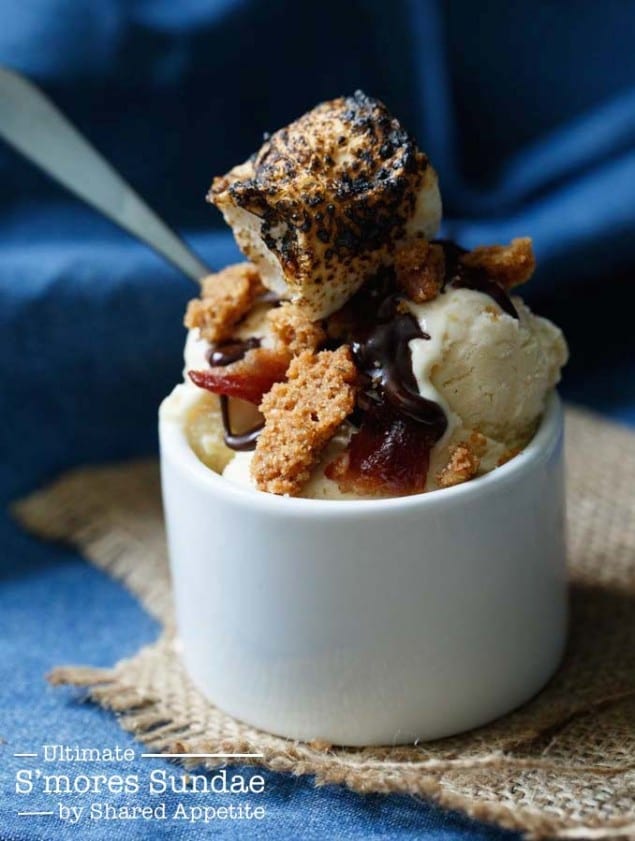 Homemade toasted marshmallow ice cream.
Rich dark chocolate ganache.
Buttery graham cracker crumble.
and… candied bacon. CANDIED BACON.
I'm not going to lie. Making an ultimate s'mores sundae is not one of those easy peasy desserts. But it's worth it. I promise. And when it comes to promises involving dessert, I don't mess around. Dessert is serious business. The good news is that all the components of this sundae can be made ahead of time. You're welcome.
And of course, just crumbling up graham crackers and throwing some chocolate syrup on this sundae isn't quite good enough. The graham cracker crumble is crispy buttery goodness. And this dark chocolate ganache… where have you been all my life?! You are so easy and delicious!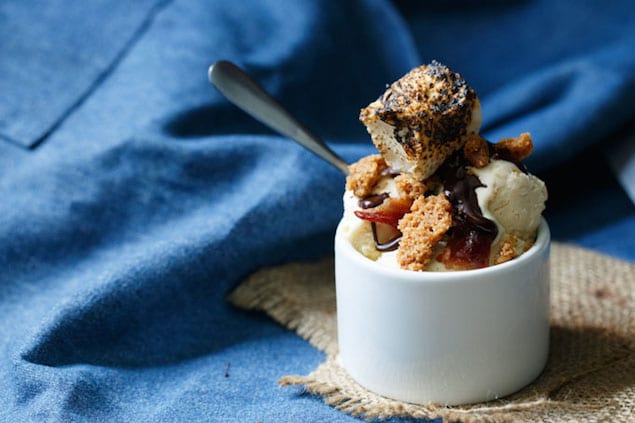 Indoor S'mores: The Ultimate Sundae
What's better than a s'more? How about the Ultimate S'mores Sundae, loaded with homemade toasted marshmallow ice cream, dark chocolate ganache, candied bacon, and graham cracker crumble. S'mores aren't just for summer anymore.
Ingredients
for the Toasted Marshmallow Ice Cream
2 cups mini marshmallows
2 cups heavy cream, divided
1 cup whole milk
½ cup sugar
Pinch Kosher salt
5 egg yolks
½ teaspoon vanilla
for the Graham Cracker Crumble
1 sleeve (from a 14 ounce box) graham crackers
8 tablespoons (1 stick) unsalted butter, melted
3 tablespoon sugar
Pinch Kosher salt
for the Dark Chocolate Ganache
8 ounces good quality dark chocolate
½ cup heavy cream
for the Candied Bacon
Bacon
Brown Sugar
Extra toasted mini marshmallows, for garnish
Instructions
Scoop toasted marshmallow ice cream into bowls. Top generously with dark chocolate ganache, graham cracker crumbles, candied bacon, and extra toasted mini marshmallows for garnish. Devour immediately.
for the Toasted Marshmallow Ice Cream
Preheat broiler and line a baking sheet with parchment paper sprayed with nonstick cooking spray. Spread mini marshmallows into a single layer on sheet and broil until golden brown and toasted, about 2-3 minutes (make sure to keep a close eye on your marshmallows to keep them from burning!).
Combine 1 cup of the heavy cream, milk, sugar, and salt in a medium pot over medium heat. Cook, stirring occasionally, until sugar is completely dissolved and mixture comes to a scald (just beginning to steam and before bubbles start to appear).
Meanwhile, in a small bowl, whisk egg yolks. Whisking constantly, very slowly pour half of the scalding milk mixture into egg yolks and fully incorporate. Pour egg yolk mixture back into the pot with rest of milk mixture.
Cook custard over medium heat, stirring constantly, until it thickens to a consistency that coats the back of a spoon. When you run your finger across the spoon, it should leave a definite trail. If using a thermometer (which I always do), aim for 170-175°F.
Immediately pour mixture into blender with toasted marshmallows and blend until smooth. Make sure to firmly hold lid in place (the hot steam will try to pop it off!).
Add remaining cup of heavy cream and vanilla extract into a large bowl with a mesh strainer set on top. Strain the ice cream mixture into the bowl and stir to combine with the heavy cream. Immediately place bowl over an ice bath, stirring constantly to completely cool the mixture quickly.
Refrigerate mixture until very cold, at least 1 day and up to 3 days. Pour custard into an ice cream maker and churn according to manufacturer's directions. Remove ice cream to a container and freeze until ready to serve.
for the Graham Cracker Crumble
Preheat oven to 325°F and line a baking sheet with aluminum foil. Add graham crackers to a food processor and process into fine crumbs. Add sugar, pinch of salt, and melted butter and pulse until the mixture is well incorporated. Pour out onto baking sheet and form into one large, evenly layered "cookie" about ¼" thick.
Bake until light golden brown, about 15 minutes. Let cool completely, and then break into crumbles. Can be stored in a ziploc bag for a day.
for the Dark Chocolate Ganache
Finely chop chocolate into tiny chards and place in bowl. Heat heavy cream on the stove or in microwave until hot. It doesn't need to be bubbling or anything, just hot enough to melt the chocolate. Pour heavy cream over chocolate and stir until completely incorporated. Can be refrigerated until ready to serve. Reheat gently on stovetop or in microwave.
for the Candied Bacon
Preheat oven to 375°F. Sprinkle both sides of strips of bacon with a bit of brown sugar. Place on an aluminum foil lined baking sheet and cook in oven until golden brown and crisp, about 15-25 minutes. Transfer candied bacon to a paper towel lined plate to drain. Once cool, cut into bite sized pieces. Can be stored in the refrigerator for a couple of days. Take out of refrigerator for a bit before serving so it can warm up to room temperature.
Chris Cockren
Chris is a New York based food blogger that loves bringing friends and family together through food. On his blog, Shared Appetite, Chris chronicles his culinary adventures of eating his way in and around NYC, as well as cooking and entertaining at home.