These individual little cheese pies make for beautifully rustic — and undeniably delicious — hor d'oeuvers.
By Yuliya Childers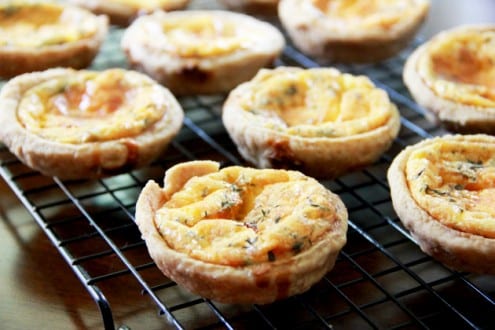 One of my daughter's favorite books Angelina Ballerina talks about Cheddar Cheese Pies. These aren't just any kind of pies, they are Angelina's mom's best Cheddar Cheese Pies. Angelina dances in the kitchen and knocks over a dish filled with those wonderful things to her mom's great annoyance. Poor Mrs. Mouseling!
So one day, my kid says, "Why don't we make some Cheddar Cheese Pies?". Indeed, why not? Are we not the best cooking team around here? Are we not brave enough to figure the whole recipe out? Are we not in possession of almost unlimited amount of time and incredible skill? And so it was decided. The hardest part was to figure out how we were going to put the pies together, as the book itself mentioned nothing of their making.
We decided to go the individual serving route, rather than making a whole pie. It seemed like a more fun idea. Since we didn't have any small tart tins, we decided to use muffin tins instead. To ensure the proper crust condition, we wanted to pre-bake the pie shells prior to pouring the cheese filling into them. Since I don't own any baking beads, we cheated and pasted the pie shells on the outside of the muffin tin turned upside down, which served two purposes at once — allowing for slightly larger shells and keeping the dough from puffing inwards. The shells also came out slightly rustic and irregular looking, which we would never be able to accomplish with mini tart tins.
For the filling we felt we needed to emphasize the cheesiness, and went the sharp smoked Cheddar route. I don't think you can go any cheesier that that! Boy, were we glad we chose the smoky cheese! It proved to be awesomely aromatic and flavorful when melted into the delicate custard inside our pies.

Individual Cheddar Cheese Pies
These individual little cheese pies make for beautifully rustic -- and undeniably delicious -- hor d'oeuvers.
Ingredients
For the pastry:
1 stick cold unsalted butter
2 cups flour
½ tsp salt
¼ cup ice cold water and possibly some more
For the filling:
3 large eggs
1 cup half and half — we had cream from a dairy farm, but it was on a thin side
1 tbsp fresh thyme leaves, coarsely chopped
3-4 oz sharp cheese with distinct flavor, such as smoked Cheddar or Gouda, grated
fresh ground black pepper to taste
a generous pinch of sweet Hungarian paprika
Instructions
Mix flour with salt and dump out on a chopping board
Using a pastry cutter or a knife, cut in the cold butter until pea-size crumbs form
Make an indentation in the middle of the crumb pile
Pour about ¼ cup ice cold water in and using the knife or your hands, mix it in to form the dough. Do not knead the dough, we are trying to preserve the crumbliness, not to achieve elasticity. Keep adding cold water in very small quantities and pat the dough together, just until it forms a ball without falling apart.
Flatten the dough ball into a disk, cover with plastic and chill for 1 hour.
Preheat the oven to 350F.
Remove the dough from the fridge, roll it out on a board into a ¼? (or slightly thinner) crust.
Using a 4? cutter or a glass with an similar size rim, cut out 12 circles. I find that you first can cut out about 9 circles, then re-roll the dough scraps quickly and cut more.
Using a medium muffin tin (12 slots) turned upside down crown each muffin slot with a circle of dough, molding the dough around the slots to form an upside down basket.
Bake for about 15 minutes, or until the little baskets are pale golden. Let cool on rack. Arrange the pie shells, now properly turned bottom down, on a baking sheet, or set them into the muffin slots
Prepare the filling by whisking the eggs with cream until uniform and smooth. Add the remaining ingredients and stir carefully.
Pour the filling into the pie shells, dividing it as evenly as possible, and bake for about 30-40 minutes, or until the custard is set in the middle. The custard may puff up and then fall, which is completely normal in the literary world.
Yuliya Childers
Yuliya Childers is a self-proclaimed cooking and writing addict born and raised in a cosmopolitan city of Odessa on the Black Sea coast. She started cooking at quite an early age and learned most of her skills by watching others and reading cook books. Made-from-scratch naturally grown food is her passion. Yuliya believes that truly good food either creates or invokes memories. Her blog Eat Already! is focused on everyday creative yet un-pretentious cooking that anyone with basic skill can replicate. Yuliya's recipes are usually accompanied by childhood memories or family stories related to the dish in some way. Her recipes are honest, eclectic, multi-cultural, imaginative, and often outside the box. Currently she's into artisan breads, traditional cooking, and everything fermented… Yuliya is cooking and writing about it from Alabama.