Indian-Style Spiced Stir-Fry Cabbage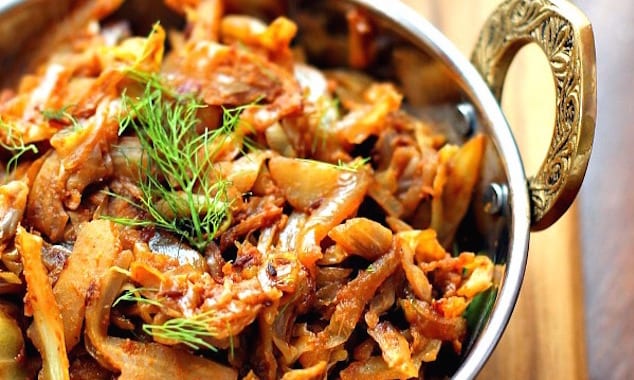 Stir-fried cabbage with fennel uses smoky cumin, earthy coriander, ginger, and garam masala to create a flavorful side dish that can quickly be made for a gathering.
By Soni Sinha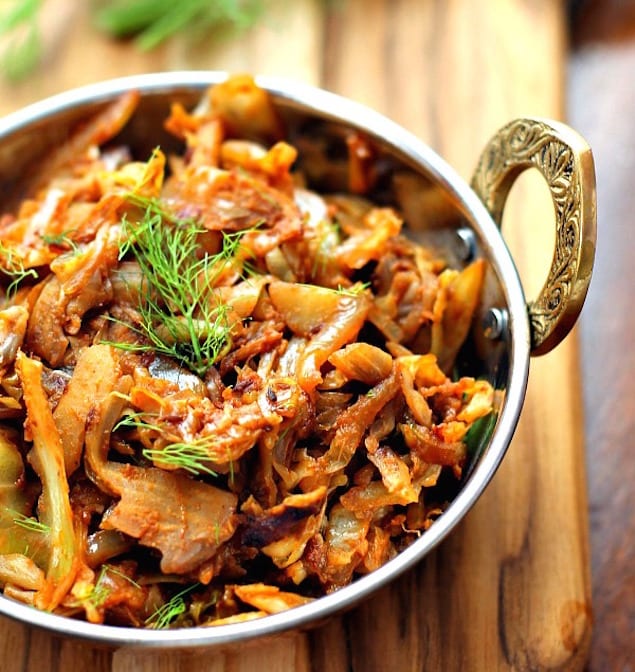 Stir fried veggies make for a great side dish and with the holidays nearing, it's not such a bad idea to add some to your repertoire.I love Indian spiced Cabbage and decided to give it a little twist by adding some sweet fennel. The sweet liquorice taste and the aroma is just amazing. In this recipe the Cabbage and fennel combo works wonderfully and you can taste the sweet and earthy all in one. My dish is also super easy since it's an Indian stir fry. The ingredients keep going into the pan one after another and the whole process takes about 30 minutes.
The spices consist of smoky cumin, earthy coriander, a little bit of garam masala along with some ginger. The dish brings together all these flavors and the leftovers can be turned into tasty sandwich fillings or even a savory puff pastry filling!

Indian-Style Spiced Stir-Fry Cabbage
Stir-fried cabbage with fennel uses cumin, coriander, ginger, and garam masala to create a flavorful side dish that can quickly be made for a gathering.
Ingredients
Cabbage-1 head thinly sliced
Fennel-1 bulb thinly sliced
Cumin seeds-1 tsp
1 large onion-sliced
1 inch ginger crushed
Ground Cumin-1 tsp
Ground Coriander-2 tsp
Red chili powder-1/2 tsp
Garam masala-1 tsp
Green chili-2 (optional)
Tomato paste--1-2 tsp
Salt-to taste
Oil-3 tbsp
Instructions
In a skillet or wok heat the oil and add the cumin seeds until they crackle.
Add the onion and saute for a about 2 mins.
Add the ginger and continue to cook.
Add the spices followed by the tomato paste and cook until all aromatic about 2 minutes.Add a tbsp of water if its sticks to your pan.
Continue to cook for about 5-6 minutes until the paste doesn't stick to the pan and oil starts to separate from the sides.
Add the cabbage and fennel along with salt.Mix well.
Cover and continue to cook stirring every few mins until evenly cooked.
Soni Sinha
Soni is a recipe developer, food writer/blogger who creates recipes with a healthy Indian twist. She is a passionate cook and her recipes cater to readers who are are willing to try contemporary Indian flavors in wide ranging fusion dishes that she creates.She shares all her cooking adventures on her blog Soni's Food.