These scrambled eggs, known locally as anda bhurji, are a common street food in Mumbai served on a bun with raw onion.
By Chitra Agrawal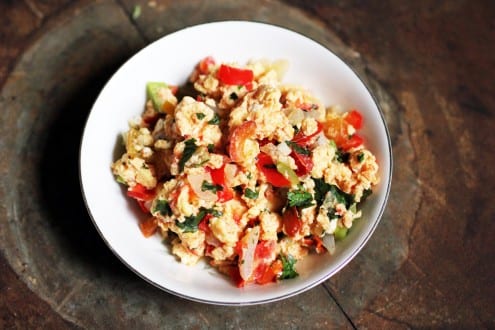 Indian-Style Scrambled Eggs
These scrambled eggs, known locally as anda bhurji, are a common street food in Mumbai served on a bun with raw onion.
Ingredients
4 eggs
2 tablespoons of milk
1 tablespoon ghee or vegetable oil
1 small onion, chopped
1 inch ginger, chopped fine
1 clove garlic, chopped fine
1-2 green chillies or ½ jalapeño, chopped fine
½ large tomato or 1 plum tomato, chopped
1 small green pepper, chopped
2 tablespoons cilantro, chopped
salt & pepper to taste
For serving
bun
Dijon mustard
ketchup
sharp cheddar cheese or gruyere
Instructions
Whisk eggs and milk and set aside.
In a non stick frying pan, add ghee under medium heat. When hot, add in onions. Stir fry until translucent. Mix in ginger, garlic and chillies well. Fry for 30 seconds or until fragrant. Mix in peppers and fry for 1 minute. Toss in the tomatoes and cook for 2-3 minutes or until tomatoes are soft.
Add in the whisked eggs and scramble with the other ingredients. Cook until your eggs are scrambled to your preference.
Turn off the heat and mix in the cilantro.
Add salt & pepper to your taste.
Serve in a toasted bun with ketchup, Dijon mustard and sharp cheddar cheese.
Chitra Agrawal
Chitra writes the food blog, The ABCD's of Cooking, which chronicles her adventures cooking American Born Confused Desi recipes. When she is not recipe blogging, Chitra can be found hosting her online cooking show and a supper club featuring Indian-inspired, vegetarian cuisine. She also teaches cooking classes and sells Indian street foods (sometimes yummy Indian tacos!) at events and artisanal markets in Brooklyn. Her cooking has appeared in the New York Times Dining Journal and she is a contributor to The Huffington Post, Gojee, The Daily Meal and Brooklyn Based.