This tomato Utphappam is and increbliy easy to make Indian style omelette.
By Nagalakshmi Viswanathan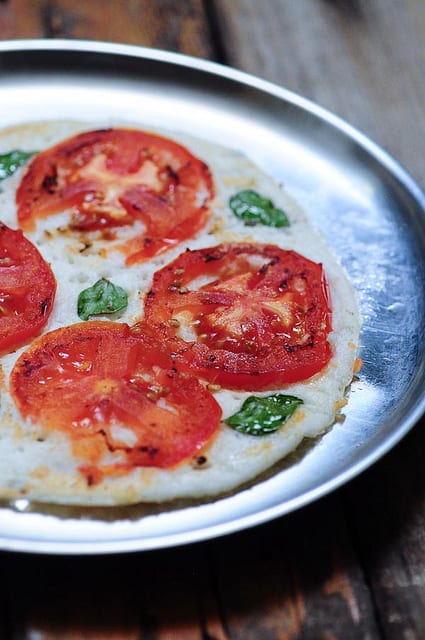 Tomato Uthappam - Indian Style Omelette
This tomato Utphappam is and increbliy easy to make Indian style omelette.
Author:
Nagalakshmi Viswanathan
Ingredients
2 cups of idli batter, preferably 2-3 days old
1 tomato
A few curry leaves
2-3 tbsp of gingelly oil, Indian sesame oil, I use Idhayam
Instructions
Slice the tomatos into thin slices.
Pour about ⅓ cup batter on a hot iron griddle and shape into a thick circle. Place tomato slices and curry leaves on top.
Drizzle oil and flip over when one side is cooked.
Cook the other side until lightly browned.
Flip around to make sure both sides are cooked.
Serve hot.
Nagalakshmi Viswanathan
Nagalakshmi, aka Nags, is the cook, writer, and photographer behind Edible Garden. She loves most things edible, loves traveling to places just for the food, and hardly ever leaves home without her camera. Her specialties are Indian food, making baking look easier than it actually is, and finding new and unique ways to use her Kitchenaid. She lives in Singapore with her husband and a small herb garden in her balcony.