Indian spiced eggnog is a new take on a holiday classic.
By Chitra Agrawal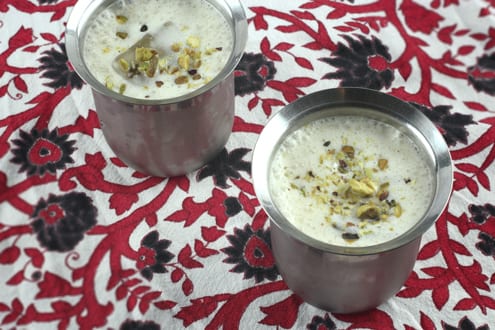 Eggnog has always fascinated me because my parents never made or served it.  In our house, the most similar drink was lassi, which is made from yogurt and sometimes flavored with fruit (mango), sugar or salt.  It wasn't until I attended my first holiday party that I had a taste of eggnog. I have to admit, I was not a fan, but over the years I have tasted some pretty good varieties.
This year, I wanted to make up a version that was spiked with some Indian flavors.  My eggnog recipe is based off of Puerto Rican Coquito, which is a kind of a rum eggnog that uses coconut milk & condensed milk, instead of heavy cream and is not as thick.  I first heard about it on an NPR segment and thought it may lend itself well to Indian spices of cardamom and saffron.
See Also
If you're looking for an alternative to the usual eggnog, this could be it.

Indian spiced eggnog is a new take on a holiday classic.
Ingredients
12 ounces sweetened condensed milk
4 egg yolks
1 cup Puerto Rican white rum
14 ounces coconut milk
½ teaspoon cinnamon
¾ teaspoon cardamom powder
sprinkle of nutmeg
2 pinches saffron threads
2 tablespoons warm whole milk
pistachios, chopped for garnish
extra sprinkling of cinnamon as garnish (optional)
ice for serving
sugar to taste
Instructions
Warm 2 tablespoons of whole milk and then submerge the saffron in it for 10 minutes.
Put all of the ingredients in the blender, except for the pistachios.
Blend on high for 3 minutes, until frothy.
Give a taste and add more sugar accordingly.
Place in the refrigerator for a minimum of 3 hours before serving.
Stir the ingredients well before serving.
Pour the eggnog over ice and garnish with chopped pistachios.
Notes
Must chill for at least 3 hours before serving.
Chitra Agrawal
Chitra writes the food blog, The ABCD's of Cooking, which chronicles her adventures cooking American Born Confused Desi recipes. When she is not recipe blogging, Chitra can be found hosting her online cooking show and a supper club featuring Indian-inspired, vegetarian cuisine. She also teaches cooking classes and sells Indian street foods (sometimes yummy Indian tacos!) at events and artisanal markets in Brooklyn. Her cooking has appeared in the New York Times Dining Journal and she is a contributor to The Huffington Post, Gojee, The Daily Meal and Brooklyn Based.