Indian Spiced Chicken Meatballs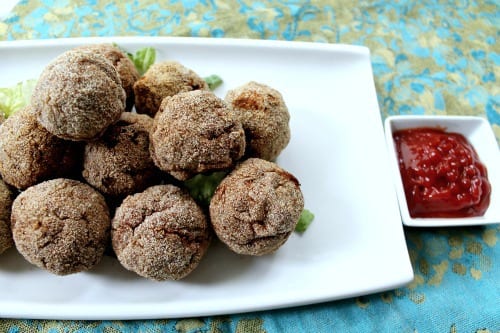 These meatballs are crunchy and rustic looking on the outside, but incredibly soft on the inside, with lovely mint and coriander flavors.
By Soni Sinha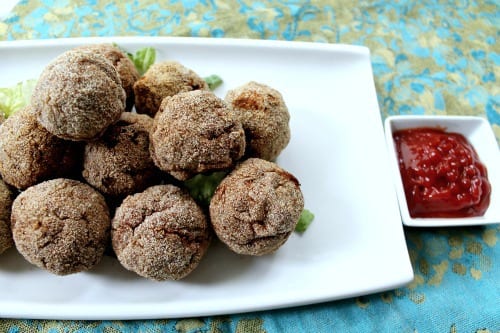 These meatballs are moist, juicy, perfectly sized to munch-on. They're crunchy and rustic looking on the outside, but incredibly soft on the inside, with the lovely mint and coriander marrying beautifully giving them lots of fresh flavor. The best thing about these are that the food processor does all the work for you so you don't have to work out a sweat at all.
Indian Spiced Chicken Meatballs
Chicken Meatballs with Indian Spices, mint and coriander makes for a delicious appetizer.
Ingredients
Chicken Thigh/breast mince-1 lb
Small Onion-1
Yoghurt-1 tbsp
Crushed Ginger-2 tsp
Crushed Garlic-2 tsp
Green Chillies (jalapenos)-2 chopped
Fresh Coriander -1/2 cup chopped
Mint -1/2 cup chopped
Plain bread crumbs-3 tbsp
Coarse Ground Semolina-2 cups
Salt-to taste
Oil-2 cups (for frying)
Instructions
In a food processor mix all the ingredients except semolina and oil.
Make round balls and roll them in the Semolina.
Deep fry in batches until nice and golden.
Serve hot with Tomato ketchup or your favorite sauce!
Soni Sinha
Soni is a recipe developer, food writer/blogger who creates recipes with a healthy Indian twist. She is a passionate cook and her recipes cater to readers who are are willing to try contemporary Indian flavors in wide ranging fusion dishes that she creates.She shares all her cooking adventures on her blog Soni's Food.