Shuchi Mittal with an Indian street-food twist to the classic sliders.
By Shuchi Mittal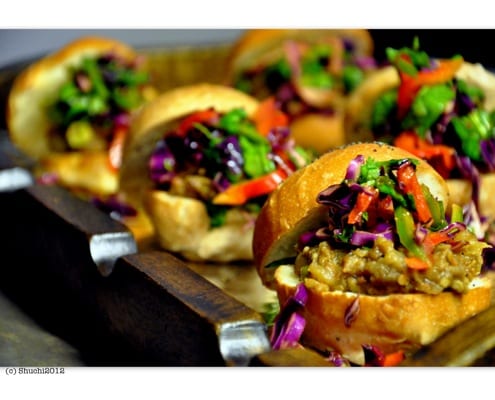 If you ever visit the northern part of India, you will come across a rather popular street food called Pav Bhaji. Its a spicy and tangy blend of vegetables, mainly consisting of potato, served with a side of generously buttered hot bread rolls. Scrumptious as they may be, they can add on a few inches. This is my healthier take at the same indulgent devils. In fact, it is my knowledge of Pav Bhaji, sans the oodles of grease and  starch, combined with that what I love about sliders-their size and presentation. And voila! eggplant sliders everyone…
Indian Eggplant Sliders - Indian Street Food
An Indian street-food twist to the original sliders
Recipe Type:
Appetizer, Entree
Ingredients
For the filing
1 large eggplant
½ cup frozen peas
1 large tomato, chopped
1 small onion, finely chopped
1 tablespoon coriander powder
1 teaspoon garam masala
1 teaspoon pav bhaji masala (mixed spice for pav bhaji –an Indian street food)
½ teaspoon red chili powder
2 tablespoons freshly chopped coriander
4 tablespoons olive oil
Salt to taste
For the salad
1 cup red cabbage, chopped
1 cup mixed peppers, julienned
½ cup spinach leaves, roughly torn
2 teaspoon mint leaves, chopped
2 teaspoon coriander leaves, chopped
1 tablespoons olive oil
1 teaspoon paprika
2 teaspoon lemon juice
Salt & pepper to taste
Others
2 teaspoon butter or margarine
6 Slider Buns
Instructions
We start with roasting the eggplant on open flame the Indian way. Pierce the eggplant with any BBQ skewers and put it on high direct flame. Keep turning from side to side till the outer skin becomes dark and begins to fall off, and the eggplant becomes soft on the inside. It will start to release juices but do not worry as that's normal (although your gas would definitely need a tight scrub after!). Once done, put the eggplant in cold water. The skin will separate-throw it out and mash the remaining eggplant and keep aside.
Heat oil in a pan. Add the onions and sauté till they turn transparent. Add the tomatoes and peas, and all the dry spices. Mix well and cook covered on medium flame till the tomatoes are tender and cooked. Add the eggplant, mix again and cook covered on medium flame for 10-12 minutes. Once the eggplant is completely mashed, turn the flame to high, add the fresh coriander and sauté for 2-3 minutes to let the flavors fuse. Remove from heat and cool slightly.
Mix all ingredients for the salad, toss slightly and keep aside.
Cut the slider buns in half. Apply some butter on both halves and toast on a non stick pan till it's crisp and slightly brown.
Put 1 tablespoon of the eggplant mixture on the buttered side of one half of the bun, top with a generous helping of the crisp salad and finish with the other half of the bun.
Close your eyes, take a bite and enjoy!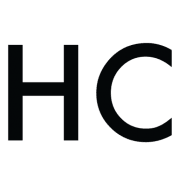 Shuchi Mittal
Shuchi cooks with the heart of a poet. Banker turned chef, she runs the 29. Private Kitchen in NYC focusing on social tasting events, dining experiences and small-scale private events. Using simple & wholesome ingredients, she likes to re-invent homemade Indian flavors into modern tapas & small plates. Her dream? To cook, feed, write, and eventually open her own communal dining cafe - with a published recipe book on the stands.