Pakora is a generic term used for deep fried fritters made in India. Here is a basic recipe that you can add potatoes, onions or other vegetables to.
By Dassana Amit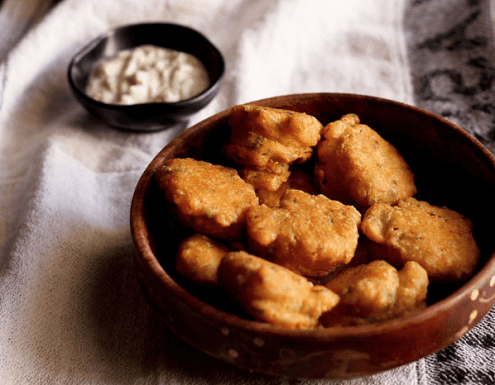 Basic Pakoras Recipe
Pakora is a generic term used for deep fried fritters made in India. Here is a basic recipe that you can add potatoes, onions or other vegetables to.
Ingredients
1 cup besan/gram flour
½ inch ginger, finely chopped
1 small to medium onion, finely chopped
1 green chili, chopped
2 tbsp chopped coriander leaves
2 to 3 pinch of baking soda
water as required to make a thick flowing batter ( i used slightly more than ¼ cup of water)
salt as required
oil for deep frying the pakoras
Instructions
mix all the ingredients listed above except oil in a mixing bowl.
stir with a spoon or wired whisk, to make a smooth and lump free batter.
heat oil in a kadai or deep pan.
when the oil becomes medium hot, drop spoonfuls of the batter in the oil.
fry the pakoras in oil till golden and crisp.
drain the pakoras on paper towels to remove excess oil.
serve the pakoras hot with coconut chutney or coriander chutney or tomato sauce.
Dassana Amit
Dassana never intended to start a food blog. She never ever thought about blogging in her wildest of dreams. Her only passion in her life was meditation. As she went deeper in meditation, she realized that her inborn gift of cooking delicious & healthy food needs some creative expression. So she started her blog " Veg Recipes of India " as an outcome of creative flowing energy. Now she has also combined her another gift i.e photography with cooking. When not blogging & food photographing - she works as a web developer and seo expert.