Rhyming with Fava, Mawa is a milk derivative translated as solidified or concentrated milk though neither of them instantly paint the right picture of what it really is.
By Radhika Penagonda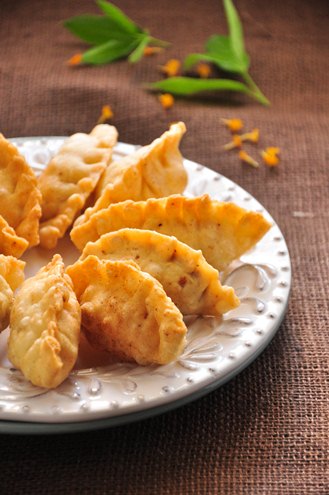 Made of either dried whole milk or milk thickened by heating in an open iron pan, Mawa is a common ingredient in copious varieties of Indian sweets.
Going by the American definition, Gujiyas [Goo gee yeahs] or "deep fried pastry purses" may not fit well under the term "Dessert". I'd rather appropriately call them a sweet treat or a sweet snack just right to satisfy a craving sweet tooth. Resembling the Mexican Empanadas, they are birds of the same feather – deep-fried stuffed sweet pastry, only the stuffing/filling makes them different as they are.
Any milk based sweet is bound to be scrumptious, but the unique pairing of nutmeg with Mawa makes this sweet pastry rather fanciful. In comparison to how ubiquitous this zippy spice is in the American cuisine, nutmeg is quite a rarity in Indian sweets as opposed to saffron and cardamom. Nutmeg is often used in Indian home remedies and Ayurvedic medicine though.
Mawa Gujiyas are a popular sweet prepared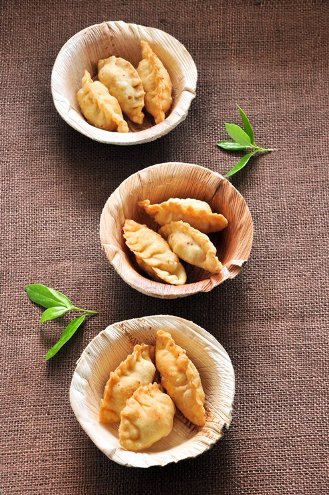 categorically during Holi, the Indian festival of colors, to usher in a colorful spring and leave behind the harsh winter. In spite of being from India, it is very possible to be oblivious to popular culinary fare from one region, being in another. Mawa gujiyas typical of North India are novel to me, but owing to how oh-so-delish they are, they will surely to be part of my recipe collection for a long time to come and of nostalgic stories to be shared in the future.
This recipe is from my mom-in-law's repertoire and while she loved making these for us, I enjoyed every bit of the clicking and eating.
Need a hint on how this glistening golden snack tastes?
Crunchy on the outside, crumbly on the inside with the mild salty outside meeting its sweet inside – an inter fusion of contrasting tastes in a mouthful instantly pleasing the palate.
In a nutshell, they are god-damn delicious! Beware, you won't stop at one.

Indian cousin of sweet Empanadas : Mawa Gujiya
Deep fried pastry purses with a nutmeg flavored concentrated milk and nuts filling, hand made from scratch
Author:
Radhika Penagonda
Ingredients
oil for deep-frying (like peanut or vegetable oil)
for the dough
2 cups fine semolina/all-purpose flour
¼ teaspoon salt
1 tablespoon ghee/butter/oil
pinch of turmeric ~ optional
water
for the filling
½ cup crumbled Mawa/Concentrated milk (fresh or frozen)
¼ cup ground raw almonds
¼ cup ground cashews
¼ cup desiccated coconut
1-1/4 cup confectioner's sugar
¼ teaspoon freshly grated nutmeg
½ teaspoon freshly ground cardamom (about 4-5 pods)
other kitchen equipment
rolling-pin
heavy bottomed pan/Indian wok for deep-frying
Instructions
Prep work
If using frozen mawa, microwave for 20-30 secs or let sit on the counter for 20-30 mins to thaw. Once thawed, gently squish with your fingers making sure to break all the lumps for a crumbled Mawa.
Pulse almonds in a blender/mixer for a few times until it resembles a coarse flour or corn meal. Do not run the blender continuously or you will end up with almond butter. Ditto for the cashews.
Peel open cardamom pods and powder the seeds using a mortar and pestle.
For the Gujiyas
In a mixing bowl, mix fine semolina with salt and turmeric, if you chose to. If using all purpose flour, sieve first. Add in your preferred fat and mix well. I prefer home-made ghee if not, pure butter, though oil is a good substitute too. Using a couple of tablespoons of water at a time, mix the dough to bread dough consistency and set aside covered. Dough should be soft to touch but not sticky.
In another medium bowl, mix together "for the filling" ingredients.
Slap the dough a few times on the rolling board or a clean counter and knead well. Divide the dough into portions the size of small key limes or about 1-½" diameter.
Roll the dough into thin circles without using flour for dusting. For perfect round circles, cut out the rolled dough either using a round mold or any cup. Prick all over gently with a fork to prevent it from bloating when deep-fried or from losing crunch later.
Delicately spoon the filling on one half of the rolled dough. Wet the edges of the rolled dough with a few drops of water. Close by bringing both ends of the rolled dough together and press firmly to seal the edges making sure no air is trapped between the filling and the sealed edges. Either press the edges with a fork or pinch and fold with your fingers to make ornate edges for the dough purse.
Heat oil in a heavy bottom pan on medium. When the oil is hot enough or shimmering, add a small pinch of dough to check, if it rises immediately, oil is ready for action.
Drop the stuffed dough purses one or two at a time and deep fry on medium until golden brown. Remove on to a tissue to strain extra oil and let cool slightly before serving or the stuffing inside may be very hot.
Notes
Mawa/Concentrated Milk/Solidified Milk is easily available in World Foods Market or Indian grocery stores in the frozen foods section Try not to use flour for dusting unless rolling the dough is difficult, in which case the dough might be sticky. Add a little flour to the dough, a few drops of oil and knead well until dough is of the required consistency. Do not discard cardamom skin, use it in lemonade or drop it in the simmering tea for a delicate flavor. Gujiyas store well for up to 10 days in an airtight container. For variation, dried fruits like sultana raisins and even chocolate shavings make a grand addition
Radhika Penagonda
Radhika Penagonda is a vegetarian food blogger, ardent photographer and enthusiastic cook who loves to explore new ingredients and believes strongly in eating with our eyes first. Passionate about home-made food prepared from natural ingredients, minimally processed and close to nature, she shares through her blog how home style or not 100% vegetarian food can be lip smacking tasty and simply delicious.