In Nagalakshmi Viswanathan's book, this stands as one of the best South Indian breakfasts you can get.
By Nagalakshmi Viswanathan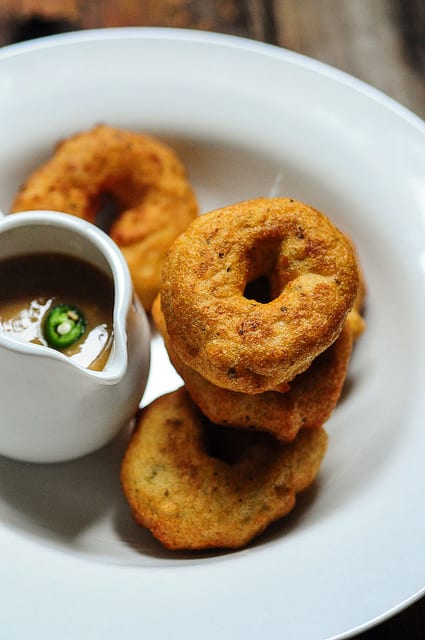 Indian Breakfast - Medhu Vadai
In Nagalakshmi Viswanathan's book, this stands as one of the best South Indian breakfasts you can get.
Author:
Nagalakshmi Viswanathan
Ingredients
1 cup of whole, skinned, urad dal
2 of green chillies, chopped
2 tsp of whole, black pepper
10-12 of curry leaves, torn roughly
2 tsp of salt (adjust to taste)
1 tsp of minced ginger (optional)
4 cups of oil, to deep fry, depending on the size of your pan
Instructions
- Soak the urad dal for at least 45 mins in enough water.
- Grind adding water by the teaspoon until you have a smooth, thick batter that falls off with reluctance as you drop it off a spoon.
- Mix the rest of the ingredients (except oil) with the batter.
- Heat oil until smoking point
- Shape the vadai using wet hands into a donut shape (read notes)
- Dunk into the hot oil. Take care not to over crowd the pan and also, regulate the heat to medium-low so that the insides of the vadai get cooked and the outside crisps up.
- Drain and set aside.
Notes
- Some people find it easier to do shape Medu Vada with one hand: Place the batter in the middle of your palm and form the hole with thumb of the same hand. Or, use the index finger of the other hand to form the hole. Others find it easier to use greased banana leaves or cling wrap to shape the vadai and then use a spatula to dunk into the oil. I am a one-hand-medhu-vadai-shaper, but it did take quite a bit of practice.
Nagalakshmi Viswanathan
Nagalakshmi, aka Nags, is the cook, writer, and photographer behind Edible Garden. She loves most things edible, loves traveling to places just for the food, and hardly ever leaves home without her camera. Her specialties are Indian food, making baking look easier than it actually is, and finding new and unique ways to use her Kitchenaid. She lives in Singapore with her husband and a small herb garden in her balcony.