Review – Il Teatro at the Wynn – Italy Recreated in Macau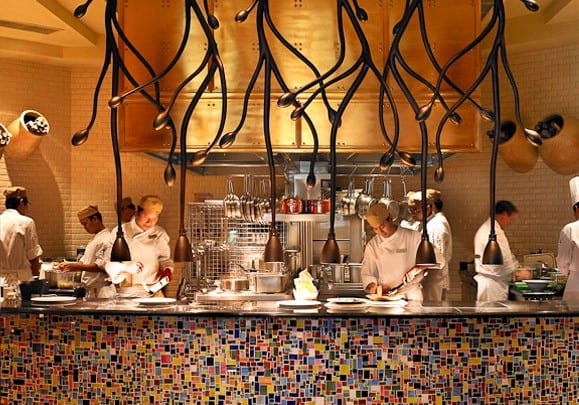 Ambra Meda visits Il Teatro at the Wynn Casino in Macau, and is impressed with the authentic flavors.
By Ambra Meda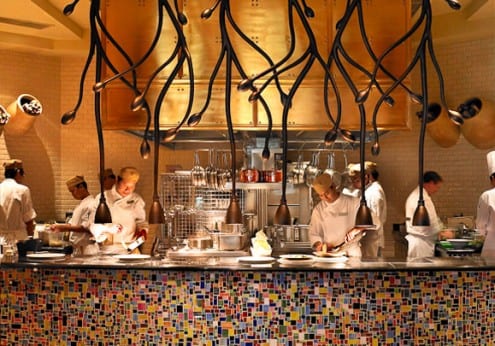 Il Teatro, one of the most celebrated Italian restaurants in Macau is located inside Steve Wynn's exquisite casino, which has recently attracted eager gamblers from all over the world.
The plate-glass window of the central dining room and its lateral balconies lengthen our sight of the majestic water show, it's famous precursor at the Bellagio.
We lean on the terrace's railing and admire the spectacle. Water splashes dance to the rhythm of classical music masterpieces, playing along high blazes shot out from the artificial lake. A cool mist refreshes our faces and we almost forget that we are in Asia.
The parallels with Las Vegas become even more evident when we meet the chef, Anthony Alaimo, who spent years working at Olives and Le Cirque, two of the most prestigious restaurants inside the Bellagio.
Alaimo's resume is impressive: after graduating from Johnson and Wales culinary school, he kick started his career on the New York food scene, cooking at Palio and at Coco Pazzo, under the guidance of Anthony Bourdain. "Nevertheless," he proudly reminds us, "the bulk of my training comes from the hours spent with my grandma learning how to hand make ravioli. My family moved to the US from southern Italy, and their simple teachings constitute the main source of inspiration for my cooking style."
A waiter comes out to refill our water and calls Anthony back to the kitchen, located prominently in the center of the restaurant. We watch him in action as he seasons a freshly made plate of scallops. His attention to detail is impressive. While he shapes the dish composition in the plate, it seems like he's caressing the food: each piece disposed with extreme care, every drop poured in artistic fashion. "Make sure we get one of these," we tell him before we part.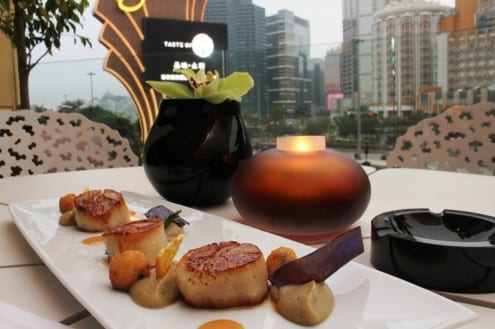 We seat next to the window, prime viewing for the water show. Sounds of Laura Pausini fill the air, the ambient music syncing to match the moving fountain. As we admire, some freshly baked bread is served warm in four varieties: grissini, Italian style bread sticks with a crispy surface and a tender center; spongy olive oil and rosemary focaccia with caramelized onions; sesame semolina and ciabatta, all of them precooked in the Wynn's bakery and finished in Il Teatro's wood fire oven.

While we're dipping the breadsticks in a homemade tomato puree, extra virgin olive oil and balsamico, Anthony returns to us bearing gifts. A plate of Diver Sea Scallops with fennel and rice arancini, and a delicate roasted eggplant puree that almost tastes like a chestnut reduction. The round spheres shellfish are perfectly cooked: lightly grilled on the outside, soft but not slippery on the inside. Drops of lobster emulsion enrich the flavor with a sweet and pungent zest, matching well with the crispy orange chips that decorate the dish.
"How do you like Macau compared to Vegas?", our curiosity prevails over the tinkling of our cutleries. Anthony laughs. "It's night and day out here.
The restaurant industry in Vegas is actually an integral part of their revenue. Whereas over there it accounts for over 40%, in Macau it's 2%. It basically means I can do things the way I want them.
When I first got here, they were importing food to the Wynn off the back of motorcycles. It was a long process to get my tomatoes imported directly from Sardinia. Now they literally come in a DHL box. The shipping costs more than the damn fruit, but I don't care. The minute we start serving low quality vegetables, I'm out of there."
After our amazing starter, the chef recommends his signature primo, specifying that, while the dry pasta is Giuseppe Cocco, one of Italy's finest brand founded in 1916, the fresh one is made from scratch in his kitchen.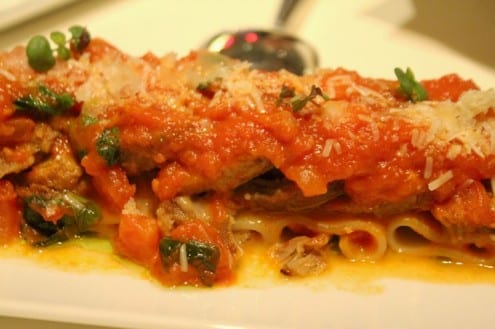 We don't bother asking him to elaborate. Our surprise is a piping hot plate of Rigatoni Napolitano and braised Porchetta: a bed of pasta, coated with smoked pork rolled with Guanciale ham and mozzarella and braised for six hours. The dish is truly amazing: the combination of Rigatoni (rigorously cooked al dente) and this soft and delicate meat is enhanced by the light saltiness of the melted cheese and the sourness of the red sauce.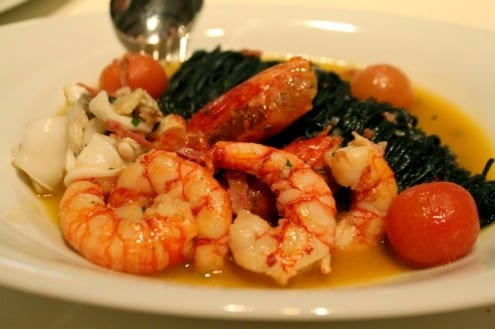 Alaimo's cooking style honors Itlay's rich culinary heritage while simultaneously pushing it forward. Our second entree, Capelli d'angelo, celebrates the marriage of two different cultures.
Black Angel Hair, handmade pasta infused with fresh squid ink looks more like a noodle dish than an Italian primo. The perfectly sphere shaped peeled tomatoes that decorate the plate reflect the Asian taste for geometry.
The original combination of red prawns imported from Sicily, baby squid, clams and piccante salami is truly unique, a merge between the traditional nature of Italian food and the experimental flair of Asia.
The excellence of the "primi" is replicated in the seafood "secondi". Artic Char, a kind of cold-water salmon native to alpine lakes, is slow smoked and served with a side of Maine Lobster Risotto and caramelized shellfish jus. The fish fillet is buttery and dissolves in our mouth. The crunchy bite of the rice rekindles its velvety taste.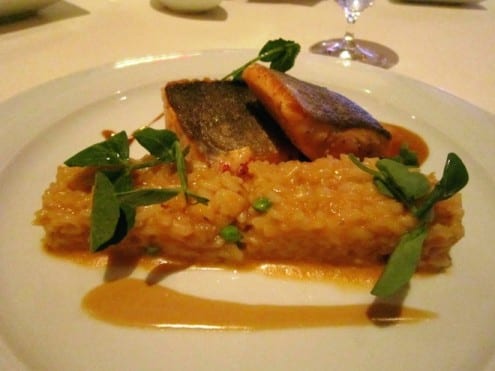 After this delicacy, a Grilled Pacific Halibut Paillard comes topped with basil aioli and Salsa Verde, a sauce made of capers, lemon, olive oil and parsley. Casoncelli, a typical dish from Northern Italy, is a simple and refined accompaniment that Alaimo proposes in his original style: a potato and olive oil filling wrapped in a sheet of pasta, shaped as a candy and fried. When the crispy shell melts, our palates are met with a warm oozing liquid. Delicious.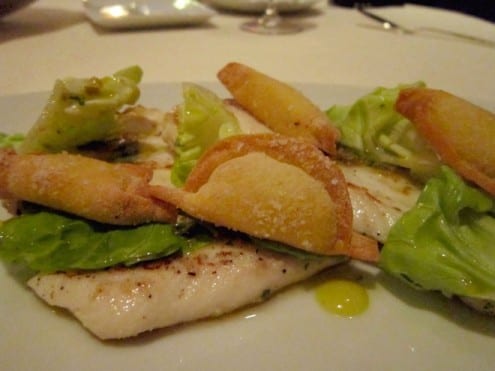 The last course is always the most awaited. We opt for the Dessert Platter, a selection of five mouthwatering delicacies, perfect to share, communicate and connect over the pleasures of food.
See Also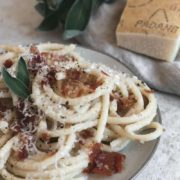 Tiramisu, presented with a savory pistachios biscotti, is delicious and made completely from scratch: even the Ladyfingers that sustain the mascarpone aerated cream are handcrafted in Il Teatro's kitchen.
The other sweets, equally delicious, are made at the Wynn's in house bakery by French chef Luc Capus.
We sample a Sicilian Cannoli, filled with fresh ricotta cheese, raspberry and chilli sorbet, and a Tahitian Vanilla Pannacotta, garnished with spiced pineapple and passion fruit sorbet.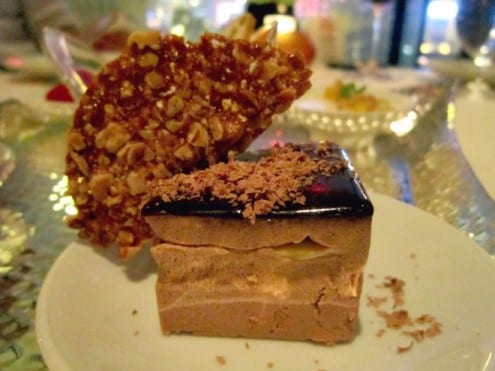 The Milk Chocolate and Walnut Cake is luscious: the usual lightness of the mousse is enlivened by the crispy bite of the nut brittle; its sweetness attenuated by a coffee and dark chocolate sauce.
While everything is worth trying, the Lemon Tart is undoubtedly our favorite, a layered pastry that originally combines the sharpness of the citrus based cream with the freshness of basil and the sugariness of the two tiny meringues that top the sweet.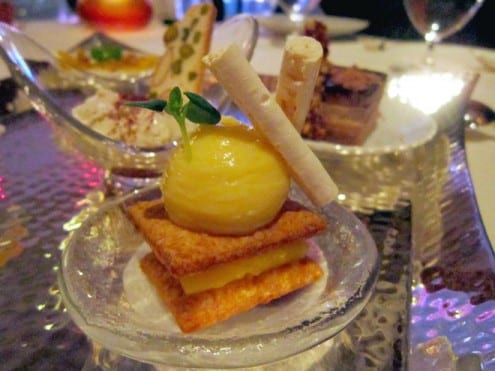 "Five years ago, when I accepted the challenge to bring a taste of Italy to Asia, I had a goal," says Anthony, "I wanted people to remember the things I have cooked for them and their experience in my restaurant".
Five years later, we can confirm that is goal has been wholeheartedly attained.

Il Teatro,
Wynn Macau, Rua Cidade de Sintra, NAPE, Macau, tel. (853) 2888 9966 
Ambra Meda
It is often said that Italians don't eat to live, but live to eat. And to Ambra, philosophizing about food is no different than discussing art. She grew up as a devoted lover of all things Italian, from pumpkin gnocchi to pistachio gelato. After moving to the United States she discovered the pleasures of a new world of food. She eats, travels and writes for Still Served Warm.