PARTNER POST: We're celebrating the twelve weeks of summer with delicious, refreshing recipes using Hills Bros. Cappuccino. Be sure to enter below for a chance to win a one year supply of coffee! #CappontheRocks
Dive into a glass of this refreshing pick-me-up. The sweet iced coffee uses a homemade condensed coconut milk for extra flavor.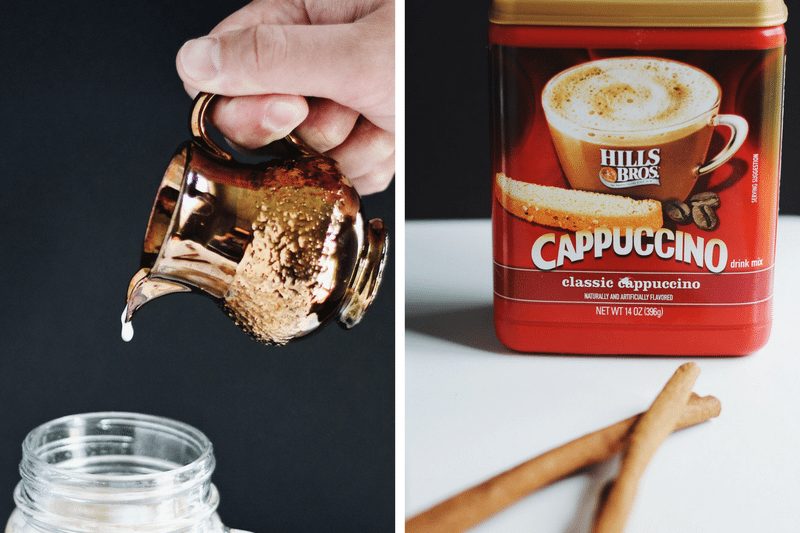 Vietnamese iced coffee always reminds me of the summer.
If you've never had it before, it is basically just an iced coffee made with sweetened condensed milk. It is pleasantly sweet, deliciously creamy, and intensely refreshing on a hot summer day.
I lived in San Diego for almost five years, and I always miss it during this time of the year. The last apartment I lived in was downtown, and it was a block away from this amazing coffee shop I loved. Cocoa and I would walk there almost everyday after work. Most of the time, I would just get a drip coffee. But on my 'Friday' (which is never really on a Friday when you work in the culinary world), I would treat myself to an iced Vietnamese coffee.

I never had one before discovering it at this coffee shop, but I instantly fell in love. I would sip it and sit outside and people watch or take it to-go on a long walk with Cocoa.
There was one time, a few years ago, where all of San Diego experienced a black-out for about 12 hours. The '2011 Southwest Blackout' affected several parts of California, Tijuana, and Arizona, and was the largest power failure in California history.
I had just got home from work and started my walk with Cocoa when the outage happened. I didn't even know there was an outage until I walked into the coffee shop, ready to order my iced Vietnamese coffee. There were no lights and the computers obviously weren't working, so no one could be rung up. But the barista working that day loved Cocoa and kindly gave me a free coffee to feed my Vietnamese coffee addiction.
For the next 12 hours I'd be stuck inside my tiny, very hot downtown apartment alone, without any air-conditioning, TV, Internet, or way to charge my phone. And, to be honest with you, I don't know if anything has ever tasted better than that iced Vietnamese coffee tasted to me in that moment.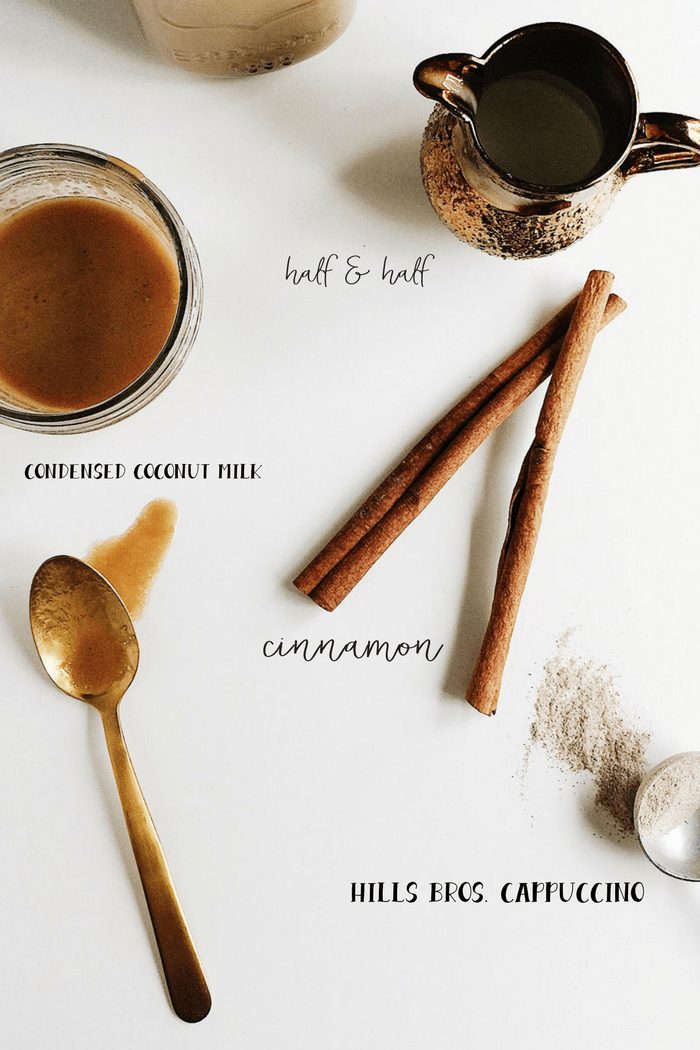 For this Coconut Milk Vietnamese Coffee, we swap sweetened condensed milk for a homemade coconut condensed milk, reduced down until thick and creamy with a bit of coconut sugar and a cinnamon stick.
After we make the condensed coconut milk, it's time to make the coffee. Combine it with the cinnamon-scented coconut milk, lots of ice, and a splash of half-and-half. This Coconut Milk Vietnamese Coffee may just become your new favorite summer drink!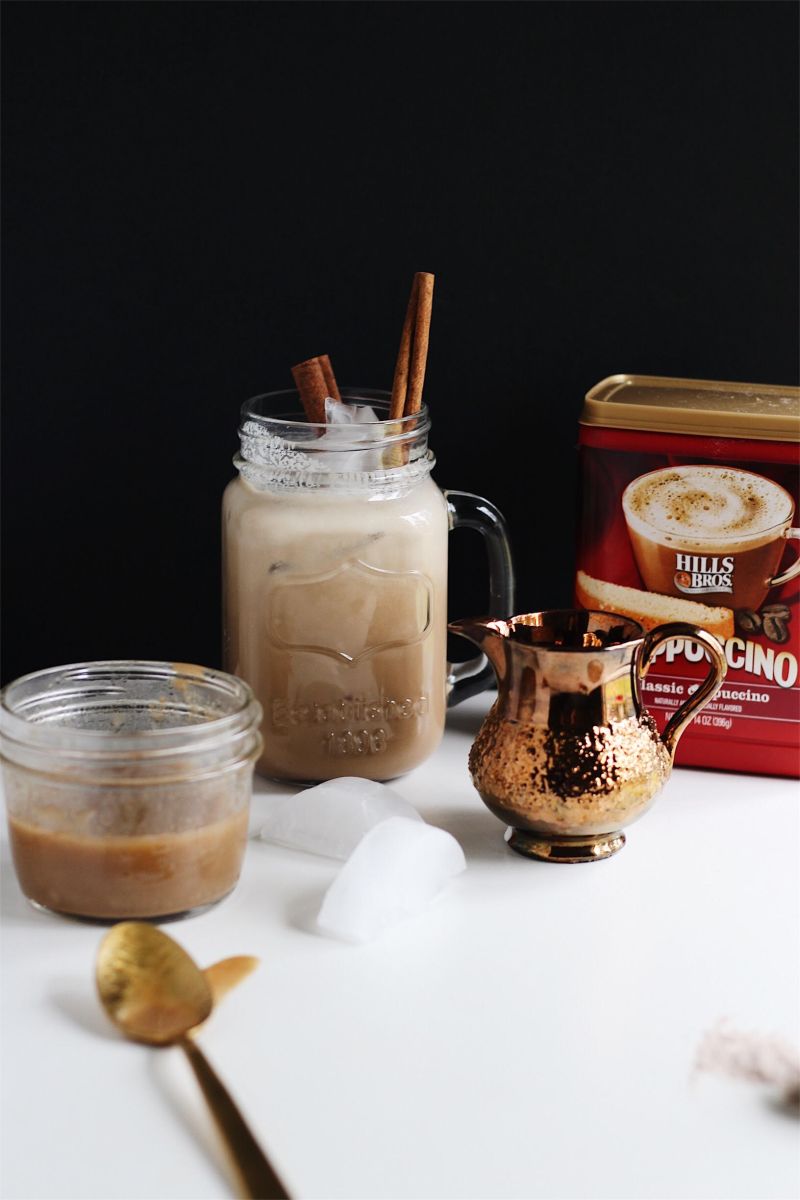 For this sweet summer drink, we use Hills Bros. Cappuccino. We created this Iced Cinnamon Coconut Milk Vietnamese Coffee to help celebrate Hills Bros. 12 Weeks of Summer! Enter below to win a one year supply of coffee or cappuccino!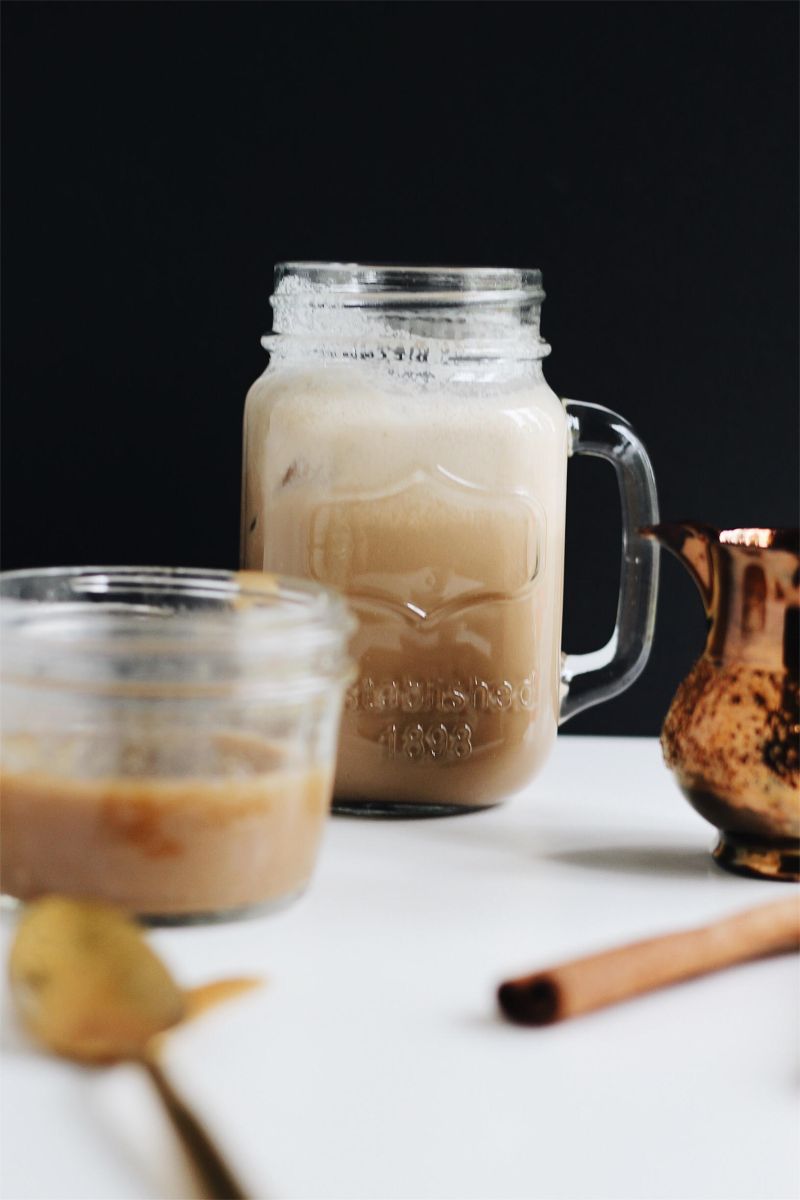 Iced Vietnamese Coffee with Coconut Milk
Dive into a glass of this refreshing pick-me-up. The sweet iced coffee uses a homemade condensed coconut milk for extra flavor.
Recipe Type:
Drink, Coffee
Ingredients
1 14-ounce can of full-fat coconut milk
2 tablespoons coconut sugar
1 full cinnamon stick
4 tablespoons Hills Bros. Cappuccino
2 cups boiling water
Ice
Half-and-half, for serving
Instructions
FOR THE CONDENSED COCONUT MILK:
Bring the coconut milk, sugar, and cinnamon stick to a boil in a small saucepan. Once boiling, turn the heat down and keep the mixture at a low, steady simmer, stirring occasionally. Cook the coconut milk until it is reduced by half, about 35-45 minutes.
Strain the milk and discard the cinnamon stick. Let cool to room temperature.
FOR THE ICED VIETNAMESE COFFEES:
While the coconut milk is reducing, pour 2 cups of boiling water over 4 tablespoons of the cappuccino mix. Whisk well and place in the refrigerator to cool.
Divide the cold cappuccino between two glasses filled with ice. Top with the sweetened condensed coconut milk, a splash of half-and-half, and a cinnamon stick. Enjoy!