Refreshing instant Iced Coffee. For lazy-bones. No grinding or soaking required.
By Amrita Chowdhury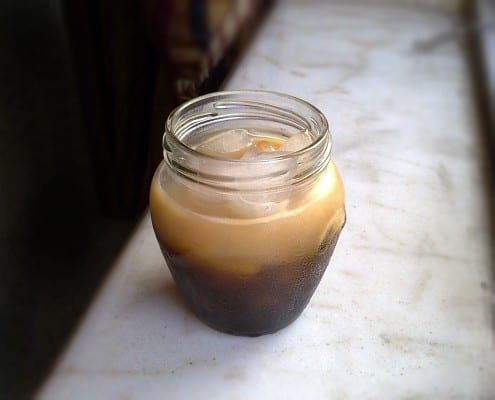 Well, good news. Spring is officially here. And about time too.
The evenings in London are still chilly but I have here today something that might help in cooling the forthcoming sweaty days down.
Weekend before the last, after an especially disastrous kitchen experiment that led to grainy lemon curd (with bits floating in it) and strangely bitter shortcrust pastry, I was ready to collapse on the floor and start bawling. I think pastry can smell fear.
But what promised to be a disappointing day, ended well with a much-deserved, luxurious,  sleep-inducing spa-day with my friends complete with with pizza and iced coffee. And that's the kind of thing that injects an idea into your head. And idea that refuses to let go till you direct every strand of attention – and your perpetually empty stomach – to it. All the way home I kept thinking of the iced-coffee I had tucked away so easily at the pizzeria.
Iced coffee is a fairly simple concept. Its deeply brewed coffee with sweetened milk over ice cubes. But this fairly simple concept isn't always the success it promises to be. More often than not I've ended up with watery coffee with a few floating ice cubes. There are times when the milk is just too sweet or the coffee's not strong enough. And the worst of them all comes in two vivid layers of milky coffee and icy water.
I knew that Ree Drummond has a recipe for iced coffee on her blog The Pioneer Woman. I'm sure you already know this but I have to say it – that woman has her game down pat. She talks of watery iced coffee and goes on to adopt a method covered by Imbibe magazine. The recipe uses ground coffee, steeped in room-temp water and strained over cheesecloth. The result can be dispensed as required, and in any amount required, over a glass stuffed with ice cubes. To be taken with sugar and milk or condensed milk ala Vietnamese ca phe sua da.
I knew I had a Vietnamese coffee filter somewhere in my utensils cupboard, a farewell gift from one of my ex-house-mates. But the bag of ground coffee that had accompanied it had been dumped long ago past its expiration date. Given that I had just come back from a particularly spectacular experience like a Swedish massage, I was going to need a lot of convincing to hunt for a coffee filter hidden behind years of accumulated kitchen junk. So instead, I settled for the stir-plain-instant-coffee-in-mug version. Its a hybrid really. The recipe uses room-temp water, a scant quantity compared to the amount of instant coffee granules, condensed milk or sugar and ice. Then, if you prefer, you may spoon some milk over the ice cubes.
I have a piece of advice for you readers: the next time you slip and trip on the kitchen front, just make iced coffee. Also get a Swedish massage, but that is optional really.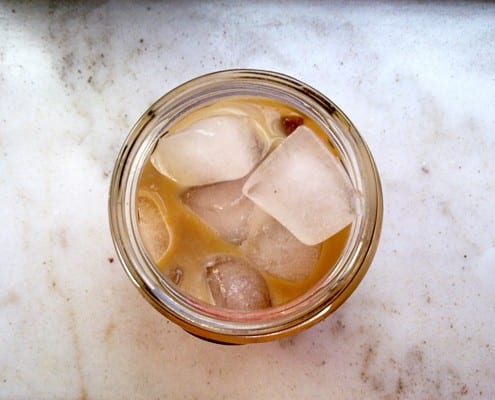 Iced Coffee for Lazybones
Instant Iced Coffee. For lazy-bones. No grinding or soaking required.
Ingredients
¼ cup of water, at room temperature
2½ tbsp instant coffee , because I like it strong
2 tbsp of sweetened condensed milk
3 tbsp of whole milk
Ice cubes
Instructions
In the serving glass, stir water and coffee together till the mixture is smooth. Fill the glass to the brim with ice cubes. Spoon condensed milk and whole milk from the top. Give everything a stir with a straw or the back-end of a spoon and you're done.
Notes
The amounts of ingredients used in this recipe depends completely on your taste and preferences. Even though I have included measurements, you'd be better off using this as a guide rather than following it word to word. Condensed milk can easily be replaced by sugar. In which case, add about 2 tbsp of sugar and increase the amount of whole-milk to 5 tbsp. This recipe makes one small tumbler – single serving – and can easily be multiplied as much as you want.
Amrita Chowdhury
Amrita Chowdhury is a self-confessed chocoholic, a compulsive picture taker and a food-obsessed British-Indian. She loves to travel and her food is a manifestation of every city she has lived in. An architect by profession, Amrita is the author behind the food blog The Subjectivist. She loves to write, enjoys oak-matured Scotch and is inexplicably addicted to collecting stationery.