This recipe makes 4-6 main dish servings of hummus with whole chickpeas and a lemony, garlicky sauce. Serve it warm with whole hard-boiled eggs, fluffy pita and vegetable salad.
By Emily Segal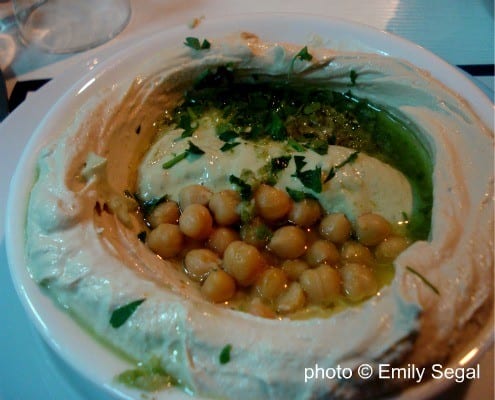 For the first 40 years of a life lived in the U.S. of A, I ate hummus as a condiment. It was that garlicky dip served alongside of cardboard-y pita wedges and crudites. I liked it but, you know, it was just a condiment.
One day, shortly after moving to Israel, my husband and I were shopping at the Flea Market in Jaffa. By noon, we realized that we were hot, sweaty, and suddenly starving. My husband, a native Israeli, pointed to a tiny whole in the wall, with a line snaking around the block and asked "Do you want to get hummus?" "Get hummus?!" I scoffed. "Just hummus? Like just a bowl of hummus? Do they sell anything else?" My husband replied that yes, it was just hummus, in a large bowl and indeed that is the only thing on the menu at a hummusia, or hummus restaurant.
Well, we did not eat hummus that day and instead went off for self-righteous pasta or sandwiches, something more familiar to my fearful immigrant palate.  My husband is a very patient man.
A few months later, we were traveling in the north of Israel and found ourselves once again starving.  We were in the predominantly Druse village of Pekin and the closet place we could find was again, a tiny little hummisa.  In hungry desperation, I consented to the strange hummus meal.
My life has never been the same since.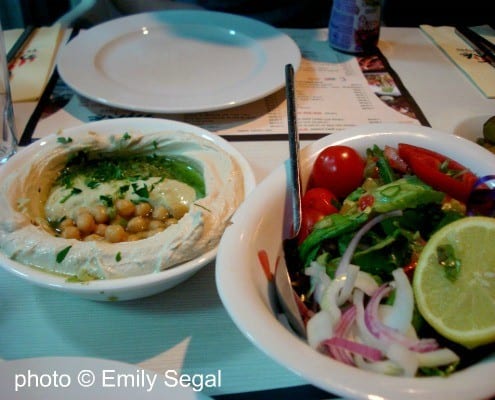 That warm, creamy bowl of hummus, drizzled generously with tahina, olive oil, and a spicy lemony garlic sauce, then topped with a pile of cooked chickpeas, a handful of fresh chopped parsley, was literally the most delicious and satisfying meal I have ever eaten! Since then, we have made it our business to seek out hummus wherever we go. If an article comes out in the paper (as they often do here) proclaiming a new "King of Hummus" off we travel to taste it for ourselves.
Hummus is my new hobby.
In a traditional hummusia, hummus is indeed often the only thing on the menu, but it comes in several variations: You can have it plain, or with tahina, cooked chickpeas, cooked fava beans (called Ful), sauteed mushrooms, or even ground beef. The dish generally comes with some raw onions, peppers and tomatoes as well as the ubiquitous plate of pickles and olives, a hard-boiled egg and a fluffy stack of freshly backed pita. Sometimes you can order a side of falafel or french fries, but who has the room for those distractions?
I have tried several times to make my own hummus at home, but I have not been able to match the delicious creaminess of the restaurant versions. One vendor told me you have to peel the chickpeas. Another told me to add baking soda to the cooking water to soften the beans. Still another swore it would require a mortal and pestle. Perhaps these are usually well-guarded recipe secrets as they probably should stay.  But for those of you not lucky enough to live in a Middle Eastern country, I give you my best hummus effort to date:
Print
A Creamy Bowl of Heavenly Hummus
This recipe makes 4-6 main dish servings of hummus with whole chickpeas and a lemony, garlicky sauce. Serve it warm with whole hard-boiled eggs, fluffy pita and vegetable salad.
Author:

Emily Segal

Prep Time:

24 hours

Cook Time:

3 hours

Total Time:

27 hours

Yield:

4

-6

1

x
The Hummus
1/2

kg (1 lb, 2 oz) dry chickpeas

1 Tbsp

baking soda

1 cup

raw top quality tahini paste

1 Tbsp

freshly squeezed lemon juice

2

cloves of garlic
salt to taste
The sauce
1 cup

freshly squeezed lemon juice

2 cups

fresh flat parsley leaves

2 tsp

cumin

1 tsp

salt

3

cloves garlic, crushed

4

–

5

Shipka peppers (small hot green pickled peppers in a jar)
Instructions
For the sauce:
Grind the parsley, garlic and peppers in a food processor until very finely minced. Add remaining ingredients and process until smooth and emulsified. Set aside overnight or at least 1 hour before serving to allow flavors to develop.
For the Hummus:
Mix 1 Tbsp baking soda into a large bowl of cold water.
Add the chickpeas and soak overnight.
Drain and rinse the chickpeas and place them in a large pot.
Cover the chickpeas with water to cover plus a few cm higher.
Add remaining 1/2 tsp baking soda and bring to a boil.
Lower heat, cover the pot and cook until the chickpeas and very soft (2-3 hours) watching now and then to make sure they do not run out of cooking water. Add more water as necessary.
Drain the cooked chickpeas, saving some of the cooking water.
If you want really smooth hummus, go ahead and peel the chickpeas, discarding the peels.
Set aside about 2 cups of chickpeas for topping.
Blend the rest in the food processor with the remaining ingredients.
Thin with the chickpea cooking water to your desired consistency.
Adjust the seasonings to your taste.
To serve: Ladle warm hummus into bowls and top with a drizzle of olive oil, a few spoonfuls of sauce and some whole chickpeas. Serve with more sauce alongside.
Emily Segal
Emily Segal is a Board Certified Holistic Health Coach and the owner of Triumph Wellness, an international nutrition counseling practice. Emily's approach to wellness involves creative home-cooking, a peaceful relationship with food, and a juicy joie de vivre.