Chitra Agrawal with a step by step guide to germinating a mung bean.
By Chitra Agrawal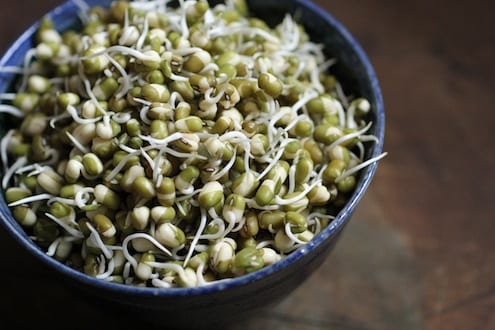 I grew up watching my grandmother and mother germinate mung bean, which are also called moong dal. The sprouted lentils are really hearty and delicious on their own or thrown into salads. You automatically feel healthier just consuming them.
The germination process is quite easy, but for some reason it took me time to try it out myself. I think watching a hard lentil actually grow a sprout may have made me think it was harder than it is. Now that I've done it once, it doesn't seem so daunting after all.
This is what moong dal looks like before you start the process.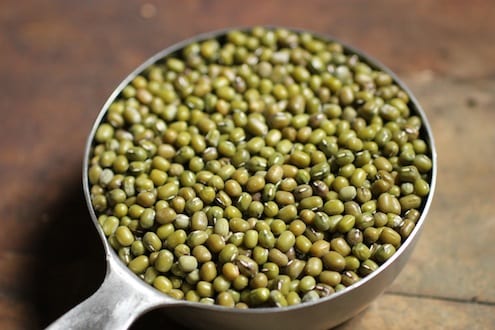 I soaked these lentils in water overnight, making sure they were completely submerged.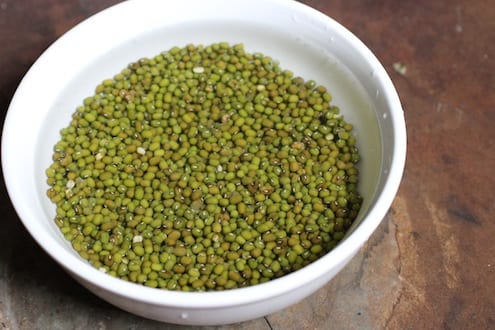 The next morning, I found that they had absorbed much of the water and plumped up like this.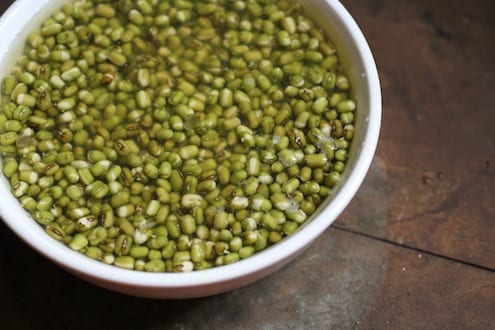 Before I went to work, I just drained the dal in a colander and let it sit there until I came home.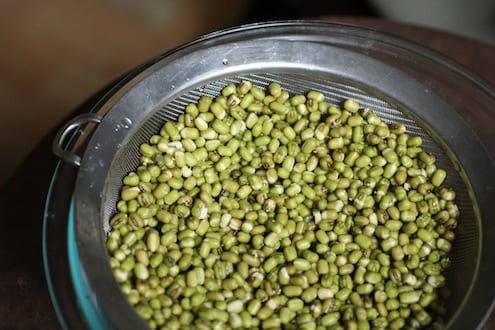 Then I put the dal in a covered corning ware dish in my oven with the light on, and the next morning I had these sprouts! Success!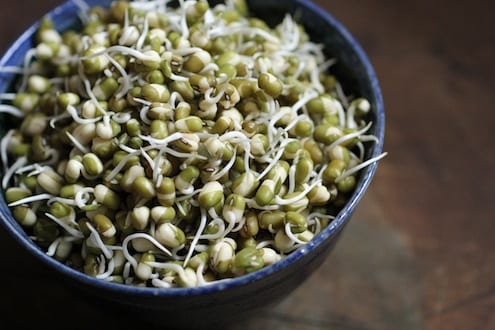 Print
How To Sprout A Mung Bean
These sprouted mung beans are great on their own or in salads.
Author:

Chitra Agrawal

Prep Time:

5 mins

Cook Time:

24 hours

Total Time:

24 hours 5 minutes

Yield:

8

1

x
1 cup

mung bean or moong dal with green skins (will make more than you need for salad)
water
Instructions
Rinse the moong dal and then immerse in water for over 24 hours.
On the next day, throw away the water and drain in a colander.
Pat the dal dry or leave it for a few hours to drain.
Put the moong dal in a covered dry dish in the oven with the light on overnight.
The next day, pick through and discard the dal that did not sprout or are hard.
Throw the sprouts into salads or eat on their own.
Chitra Agrawal
Chitra writes the food blog, The ABCD's of Cooking, which chronicles her adventures cooking American Born Confused Desi recipes. When she is not recipe blogging, Chitra can be found hosting her online cooking show and a supper club featuring Indian-inspired, vegetarian cuisine. She also teaches cooking classes and sells Indian street foods (sometimes yummy Indian tacos!) at events and artisanal markets in Brooklyn. Her cooking has appeared in the New York Times Dining Journal and she is a contributor to The Huffington Post, Gojee, The Daily Meal and Brooklyn Based.