These kebabs marinate overnight to get infused with the bright flavors of mint and cilantro.
By Sukanya Ghosh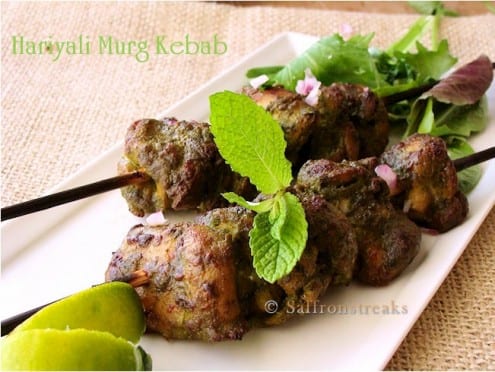 Kebab need long marination hours, and that helps to infuse the flavours in the meat. Yogurt keeps the meat tender and helps in the marination process.
Hariyali chicken kebab are so simple and yet delish, great for your barbecue nights. Not fussy, without loads of spices and still elegant. Just mint, cilantro and black pepper will be able to please your taste buds. If you can not do without spices like Indian garam masala, then be my guest — but do not use it liberally.

How to Make Minty Chicken Kebabs
These kebabs marinate overnight to get infused with the bright flavors of mint and cilantro.
Ingredients
Chicken thigh pieces (boneless and skinless) : half pound
Mint leaves (fresh) : One bunch
Cinatro leaves (fresh) : half bunch
Black pepper powder (freshly ground) : 2 tbsp
Yogurt : 1 cup
Chickpea flour : 1 tbsp
Salt to taste
Red chilli powder ; 1 tsp
Garam masala powder : 1 tsp (optional)
Skewers (bamboo or metal) : 4
Lime : 1
Oil : 2 tbsp
Instructions
Wash the chicken thigh and cut it into small pieces. Pat them dry.
Prepare a rub with chickpea flour, salt, spices and lime juice.
Rub the chicken pieces gently with this rub mixture.
In a bowl, beat the yogurt, and add all the spices.
Puree the mint and cilantro together (use only leaves).
Blend the mint – cilantro puree with yogurt and other spices.
Immerse the chicken pieces into it, cover with cling film and keep it in the refrigerator for at least 12 hours.
I have marinated the chicken for 18 hours.
Next day, fire the grill or heat the oven at 450 F.
Soak the bamboo skewers overnight or for at least 4-5 hours in water.
Thread the chicken pieces closely into it, line a baking pan with foil and place the chicken skewers in it.
Roast it in the oven for 20 minute . After first 10 minute, flip it over and let the other side roast it to nice color.
Switch the oven to broiler mark and let the chicken broil for another 5 minute.
You will get a nice charred color but please adjust the oven temperature and time accordingly otherwise the chicken will become tough and chewey.
Serve the chicken kebab immediately, sprinkle more lime juice if requires, with a side of salad and sliced onions.
Sukanya Ghosh
Sukanya writes the blog Saffronstreaks, a food and travel blog where she experiments in the kitchen spiced up with interesting food stories and gourmet travelogues. She loves to cook with fresh produce, enjoy both spicy and sweet and her many dining out experiences become cherished memories. Sukanya is from India but now lives in North Carolina, USA.