These striking, dual-frosted cookies are the quintessential New York City snack.
By Ruth Kirwan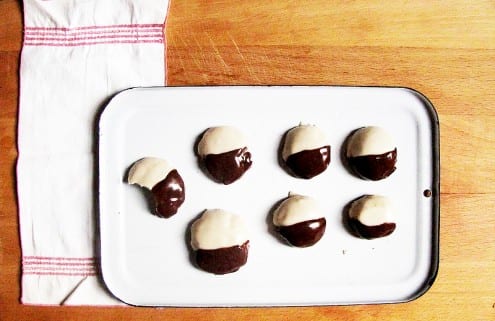 The black and white cookie is ubiquitous in New York. The staple of every deli, bakery and corner bodega, it is soft and cake-like in its center, loud and indecisive on top, and reminds me of quite a few of the New Yorkers I've met. It seemed fitting to make it in my last weekend living in Manhattan, before we make our pre-baby move across the East River to our new home in Long Island City, Queens.
You know, I never really wanted to move to New York. Growing up, I knew so many people who dreamed of someday living in its bright lights and crazy pace. I always dreamed of travelling, but ultimately felt at home in small towns. Despite all of that, we moved to New York City in the Fall of 2010, in order for the Big Man to start a new job at a brewpub in the Financial District.
It took me a while to feel settled. I felt incredibly out of the place those first few weeks- it seemed that everyone else knew where they were going, had people they were meeting, and I was either in the way or ignored completely. I felt clumsy. I had a constant bruise on my hip from slamming into subway turnstiles before the scanner accepted my Metrocard. I would get actually pushed out of the way while shopping at clothes racks, unused to the fact that women in this city will keep browsing wherever they damn well please, whether you are standing there or not.
Eventually though, I learned how to order my bagel nice and loud in the deli on the corner. I knew how to shove my way onto a crowded train. These doors are shutting, pal, move in! I didn't have to silently pronounce Houston before saying it out loud, pronouncing it with the correct "ow" sound in the middle, and not after a certain town in Texas.
And now we've made the move from our itsy bitsy 5th-floor walkup East Village apartment into a much larger one with a clear view of the skyline we used to live within. It's just a couple train stops into Midtown Manhattan, and in many ways it's a step up for us- better light, bigger kitchen, room for us and the (ee!) baby and even houseguests. We'll find a new diner, and a new Spanish tapas restaurant, and a new place to buy milk and garbage bags on the way home. I'll learn the perfect place to stand on the subway platform that deposits me in front of the right staircase, and I'll learn the aisles of a new grocery store.
It's been three years since we moved to the city, broke and naive and overwhelmed. I'm grateful for the good stress it put on our marriage that left us stronger and –can't lie- more like jaded New Yorkers than the cynical Baltimoreans we were when we arrived.
So I'm making black and whites, with their dividing line that reminds me of the East River between Queens and Manhattan, and getting ready for another step forward.
How to Make Black and White Cookies
These striking, dual-frosted cookies are the quintessential New York City snack.
Ingredients
For the cookies:
½ cup unsalted butter, room temperature
¼ cup white sugar
½ teaspoon vanilla extract
¼ teaspoon salt
1 cup all-purpose white flour
For the vanilla icing:
½ cup confectioners sugar
½ teaspoon vanilla extract
2 tablespoons clear corn syrup
For the chocolate icing:
¼ cup semi-sweet chocolate chips
¼ cup confectioners sugar
1 tablespoon clear corn syrup
Instructions
For the cookies:
Preheat the oven to 350*F. Cream the butter and the sugar together, then add the vanilla. Sift the salt and flour together in a separate bowl, and slowly combine with the butter, mixing until just combined.
Drop tablespoon-sized cookie batter onto a baking sheet, leaving at least 1 inch between each cookie. Gently flatten with the bottom of a drinking glass or a spatula.
Bake at 350*F for 12 minutes, until the cookies are golden brown on the bottom. Allow to cool completely before icing.
For the vanilla icing:
Sift the confectioners sugar, removing all lumps. Add the vanilla and corn syrup, stirring until the icing is smooth and glossy.
For the chocolate icing:
Melt the chocolate chips, either in stages using the microwave or over a double boiler. Combine with the confectioners sugar and corn syrup, stirring completely until smooth and glossy.
Ice the cookies, half chocolate and half vanilla. Let sit for at least 15 minutes before serving, to allow the icing to set.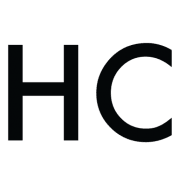 Ruth Kirwan
Midwestern transplant living in New York City. I live in a teeny apartment in NYC with my husband, whom I call the Big Man. I'm a food writer, recipe developer and tester, cooking school instructor, and total cheese lover. I'm happiest whenever I'm in front of a hot stove with a wooden spoon in my hand.