BBQ Marinade – 99 Bottles of Beer in the Fridge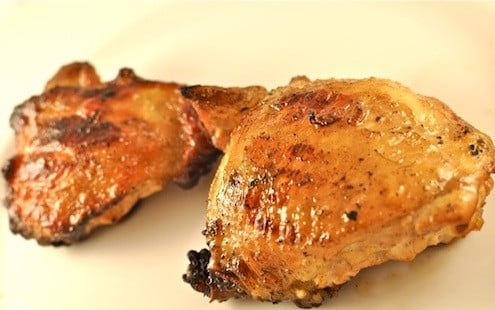 Marinate chicken thighs in beer for tender, flavorful meat — and to clear out leftover beer from your fridge.
By Jerri Green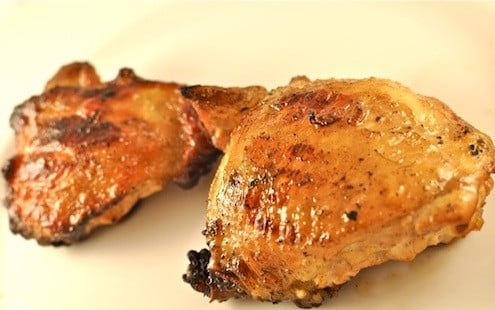 It never fails that when we have a dinner party we end up with several stray beers in our fridge. We buy some, the guest bring some. No one six pack ever gets finished. So, we inevitably have a smorgasbord of barley and hops taking up valuable real estate in the icebox. As such, I am always on the look out for a new recipe that helps me get rid of a bottle and free up some space for something more important.
Lucky for me my carnivore hubby is always up for grilling some sort of meat marinated in beer. I came across just such a thing in his favorite cookbook, Weber's Real Grilling. I adjusted it just a bit (as usual).
You can probably get your carnivore to down another beer while he grills, and maybe one more at the table. And hey – just like that – three less beers in the fridge. What do you know? There may just be room for dessert after all!
Marinate chicken thighs in beer for tender, flavorful meat -- and to clear out leftover beer from your fridge.
Ingredients
4 organic chicken thighs
½ bottle of beer, preferably lager
1 minced garlic clove
1 tsp of worcestershire sauce
½ tsp of tobasco sauce
1 tsp of dijon mustard
1 tblsp of olive oil
kosher salt and ground pepper to taste
Instructions
Start by combining the ingredients for the marinade in a bowl.
(Optional) Drink the rest of the beer. Waste not, want not, right?
Salt and pepper the chicken thighs.
Place them in a large plastic storage bag.
Add in the marinade.
Place in fridge for six to eight hours, turning at least once.
Remove them from the marinade and pat dry.
Grill over direct medium heat, skin side first, for about twenty minutes, turning about every five minutes.
Notes
marinating will take 6-8 hours
Jerri Green
Jerri Green is a vegetarian that lives with and loves a self-proclaimed carnivore. She makes meals work for everyone while juggling the mounting demands of motherhood. Nothing fancy but always fresh, she draws on her southern heritage to bring satisfying food to the table each and everyday.