With plenty of garlic, cinnamon, chili powder, and ginger these drumsticks come with a kick. These tender legs are a great backyard finger food.
By Sarah Khanna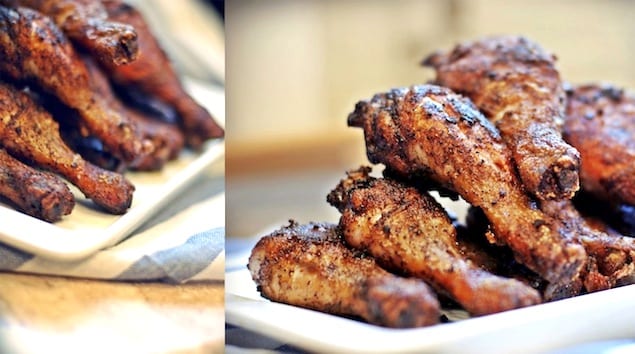 Hot Cinnamon Drumsticks
With plenty of garlic, cinnamon, chili powder, and ginger these drumsticks come with a kick. These tender legs are a great backyard finger food.
Ingredients
1 kg of chicken drumsticks
3 garlic cloves, minced
½ cup of vegetable oil + 3 tablespoons for cooking
¼ cup of honey
1 tablespoon of mustard
2 tablespoons of fresh lemon juice
2 tablespoons of soy sauce
1 teaspoon of ground ginger
1.5 teaspoon of chili powder
2.5 teaspoons of ground cinnamon
250 ml of chicken stock
½ teaspoon of black pepper
Salt to taste
Instructions
Excluding the chicken drumsticks, beat the rest of the ingredients in a bowl. Add the chicken and marinate for at least 8-12 hours.
Place a large frying pan on the stove and heat until medium hot and separate the chicken drumsticks into three batches.
For the first batch, brown on all sides then add approximately 80 ml of chicken stock and lower the heat. Cook for around 10-12 minutes until the chicken stock dries up entirely & the chicken is tender & nicely glazed.
Continue to turn the drumsticks to gain even color for another 1-2 minutes on medium heat.
Repeat with the next two batches. Allow the chicken to rest before serving.