A wonderful drink made from the beautiful blood orange.
By Jackie Dodd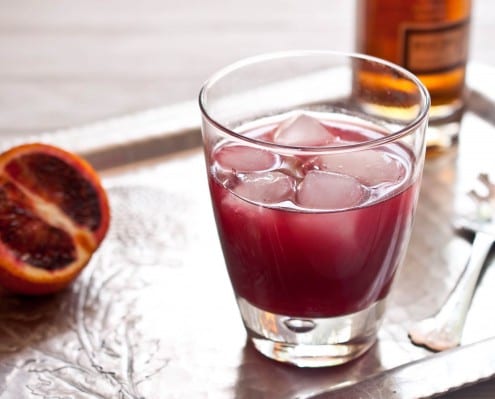 Blood orange season is at it's peak here in the United States and everything from cakes to cocktails are reaping the benefits.
A blood oranges, while looking innocently ordinary on the outside, gets their name from the shockingly red flesh on the interior. Aptly named, since a long day of slicing these oranges will leave your kitchen looking like a scene right out of Dexter.
Since these beauties are hard to come by in the warmer months, juice as many as you can and freeze the spoils of your efforts for Blood Orange Margaritas when Summer rolls around. With a flavor that is a hybrid of a standard naval orange and a raspberry, you will have no shortage of usage for this amazing citrus.

Hot Blooded: Jalapeno, Whiskey & Blood Orange Cocktail
A wonderful drink made from the beautiful blood orange.
Ingredients
1 cup (8 fl ounces) fresh squeezed blood orange juice
2 tbs Agave
4 fl ounces whiskey
1 medium sized jalapeno, chopped, stem removed (about 2 tbs)
Instructions
In a cocktail shaker, add the blood orange juice, agave and whiskey, stir until combined. Add the jalapenos, replace the shaker cap and shake three times, immediately pour through a strainer into highball glasses filled with ice, straining out the jalapenos. Discard the jalapenos.
The Web's Top 10 Blood Orange Recipes:
1. Blood Orange Bars with Brown Butter Crust: White On Rice Couple
2. Blood Orange Olive Oil Cake: Brooke Dowdy
3. Blood Orange Creme Brulee: Delicieux
4. Blood Orange Sorbet: Manu's Menu
5. Roasted Chicken with Blood Orange Vin Cotto & Onions: Greta's Corner
6. Blood Orange Panna Cotta: Katherine Martinelli
7. Seared Scallops with Blood Orange Salsa: Confections of a Foodie Bride
8. Blood Orange Cake with Mascarpone: Beyond Sweet & Savory
9. Flour-less Chocolate Cake with Blood Orange Sauce: In Sock Monkey Slippers
10. Chocolate Doughnuts with Blood Orange Glaze: Heather Christo