Hong Kong Style Chinese pineapple buns, also known as Bolo Bao, provides a delicious contrast in taste between the sugar butter topping and soft Asian style bread.
By Elaine Luo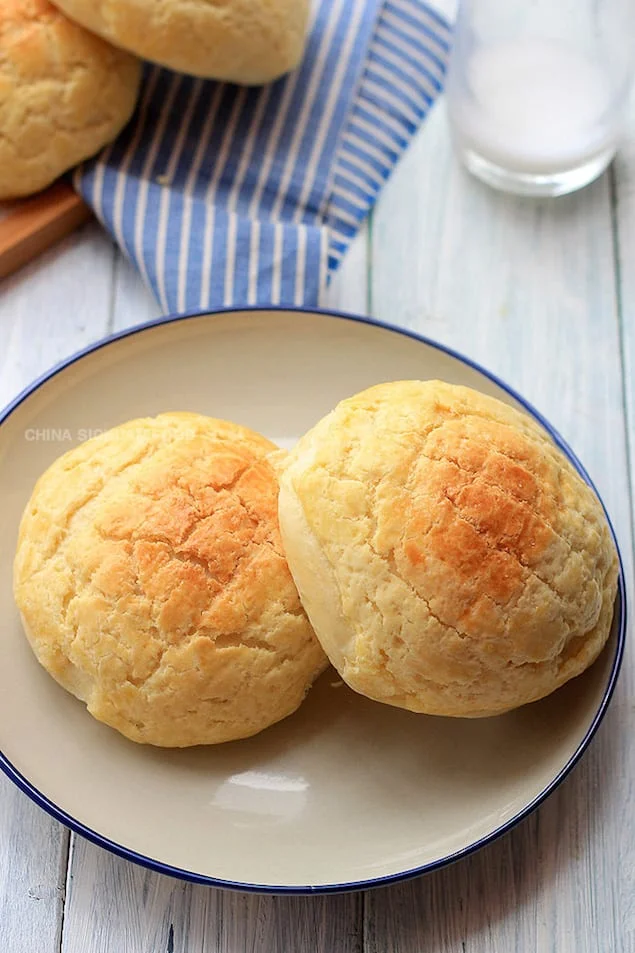 Hong Kong fusion baking is quite appealing and addictive to me. So I start making breads and cookies around a year ago. Now breads usually appear for around three times per week on my family's breakfast table.
It is really interesting to learn new dishes and cooking theory, which makes me think more deeply about our traditional Chinese cooking. After deciding to make this bolo bao at home, I tried three times before posting the recipe and I am quite satisfied by my process each time.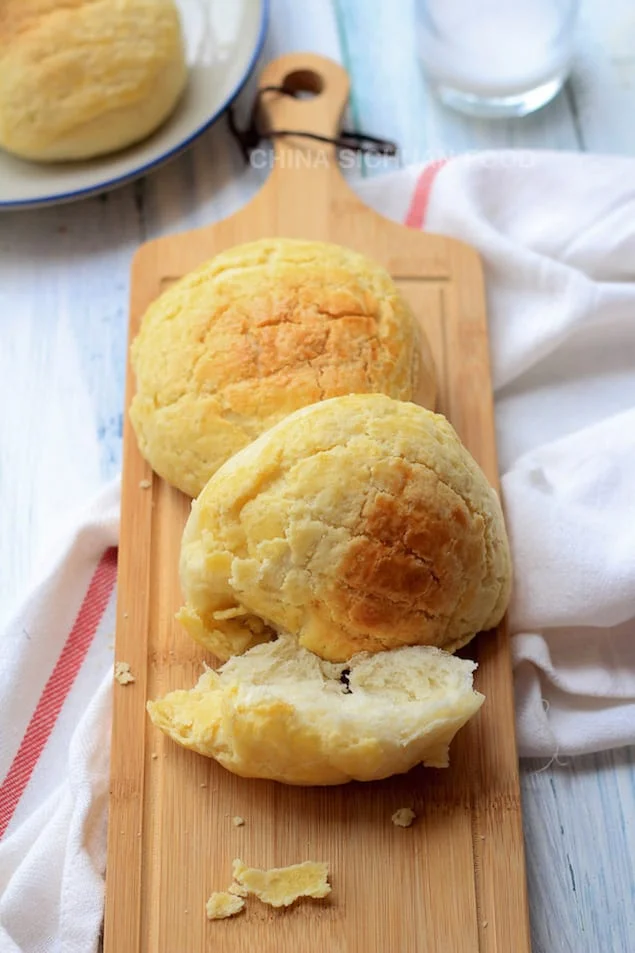 For the bread, we can use basic soft bread process or Tangzhong for a softer taste. I am using a bread machine to simplify the process so I skin TangZhong.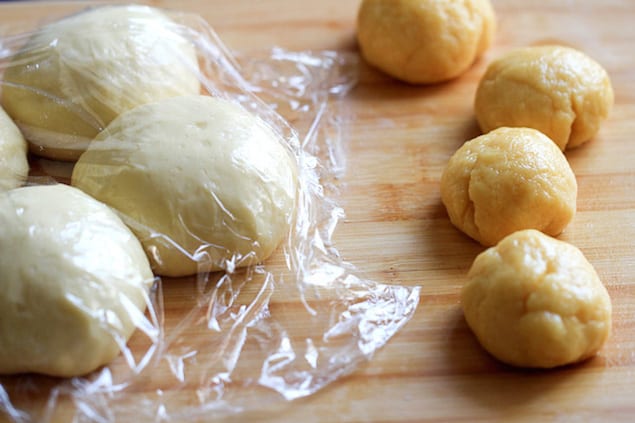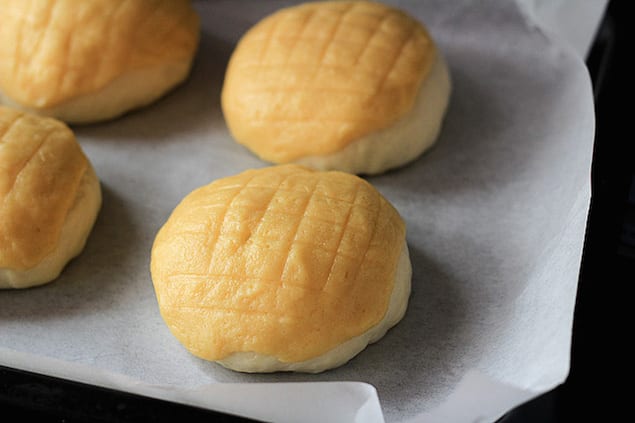 Hong Kong Bolo Bao: Pineapple Bun
Hong Kong Style pineapple buns, also known as Bolo Bao, provides a delicious contrast in taste between the sugar butter topping and soft Asian style bread.
Recipe Type:
Bread, Baking
Ingredients
For the dough:
300g (10.5 ounces) bread flour
45g (0.1 ounces) granulated sugar
3g (10.5 ounces) salt
4g (0.14 ounces) instant yeast
15g (0.5 ounces) egg liquid
180g (6.3 ounces) milk
25g (0.8 ounces) unsalted butter
For the crust topping
100g (3.5 ounces) cake flour
75g (2.6 ounces) unsalted butter
60g (2.1 ounces) powdered sugar
30g (1 ounce) egg liquid
10g (0.35 ounces) milk powder
Instructions
To prepare the dough for the bread:
In a large bowl or mixer, mix flour, salt, sugar, yeast and milk. Knead all the ingredients until you get sticky dough. Add butter in. Continue kneading until the dough is not sticky and elastic. You can test it by pulling out a glove from the dough. It if the glove can form and do not break, and then place the dough aside for first proofing until 2.5 times in size.
To prepare the crust topping:
In a large bowl, use an electric mixer to cream the softened butter until smooth. Add sugar and continue to beat until fluffy.
Add egg liquid by three batches. After each batch, mix egg liquid well with the creamed butter. Sift cake flour, milk powder and powder sugar in. Mix everything well. Place in refrigerator for around 30 minutes.
To assemble the pineapple bun:
On a clean surface, knead the dough again for minutes until the air is completely pinched out. Divide the dough into 8 equal portions and reset for 15 to 20 minutes.
Then divide the crust dough into 8 equal portions too. Cover the bread dough balls with the wrapper. There you get two ways: one is to flat the wrapper firstly and then cover it directly and the second is to place a thick wrapper on top of the bread dough ball and push the wrapper little by little until the surface is almost covered(not completely).
Wait for some time until the buns are double in size.
Preheat the oven to 180 degree C.
Cut some lines on the surface with a mood or knife back (optional). Brush some egg liquid evenly on the surface.
Bake for 15 minutes.
Enjoy when the buns are still warm.
Elaine Luo
Food blogger from China. Love real and simple dishes especially Sichuan Cuisine.