This many layered honey cake is made with soaked prunes and a bright lemon and wine filling. Press walnuts around the cake for the final, decadent crunch.
By Yuliya Childers
I don't remember how this recipe came about, all I know is that ever since I was introduced to it at around age fifteen, it was a hit every time it was served at our parties.  The reason for this success is a powerful combination of rich yet refreshing flavor and moist, smooth and feathery physique. For my American friends there is a major shocker — it features no chocolate or cocoa powder whatsoever.
This cake is a paradox: there is nothing in the recipe that screams summer — no berries, no fresh fruit, no whipped cream — yet somehow it immediately evokes summer once you taste it.  Maybe it's the lemon that always makes everything feel bright, light and refreshing.
I know it by the name of Winnie-the-Pooh. I think it owes its name to the honey in the dough and its stout, brownish appearance. I don't like the name due to its children's book reference, maybe someday I'll come up with a better version.
From the implementation angle, there is just absolutely no way you can ruin this cake.  Any inconsistencies in crust thickness, tears, holes and uneven coloration will be hidden under the layers of creamy lemony, nutty, fruity filling. And the longer you let this cake soak, the more you thank me later.  Once chilled, it cuts like a charm and can be sliced as any other round cake or made into a sheet and portioned as squares or diamonds for parties.  It looks great both whole and cut.
See Also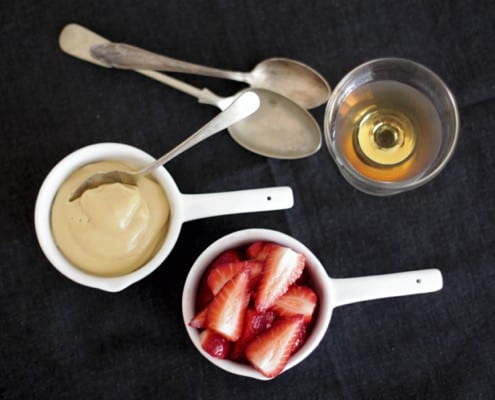 Be sure to prepare a few recipe cards for give away because you will get inquiries.

Honey and Prune Cake with Walnuts
This many layered honey cake is made with soaked prunes and a bright lemon and wine filling. Press walnuts around the cake for the final, decadent crunch. Makes 10-11? round or square cake, which easily serves 20 or more
Ingredients
For the crust
3 large eggs
½ cup sugar
⅓ cup honey
pinch of salt
½ cup (1 stick) butter
1 tsp baking soda
approximately 3 cups of all-purpose flour, and a bit more for rolling the dough
For the filling
2 lbs full fat sour cream
30 unsweetened pitted prunes
½ cup red wine
1 lemon, zest and juice
1 to 1-1/2 cup white sugar
½ tsp vanilla
pinch of salt
1 cup walnuts, plus a bit more for decoration
Instructions
Soak prunes. Warm up red wine until hot, but do not boil. Pour it over prunes and set aside until needed.
Preheat the oven to 400F.
Make the dough. Use a double boiler or improvise by boiling water in a sauce pan and placing another sauce pan over it without touching the bottom of the lower pan. Combine first five dough ingredients in the upper sauce pan and whisk quickly over the boiling pan, just until butter and sugar dissolve.
Remove from heat, add baking soda and whisk rapidly.
Add 2 cups of flour immediately and whisk vigorously until gooey batter forms.
Fold the batter out on a well floured surface and continue adding flour in small quantities and working it into the batter until soft, sticky and stretchy dough is formed. Use dough cutter or wide blade knife to work the dough if necessary. As soon as the dough stops sticking to your hands, you are done.
Divide the dough into 8 equal parts. Cover with plastic to prevent drying out.
Start working with the dough immediately, this is not the kind of dough that does well in a fridge, saved until later. It's best to use it up while it's still warm to preserve its wonderful plasticity.
Roll each portion of the dough on a well floured surface to a ⅛ to ¼? thickness, shaping it into a circle or a square.
Wrap the crust around a rolling pin and carefully transfer onto an un-greased baking sheet and unwrap, smoothing it out.
Bake 3-4 minutes, until nicely golden, but not well browned. The crust will puff up lightly, little bubbles may form, this is normal. Fully baked crust will still be soft, not crunchy.
Remove the crust onto a cooling rack or a board. Repeat with the remaining crusts.
Prepare the filling: in a large bowl combine sour cream, sugar, lemon juice, vanilla and a pinch of salt and whisk them together just until sugar dissolves.
Drain prunes, add wine to the filling and whisk until well incorporated.
Chop prunes and walnuts coarsely (pea size or slightly smaller chunks). Add them to the filling and mix in with a spatula, until well incorporated.
When crusts are completely cool, stack them neatly, cover with a round plate and using a serrated knife, cut off all the uneven edges. If making a square cake, cut straight sides. Reserve the cutoffs.
Assembly
Lay a crust onto a serving platter, put approximately ½ cup amount of filling onto a crust and spread evenly using a spatula or a slotted spoon. Repeat until all crusts and filling are done, finishing with the filling on top.
Using a spatula, spread a bit of spill over filling around the sides of the cake.
Place crust cutoffs and about ⅓ cup of walnuts into a processor and pulse, until fine crumbs form.
Coat top and the sides of the cake evenly with the crumbs.
Refrigerate cake at least 4 hours or overnight. It's best to cover the cake with plastic to prevent drying.
The cake is best when served cold (I just realized as I finished typing it, that it is revenge that's best served cold, but may this unfortunate coincidence not stop you from doing the right thing)
Yuliya Childers
Yuliya Childers is a self-proclaimed cooking and writing addict born and raised in a cosmopolitan city of Odessa on the Black Sea coast. She started cooking at quite an early age and learned most of her skills by watching others and reading cook books. Made-from-scratch naturally grown food is her passion. Yuliya believes that truly good food either creates or invokes memories. Her blog Eat Already! is focused on everyday creative yet un-pretentious cooking that anyone with basic skill can replicate. Yuliya's recipes are usually accompanied by childhood memories or family stories related to the dish in some way. Her recipes are honest, eclectic, multi-cultural, imaginative, and often outside the box. Currently she's into artisan breads, traditional cooking, and everything fermented… Yuliya is cooking and writing about it from Alabama.