PARTNER POST: Get ready to serve a crowd this winter with cocktail recipes easily topped with sparkling Lunetta Prosecco.
With sparkling Prosecco and warm flavors of honey and pear, this drink is the perfect cure to winter blues or stunner for a festive cold-weather party.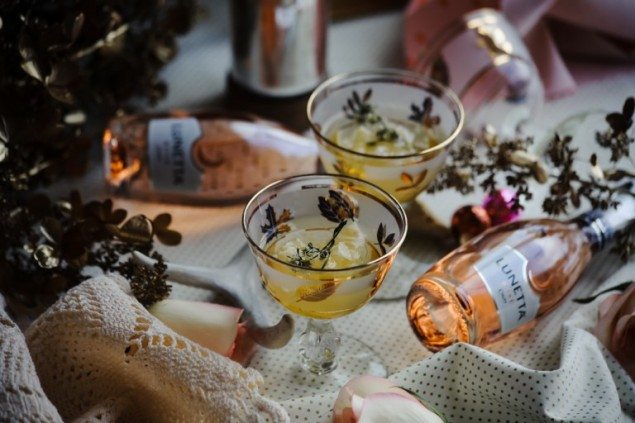 Can you picture how the sky looks an hour or so before a big snow squall is about to hit? In the way that the clouds turn hazy – as if a fog is rolling in – and the sun peeks through for one last hurrah; a mix of grey and pink and yellow? It's peaceful and pretty, and what I believe we commonly refer to as the "calm before the storm".
That was happening outside as I took these photos and looking at them now, I think I may have been channeling some of that vibe when I was staging them. The light was pouring in in a way that made my house feel both cold and warm at the same time. I can't explain it any better than to say that it looked like the best version of that illustrious "Golden Hour", especially because it was taking place around 1:00 in the afternoon (not during the sunrise or sunset), and it had a very pronounced rosy glow to it.
I actually stopped what I was doing for a minute to admire it. I had been using a sequined jacket in my setup and the light was giving said jacket a disco ball effect. You might think this is corny, but to me, it was a simple, sparkly moment of pleasure to behold.
Lunetta (meaning "Little Moon" in Italian) is a brand that celebrates the small pleasures in life. I am particularly excited to partner with them on this post as Prosecco is by far my favorite libation. It's the drink I order when I am out, and the one bottle I always have on hand at my parties. I even add it to my food, recipe permitting, of course.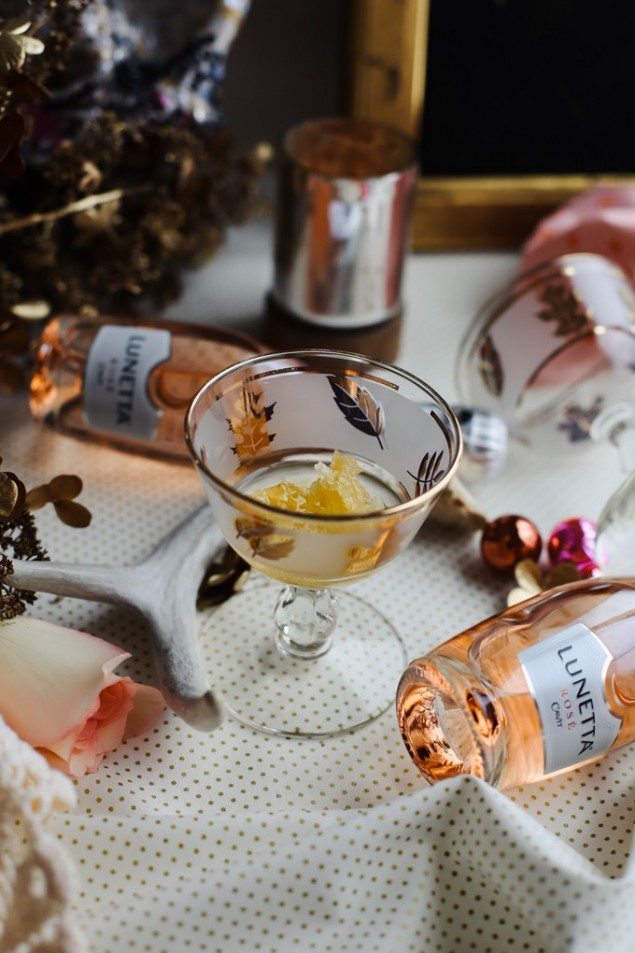 I am A-OK with a glass of Prosecco on its own, but I like to throw in special touches here and there as well. This cocktail has that in the form of pear nectar with background notes of honey and vanilla. Bear with me here, but it kind of reminds me of that light I was referring to above, in that the flavor profile is cold (chilled dry-ish bubbly, pear) and warm (vanilla-y honey) all at once.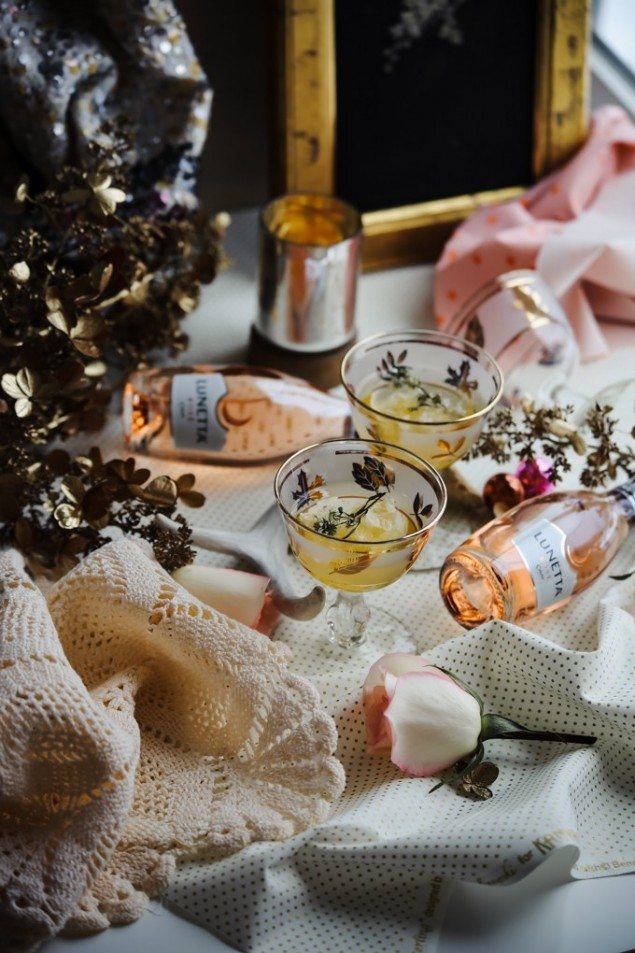 For another easy winter cocktail, try this Prosecco Spiced Cocktail. Recipe here.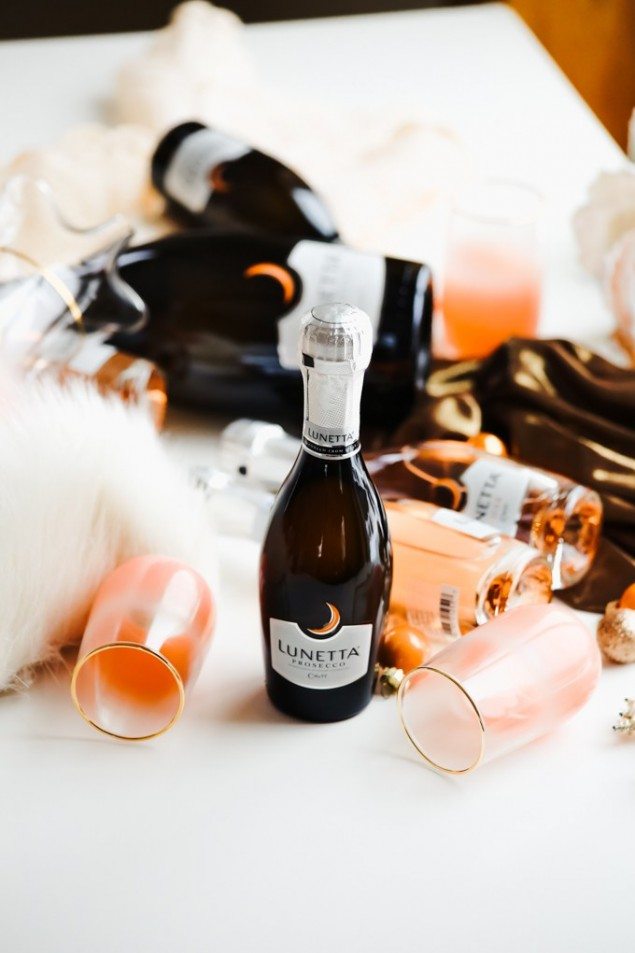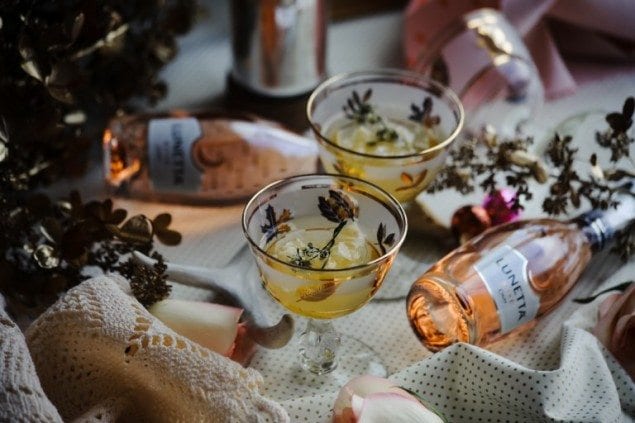 Carlynn Woolsey
Ingredients
1/2

ounce

honey

1

small vanilla bean

cut down the center

1 1/2

ounces

pear nectar

3

ounces

chilled Lunetta Prosecco

or Rosé, if you like

Garnishes

optional: vanilla bean, sliced pear, honeycomb, fresh sage, lemon wedge, edible flowers
Instructions
Honeyed Pear and Prosecco Cocktail: Place the honey, vanilla bean, and pear nectar in a cocktail shaker filled halfway with ice. Shake vigorously for 15 seconds or so. Strain the mixture into a champagne coupe or flute.

Top with chilled Prosecco. Garnish as desired. Enjoy!
Notes
Notes: If you have trouble finding pear nectar (For my local friends, I buy it at Peter's Cornucopia or in the organic section at Wegmans.), you can use a good quality pear juice. Nectar contains a considerable amount of pulp, so it tastes sweeter and has a thicker consistency than juice. Given that, if you do decide to use juice, you may want to add more honey to your drink.
You can re-use the vanilla bean here to make multiple cocktails; shake, shake, and shake again
Carlynn Woolsey
JJBegonia is a silly nickname that my equally silly Dad gave me when I was a little girl. Needless to say, it stuck. My real name is Carlynn and I started my blog in September of 2012 to chronicle all of the things I love, and the things that inspire me, in one place. Over the course of the past ten years, I have lived in Boston, New York City, and L.A., and am currently in Upstate New York [where I grew up]. I graduated from Boston College with a double major in English and Psychology, and later returned to BC to obtain an MBA in Brand Management. My professional background is in Magazine Publishing/Advertising Sales, however I have always had a creative streak which is the driving force behind my blog. I am heavily influenced by food primarily because I love to eat (!), but also because I grew up in the restaurant industry. While I write and showcase many recipes, I adore sharing my favorite products, best style finds, and my life in general.