The robust entrée is simple to make and packs complex flavors thanks to the use of a slow cooker.
By Amy Casey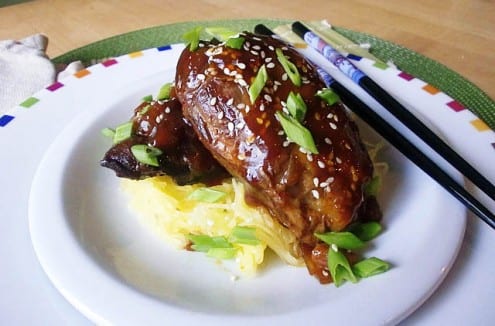 Honey Ginger Chicken
The robust entrée is simple to make and packs complex flavors thanks to the use of a slow cooker.
Ingredients
Olive oil
8 chicken thighs, bone-in and skinless, about 3 – 3 ½ pounds
1 medium red onion, chopped
4 garlic cloves, chopped
1-inch piece of ginger root, chopped
¼ teaspoon red pepper flakes
½ cup honey
½ cup reduced sodium soy sauce
1 teaspoon sesame oil
2 tablespoons ketchup
2 tablespoons hoisin sauce
1 ½ tablespoons corn starch
Sesame seeds
Thinly sliced scallions
Hot cooked jasmine rice
Instructions
Heat a large sauté pan to medium high heat and drizzle with a couple teaspoons of olive oil. Add half of the chicken thighs making sure not to crowd the pan. Brown for 4 – 5 minutes and then flip over and brown for 3 – 4 more minutes. Remove from pan and place in the slow cooker. Repeat with the remaining chicken thighs and add them to the slow cooker after they have been browned.
Add the onion, garlic, ginger root, and red pepper flakes on top of the chicken in the slow cooker. In a small bowl, combine the honey, soy sauce, sesame oil, ketchup, and hoisin sauce. Pour over chicken. Cover the slow cooker and set for 4 hours on LOW.
Remove chicken from the slow cooker and place on a large plate. Cover with foil. In a small bowl, whisk the cornstarch with ¼ cup water. Stir into the sauce in the slow cooker and cook on HIGH for 15 minutes, stirring occasionally.
Pour the sauce over the chicken and sprinkle with the sesame seeds and scallions. Serve with hot rice.